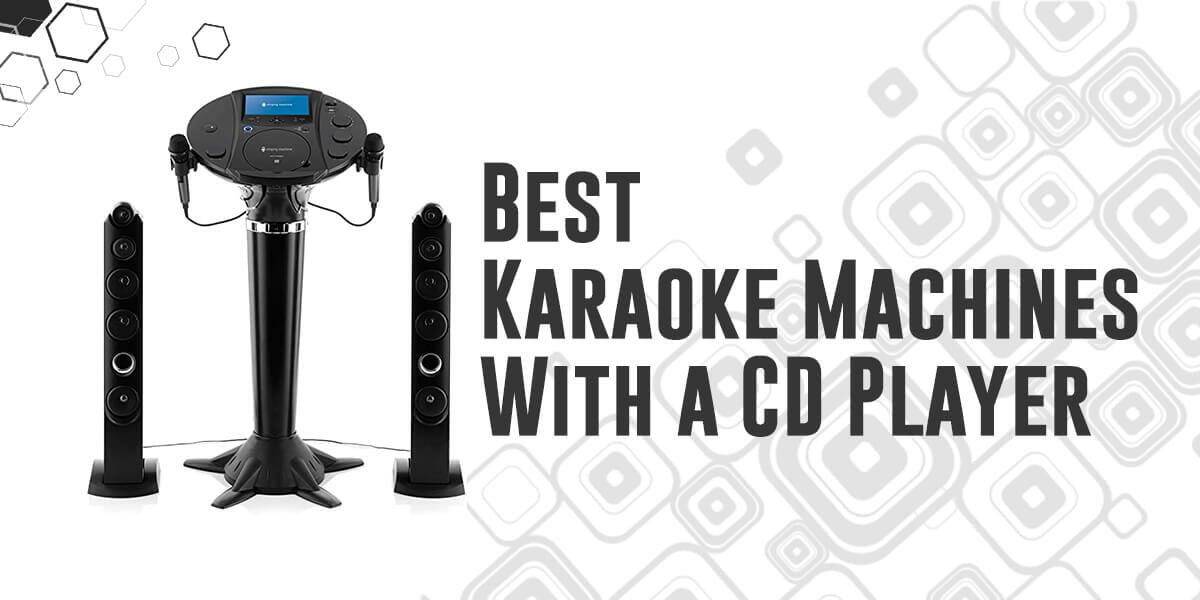 Everyone in a party has his or her own taste. Then why should they listen to some random playlist in an app?Just make your own playlist. Curate your own karaoke CDs according to your group's taste and get ready to rock the nights with these Karaoke Machines that come with a CD player.
Table of Contents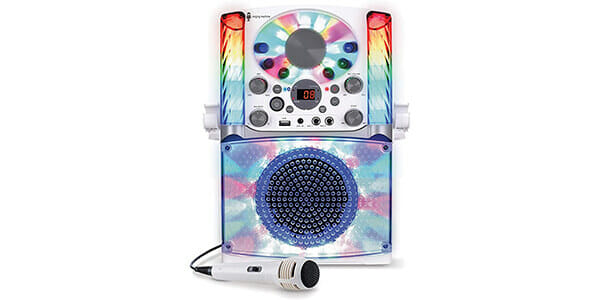 Play your favorite music CDs and karaoke CDs on the colorful and upbeat Singing Machine SML625BTW which is user-friendly, compact and perfect for normal usage.
It is extremely lightweight – weighing only 6.55 ponds. Its 8.5 x 8.5 x 12.8 inches body makes it fit easily anywhere. It comes with the option to play songs wirelessly via Bluetooth and line-in to connect your smartphone or MP3 player.
The system has a 3-digit LED display that helps you to keep track of your playlist. It supports two microphones with separate volume controls from the master volume so that you can perform the perfect duet.
The RCA cables enable you to follow the lyrics through the television screen. You can use the integrated USB jack to record your voice performances in any storage device. The system has 40 multi-colored LED lights that blend with the beats of the songs. The speaker is situated in a wood cabinet to curate a high quality and sharp music. The affordable price has to be the highlight of this karaoke machine.
Pros
Compact and portable
Lightweight
Supports CDs as well as Bluetooth connection
Supports voice recording via USB
LED lights creates a good ambience
Affordable price range.
This superb device is the ultimate party beast. The Karaoke USA GF842 comes in a suave black color and weighs 9.43 pounds and 13 x 10 x 17.8 inches in size making it easy to use and move around. The device comes with 7″ TFT Digital Color Screen so that you can read the lyrics even from far away.
The 35W Peak Digital Power Amplifier ensures a safe and powerful experience. The device comes with a universal cradle that supports phones, MP3 players, tablets and more.
The body has two holders for easy transportation. The speaker comes with two microphones and holders for easy usage. The package also has 300 MP3G songs on disc but other CDs can also be used to play songs and music.
The device can be connected to TV to play the video display. The console is very user friendly and detailed. The device has voice recording and music mixing. It also has LED lights that will play in sync with the music. It gives an overall fun and enjoyable experience to the user.
Pros
7' screen for lyrics display.
Universal cradle for your smart device.
Upgraded Panasonic microphone cartridges which produce sounds of better quality.
Handles in the body of the machine makes transportation easier.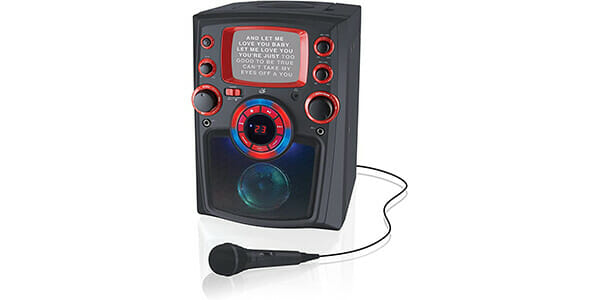 When it comes to looks, the iLive Bluetooth Karaoke Party machine is a chic choice. The red and black body gives it a groovy and timeless look. It can be used wirelessly up to a range of 60ft. The 5'' black and white screen helps you to sing along your favorite songs. It has a light weight of about 7 pounds and is 11.22 x 11.02 x 14.37 inches in size.
It has a digital display, separate from the screen that tells you the track number of the song in your playlist. The Top-load player supports CD+G, CD and CD-R/RW Discs. The surround sound speaker gives you a high quality sound output. The system provides automatic voice control and echo control.
The LED lights are positioned around the digital screen giving it the chic look. The device allows voice recording to capture the fun moments. The overall performance of the device is enjoyable.
Pros
Chic red and black look.
Wireless range of 60ft.
Auto voice control.
Auto echo control.
Affordable price.
Cons
Comes with only one mic
Screen display is in black and white format.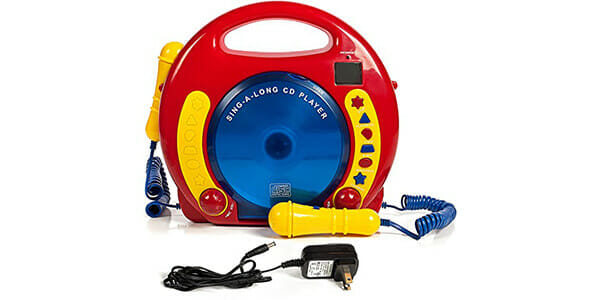 Kids should get their fair share of fun with karaoke. That is why this karaoke player has curated the cutest device to keep the little ones entertained. The bright colors of the device ensure full attention of the child.
The colors are not gender specific and thus can be used by all kids. The device supports USB and SD card inputs. It is easy to use and the buttons are descriptive. The package contains an adapter which eliminates the use of batteries.
The device has a headphone jack for different listening experiences. It helps during all those times when you prefer a little quiet time but can't get it because of your children. The machine comes with two child-friendly microphones for the children to share.
The cords are extendable and sturdy so that they don't tear easily. It is extremely lightweight weighing only 2.3 pounds. The handle makes it very easy to transport. The device is compact and easy to store.
Karaoke machines can be a good way to increase the cognitive skills of children. It allows them to explore their creative side and can be a good way of entertainment.
Pros
Colorful
Easy to use
Child-safe cords
Lightweight
Easily stored
Cons
Slightly pricy for a kid's toy.
Display screen absent.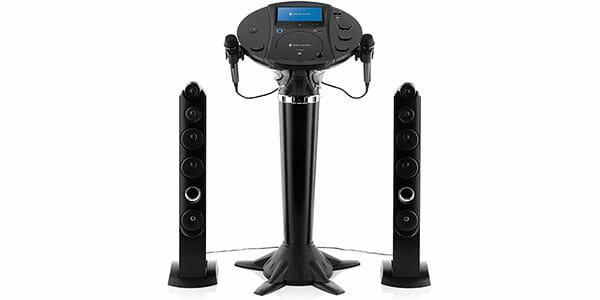 This device screams classy, unlike its other counterparts, the Singing Machine iSM1030BT is a bluetooth karaoke pedestal making it easier to use.
The system includes two powerful tower speakers which complement the device. The sound produced is loud and crisp. The main console includes a 7″ Color TFT LCD Display that displays the lyrics.
The console also has a universal cradle for iOS and Android tablets. The system comes with two wired microphones which are seated in their cradles. Songs can be played using a CD or wireless Bluetooth system.
The device can be connected to the TV using RCA cables to view the lyrics. The Echo Control, Balance and Auto Voice Control systems in the system ensure premium quality sound output.
You can easily access and stream 14,000+ full length karaoke songs using The Singing Machine Mobile App. The device gives off a modern and elegant vibe. It can be a perfect addition to your living room and entertainment area. It will definitely become a topic of discussion and a source of fun.
Pros
Elegant and classy look
Two speaker towers provide good sound. 
Wide range of songs available
Universal cradle makes it user-friendly 
Console is edgy yet detailed.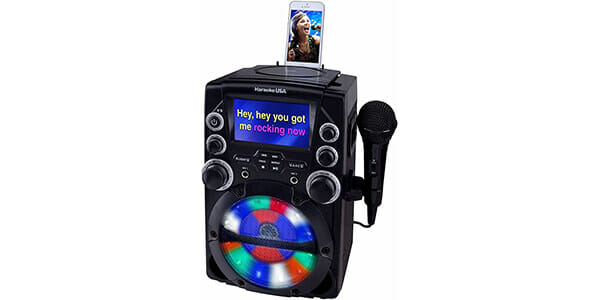 If you are looking for an affordable karaoke with the high end look, the Karaoke (GQ740) from Karaoke USA is a good option. The device comes with a microphone but two sound input jacks if you want to use an extra microphone.
This machine is about 6 pounds in weight, and 9.7 x 14.8 x 9.5 inches in dimension. It uses a 4.3″ color TFT screen to display the lyrics. It has a cradle for your mobile phone and tablet. The light-up speaker gives a 5W output. AVC (audio voice control) system ensures that the karaoke lead vocals are adjusted to your voice.
The device supports CDs, Aux modes. RCA outputs are available to connect it to your TV set. The karaoke machine is a good option for small parties.
Pros
Economical 
User-friendly
Transportable
Compact
Cons
Only one mic and mic holder available.
Frequently Asked Questions
Do karaoke machines need special CDs? 
Yes. All karaoke CDs are curated to accommodate the song lyrics. The lyrics are displayed on the screen of the machines, if they have one. They can also be displayed on television screens by connecting the machine through the RCA outputs.
What CDs work with singing machine karaoke?
CD+G as well as normal CDs work with Singing Karaoke Machines.
Do karaoke CDs have vocals?
No. Generally in Karaoke CDs, the voice of the lead singer is muted or lowered to stop the singer's voice from overlapping the user's voice. Only the background score is played.
Can you make your own CDs?
Karaoke CDs can be made by
a) downloading karaoke songs from the internet or 
b) creating your own karaoke songs.
You can create your own karaoke song by burning the song and lyrics separately into a CDG (CD+Graphics)  and then mixing them. This way the lyrics will be displayed separately from the songs.
What is CD G? 
CD G or CD+G stands for CD+graphics. The CDs play music and lyrics are displayed on a screen.CDGs contain songs without the lead vocals.
Can you play karaoke on a laptop?
Yes. You can play karaoke music on a laptop. You just have to make sure that the CDs are compatible with the Laptop. The Laptop must have a media player for the display of lyrics. 
Conclusion
Karaoke is a source of entertainment for parties. Karaoke CDs enables you to use your own playlist for your party. CDs curated to a party's mood can make you a hit among party hosts. So don't wait and prepare to rock 2021 using karaoke machines with CD players.