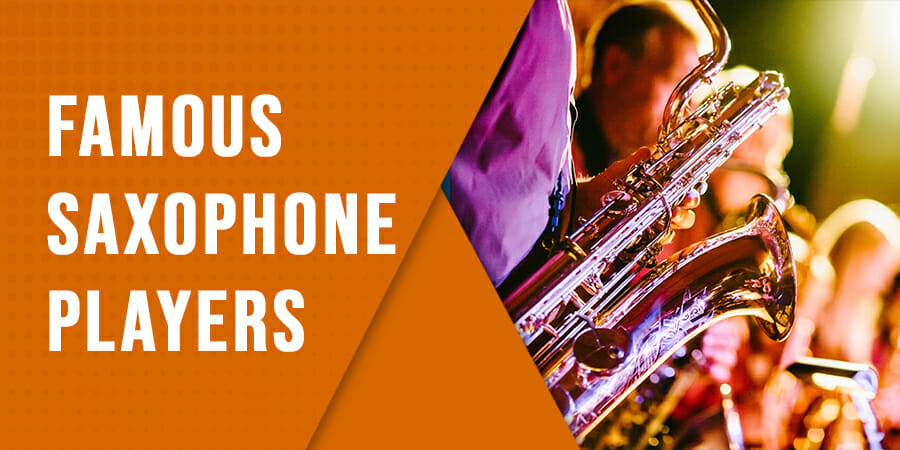 Adolphe Sax died almost six times before inventing the saxophone. At the time of invention, he probably didn't expect it to become the most sophisticated and principal jazz and blues instrument. The saxophone is used in a variety of music genres and not just jazz. It's played in pop, reggae, R&B, rock, soul, and many more. This woodwind instrument is usually made of brass, which makes its players look majestic and sultry.
Without a saxophone, John Coltrane, Charlie Parker, Cannonball Adderley, and many other talented saxophonists wouldn't exist. Its players revolutionized the music industry and will be glorified for centuries to come. Their impact on many aspiring sax players is a gift to the music industry, which keeps on giving.
To commemorate the instrument and its players, here are the 15 most honored saxophonists of all time, in no particular order.
Table of Contents
1. John Coltrane
The sax player and composer who changed the jazz industry for good through his rhythmic and melodic improvisations, John Coltrane rose to fame through his work with trumpeter Miles Davis and pianist Thelonious Monk. Later, he became a legendary figure in the jazz industry through his albums Giant Steps, A Love Supreme, My Favorite Things, and more. Coltrane's song Giant Steps is still the most difficult jazz song to master.
Coltrane won several awards after his death, including the 2007 special Pulitzer Prize for his improvisation and musicianship. He wasn't popular and loved just in the United States, but also globally. His record, A Love Supreme, sold over half a million copies in Japan and was certified gold in 1972.
---
2. Charlie Parker
Often referred to by his nickname, Bird, Charlie Parker is one of the most influential saxophonists of all time. He's known for introducing harmonica and variants of altered chords in jazz. Parker picked up the instrument at 10 and practiced for 11 to 15 hours a day.
Because of his lifestyle, he died at 34. But he sure did leave an extraordinary mark in the jazz world. In the 40s, Parker and his musical group developed a musical style known as bebop. Little did they know, this musical style transformed jazz for generations to come.
Parker won several posthumous honors, which include 3 Grammy's. His talent, influence, and passion for jazz make us wonder what more could he have done if only he lived longer.
---
3. Ornette Coleman
Known as a jazz revolutionist who didn't play by the rules, Ornette Coleman rewrote the jazz language. He's remembered primarily for his free jazz movement. Coleman rejected the established laws of jazz to create a free and unorthodox musical aesthetic. This innovation influenced several jazz musicians as they were no longer bound to the defined rules of rhythms and harmony.
Coleman continues to be an inspiration for several jazz musicians. He released many groundbreaking albums such as The Shape of Jazz to Come, Sound Grammar, Science Fiction, and many more. The 2006 album, Sound Grammar, won the Pulitzer Prize in 2007.
---
4. Coleman Hawkins
Coleman Hawkins is probably the first musician to play jazz with a tenor saxophone. Before Hawkins mastered it, the tenor saxophone was not acknowledged or encouraged as a jazz horn. But Hawkins managed to bring out its smooth yet strong tones. Thus, earning the title, ''The Father of Tenor Saxophone''.
Hawkins joined Fletcher Henderson's orchestra, during which he became a lead soloist. It was the album Body and Soul that helped him gain popularity in America. Hawkins is still viewed as an inspiration to several tenor players.
---
5. Cannonball Adderley
Famous for recording Milestones and Kind of Blue with Miles Davis, Cannonball Adderley is the most underrated genius of the hard bop era. His playing style was fluid and melodious. Hailing from a musical family, Adderley formed a quintet with his brother Nat. That is when Miles Davis asked Adderley to join his sextet, which included John Coltrane. After leaving Davis' sextet, he joined his brother Nat to revitalize the Cannonball Adderley Quintet.
Cannonball wasn't just a saxophonist, he was also a music educator. He helped aspiring musicians and was a member of the ''Jazz Advisory Board of the National Endowment for the Arts''.
---
6. Gerry Mulligan
Without a doubt one of the greatest and prominent baritone sax players of all time. Gerry Mulligan is remembered for his groundbreaking ensemble with trumpeter Chet Baker. This quartet lacked a pianist but received international praise for both Mulligan and Chet. He is also notable for his role in popularizing the ''cool jazz'' style of the 1950s.
Mulligan was a part of Miles Davis' band which released the most influential cool jazz albums, Birth of the Cool in 1957. It was this collaboration that gave him a successful career in cool jazz. Being a gifted musician, he played piano and several other wind instruments while comfortably playing different jazz styles. His track, Walk on the Water, won the 1981 Grammy. Unfortunately, the 2008 Universal Music Group fire destroyed Mulligan's music material.
---
7. Dexter Gordon
Another great tenor saxophonist who is the first to play bebop with it. Being 6 feet and 6 inches tall, Dexter Gordon was nicknamed as the ''Sophisticated Giant''. His wife published a book describing his legacy with the same nickname for its title in 2018, 28 years after his death.
Just like his fellow jazz musicians, Gordon became the victim of drug addiction and spent most of his time in jail in the 50s. Thankfully, he won over his addiction and made a successful comeback with his album, The Resurgence of Dexter Gordon in 1960. We also get to experience Gordon's charm on screen in the movie Round Midnight, which won him an Academy Award nomination.
---
8. Stan Getz
Jazz reviewer Scott Yanow describes him as "one of the all-time great tenor saxophonists". Stan Getz began playing the saxophone at 13 and has over 100 records under his name. Getz is famous for popularizing bossa nova music in America with the Grammy-winning track, The Girl from Ipanema. His collaboration with Brazilian musicians for the album Getz/Gilberto won Album of the Year Grammy award in 1964.
Getz also worked with some notable names in the industry, including jazz guitarist Johnny Smith and saxophonist Charlie Parker. He died due to cancer in 1991, and his ashes were emptied six miles off the coast of Marina del Rey from his saxophone case.
---
9. Vi Redd
Women jazz saxophonists didn't receive the center stage as much as their male counterparts. Nevertheless, women made their mark in this industry. One such woman is Vi Redd. Daughter of a jazz musician, Redd played alto saxophone and was distinguished for improvising both bebop and blues-inspired melodies.
Apart from playing the sax, Vi was also an exceptional vocalist. Her voice was smooth with raspy undertones that fit flawlessly into the rhythms of each piece. Her instrumental perfection can be heard in her albums, Lady Soul and That's All. Whereas her vocal mastery includes We'll Be Together Again and This Love of Mine.
---
10. Kenny G
Regarded as one of the best-selling musicians of all times with over 75 million records sold, Kenneth Bruce Gorelick is a jazz saxophonist. Known by his stage name, Kenny G was fascinated with the saxophone after watching a musician play one on The Ed Sullivan Show. He's a 1997 Guinness world record holder for playing the longest continuous note on the sax for 45 minutes and 47 seconds.
The musician's first 5 albums sold well and were standard for easy listening on radios, store speakers, and elevators. However, it was his 6th album Breathless that made its way to the bestselling instrumental album of all time.
---
11. Jane Ira Bloom
She started as a pianist and a drummer, but later switched to playing a soprano saxophone. Jane Ira Bloom plays to her muse and is regarded as a jazz wizard. She was sadly overlooked by the mainstream jazz industry. Her clear and lustrous tones are charming and conjure up the fine effects of elastic moods.
She was also the first musician to be commissioned by the NASA Art Program and has an asteroid to her name, i.e., 6083 Janeirabloom. Bloom won the Chamber Music America New award in 2015 for a composition inspired by the poet Emily Dickinson. The resulting work called Wild Lines was released in 2016. She also won the 2017 Grammy Award for Best Surround Sound category for her album Early Americans.
---
12. Kamasi Washington
A jazz and tenor saxophonist who generates excitement no other player ever has. Kamasi Washington was raised in a jazz family and trained at UCLA where he played with dignitaries Kenny Burrell, Billy Higgins, and Gerald Wilson.
Washington worked with Kendrick Lamar for his album To Pimp a Butterfly where he was the arranger and also played the saxophone. Apart from Lamar, Washington also worked with John Legend, Flying Lotus, Ryan Adams, and more. His album, The Epic, won the Worldwide Winners Album of the Year award.
---
13. Lester Young
Known by the nickname ''Prez'' or ''Pres'', because, during his time, he was considered as the president of the tenor saxophone. Lester Young is a revolutionist jazz performer who opted for a light and warmer tone when his peers of the era played more edgy tones. His musical approach became a benchmark for Charlie Parker, Sonny Rollins, Stan Getz, and so many others.
Besides being known for his distinct musical approach, he also introduced and popularized the hipster jargon. Young wore a porkpie hat at a 45-degree angle, and used the words "cool," "bread" (for money), and even "homeboy."
---
14. Ben Webster
Benjamin Francis Webster was a jazz tenor saxophonist who received lessons from the acclaimed jazz saxophonist, Budd Johnson. Webster also worked with Lester Young in The Young Family Band. In the 1950s, he formed a quintet with Gerry Mulligan and played at the Los Angeles club, Renaissance.
His sound was exceptionally beautiful and gentle, which complemented his music's faster tempos. Thus, he earned the nickname, the Brute and the Beautiful. Webster's most popular musical work is with the Duke Ellington Orchestra that lasted from the mid-1930s to the late 1940s.
---
15. Michael Brecker
There are a few modern saxophonists out there who can match the versatility of Michael Brecker. Born and raised in Pennsylvania, Brecker grew up in a jazz and rock environment. Thus, he followed no musical boundaries and played sax in a variety of pop and rock sessions. He's famous for his ability to switch from progressive rock to jazz to pop and back again.
Brecker appeared in over 700 albums and worked on two Billy Joel albums, playing his tenor sax. He was also a member of NBC's SNL band in the 1980s. He has won 15 Grammy awards and received an Honorary Doctorate from Berklee College of Music.