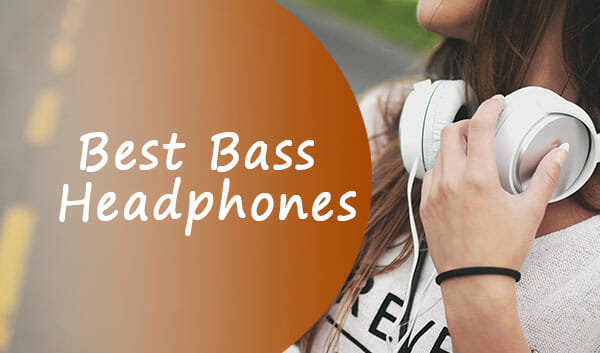 So, you're looking for a new headphone? And you can't compromise on the sound quality? And you're looking for some diverse options?
Fear not, because you couldn't be at a better place than this.
Now, while judging headphone performance, bass quantity and quality plays a very important role.
The music's power, it's weight, comes from the bass, so headphones with lesser bass sound thin and metallic. The reason why there are hardly any "flat" or measurably accurate headphones.
So let's have a look at 9 best bass headphones available out there in 2021.
Our Top Picks
Here's looking at the best bass headphones in each category:
Top Bass Headphone Reviews In 2021
---
---
---
---
---
---
---
---
---
Buying Guide: Bass Headphones
There are many things to consider while purchasing a good headphone. The below points will help you understand the various specifications associated with headphones:
1. In-ear/In-ear/Over-ear
You might have seen one of these three terms in the descriptions of various headphones. So what do they mean?
In Ear Headphones
In-ear (canal) headphones a.k.a. in-ear monitors, fit completely in the ear canal. This means that they can deliver excellent sound quality because of their proximity to the eardrum.
And, they fill up the entrance path to the ear, hence blocking out the external sounds.
These are highly portable, and can be used while commuting, or while jogging or in the gym.
On Ear Headphones
On-ear headphones a.k.a. supra-aural headphones, simply rest on top of the ear. While they directly send sound down the ear canal, they can't effectively block out external noise.
They are quite portable, with good levels of sound quality.
Over Ear Headphones
Over-ear headphones a.k.a. circumaural headphones, cover the whole ear. Because of the increased size, they have room for larger drivers and better bass performance.
Though they are not very portable, they usually are the first choice of audiophiles.
2. Back
You might have seen open and closed back in the specifications of headphones. What do they mean?
They simply refer to the back of the ear cups, whether they are open or closed. While the "closed back" ones have better noise isolation, and a more powerful sound similar to in-ear headphones, the "open back" headphones are preferred by some because of its more "natural sound".
3. Drivers
The drivers are the most important part of headphones: they basically create the sound by converting electric signals into sound vibrations.
As a general rule, the bigger the driver, the better the sound quality, especially in terms of bass. Over-ear headphones have the largest drivers.
4. Impedance
Impedance, displayed in ohms (Ω), is a measure of electrical resistance. Higher the impedance more will be the resistance, and more will be the power required to drive the headphones.
High-end, pro-quality headphones have super high impedance. The disadvantage of lower impedance headphones is that they may generate an audible background hiss.
5. Frequency Response
This shows the range of audio frequencies that headphones can produce.
While they are not a good measure of sound quality per se, they can be used in choosing the type of headphone you want. For eg, you should look for headphones supporting low bass frequency if you want lots of basses.
6. Total Harmonic Distortion (THD)
When using the headphones at high volume (who doesn't love that!), there may be some distortion. THD shows the level of distortion that may be present.
The lower the THD, the better it is for the sound quality and the headphones.
7. Noise Cancellation/Isolation
While these two terms i.e. Noise Cancellation and Noise Isolation may seem the same, they actually aren't.
Noise cancellation works via embedded microphones and electronic chips. They use inverse sound waves to cancel out the external sound. So basically, they'll use up the battery to cancel out the external sound.
Noise isolation, on the other hand, is entirely physical. It doesn't require any external power, like noise-canceling headphones.
Simply consider their working as earplugs. The better they fit, the better the noise isolation.
Top Brands: Bass Headphones
While there are a plethora of companies selling mobile accessories like headphones, chargers, memory disks, here are some of the top brands, which have made a place for themselves amidst all the competition:
1. Sennheiser
A privately-owned German audio company, headquartered in Wedemark, Sennheiser has always had its focus on sound quality, constantly making high quality audio products from headphones to microphones to headsets to telephone accessories!
2. Sony
Founded initially as Tokyo Telecommunications Engineering Corporation, this Japanese multinational company headquartered in Tokyo, is one of the biggest companies in the field of media, entertainment, electronics right now.
They own the largest video have console business, the largest music entertainment business in the world, and they are also one of the biggest names in electronic product manufacturing currently, as well as leading in movies and television entertainment industry.
They provide gaming services, electronics, entertainment and financial services.
3. Skullcandy
This relatively new American company, based off in Utah, builds its products with the principle that the listeners not just listen to the music, but feel it.
They build very fashionable products, which have great sound quality, are durable and are affordable. They develop a wide array of products from earphones to headphones to MP3 players etc.
4. JVC
The Japan Victor Company aka JVC, is, as is very apparent, a Japanese company, based in Yokohama, and is well known for bringing in the first television sets in Japan, and developing the "video home system video recorders". They are a seller of audio, visual products as well as products related to computers, electronics and software.
5. V-Moda
This private international company, based in California, is recognized as the first company to make a completely new type of headphones ie the fashion headphones popular.
They build high-quality audio products: amplifiers, headphones, earphones, and other accessories.
6. Beats
This company, founded in 2006, and headquartered in California, primarily focuses on building headphones and speakers.
They were acquired in 2014 by Apple, the largest acquisition in the history of Apple. Their products are built keeping the Apple products in mind, mainly.
7. Fostex
A division of Foster Electric Co. Ltd. which supplies audio equipment for many big names like Sony, Sennheiser, Honda, Ford, Apple, Beats, Nokia etc., Fostex is a Japanese company which builds professional and premium products, keeping in mind the intricate needs of musicians, audio experts etc.
FAQs About Best Bass Headphones
1. Which type is better for listening to music, wired or wireless?
While wireless headphones are definitely more convenient: no tangling/knotting of wires, better portability, when it comes to sound quality, the wired headphones reign supreme.
While the quality loss while transmitting high-quality audio via wireless devices are being reduced, thanks to the Bluetooth codecs, wired headphones are still much better when it comes to sound quality.
2. How to choose the right headphone?
It depends. On a lot of things. From the type of work you require it for, to the kind of genre you prefer, there are several factors to be taken into consideration while choosing the perfect headphone for yourself.
For example, studio professionals prefer an over-ear headphone, with a flat frequency response because they need to listen to precise music for long amounts of time.
Similarly, for people who listen to music on the go, during their commute or while working out, in-ear headphones are preferred a lot more.
If you are a bass-head or someone who loves techno music, you would probably be looking for a bass-heavy set.
3. Are there any other accessories required after or during the purchase of headphones?
That's a very relative question. Because, it differs from brand to brand and model to model. And, of course, it also depends on your specific requirements.
But according to what you may require, these are some of the accessories available, to complement or enhance your experience:
Amplifiers
Headphone cables
Headphone stands
Foam tips
Microphones
Earpads
Headband pads
4. Does heavy bass mean great sound quality?
No! While the bass is a very important aspect of how you listen to something, too much of it will obviously disrupt your listening experience.
So, how should a headphone be??
A perfect pair of headphones should be able to "reproduce the music as it is". That is, the way it was originally created and intended to be listened to.
Too much bass destroys the overall output you hear, which means you compromise on detail and clarity.
5. How much does a bass headphone cost?
It depends on several factors. From the noise cancellation to the sound quality to the build of the headphones, the pricing is a cumulation of many specifications taken together.
Still, you can get some great bass headphones at prices starting from only 20 – 25 $, which can reach up to as high as 5000 $ depending upon the brand and product.
6. What are some good qualities of a good headphone?
There are many specifications, which you must look out for, but some essential features to look out for while purchasing new headphones are:
larger drivers (for better sound quality)
high impedance (to eliminate the low hum because of high current)
minimum total harmonic distortion (for clear sounds, even at high volume)
noise cancellation features (to listen to what you want to listen to, not the wailing of that nearby toddler!).
7. Price not considering, which would be the ideal bass headphone to buy?
Undoubtedly, Fostex TH900.
It's lacquered "Urushi" finish on Japanese cherry birch, is absolutely stunning and it has a beautiful exterior look.
It also has the amazing capacity to attain very high propagation velocity.
And it has almost 5 times more hardness than usual plastic films, which makes it quite durable!
The sound quality is perfect, and this model is a must-have if it can be afforded in the first place!
---
Conclusion
So, hopefully, by now, you have chosen the perfect type of life partner headphones for yourself!
Don't get too confused over the details. At the end of the day, it all depends on the type of music you hear, the type of work you do, your personal preferences, etc. Hope you can find a great pair of headphones!
May the sound be with you…