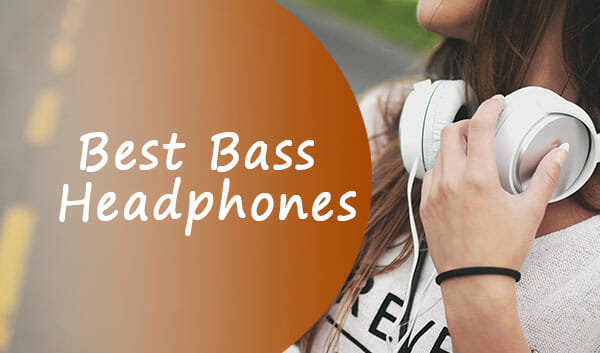 So, you're looking for a new headphone? And you can't compromise on the sound quality? And you're looking for some diverse options?
Fear not, because you couldn't be at a better place than this.
Now, while judging headphone performance, bass quantity and quality plays a very important role.
The music's power, it's weight, comes from the bass, so headphones with lesser bass sound thin and metallic. The reason why there are hardly any "flat" or measurably accurate headphones.
So let's have a look at 9 best bass headphones available out there in 2023.
Table of Contents
Top Bass Headphone Reviews In 2023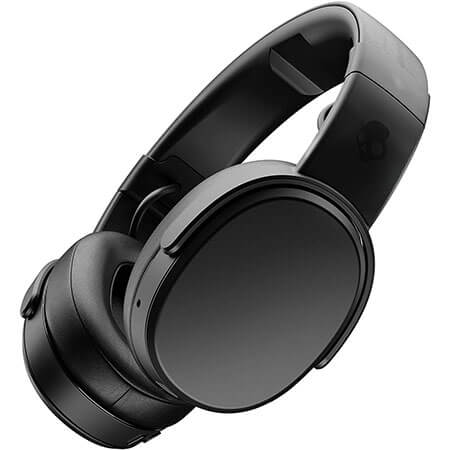 Specifications:
Impedance: 32 Ω
Sound Output: Stereo
Sensitivity: 99 dB
Frequency range: 20, 20000 Hz
Acoustic design: Closed
Wireless: No
Style: Over-Ear
The name here itself suggests what the headphones are here to do: it is literally a "crusher"!! If you are someone who loves the bass, look no further than this! With its crazy, intense and "skull-crushing" bass, this headphone is a must-have!!
You get the original, immersive bass experience so that you don't just hear, but feel it, experience it. The only problem with the bass here is that at times, it feels uncontrolled which decreases the sound quality. Plus, the treble could have been more subtle, a bit more refined.
It has two "full-range 40mm audio drivers", which are complemented by 2 extra subwoofer drivers so that the whole effect gets enhanced. One of the best features of this set is that it has energy. Lots and lots of energy. And you feel all that while using it.
It also comes with quick charge technology, which basically means that you can use it for 3 hours with only 10 minutes of charging. Amazing, right?
Pros
Quick charging.
Sensory bass adjustable.
Extra subwoofer drivers.
Cons
Poor folding mechanism.
Not the best looks.
They provide supercharged bass (isn't that what you're looking for?). So you get the maximum thrills and madness, the next time you watch a movie or play a game.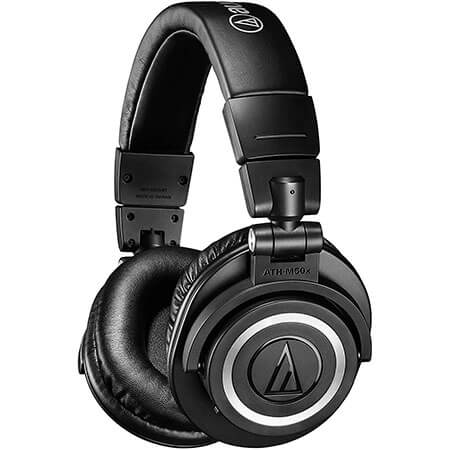 Specifications:
Wireless: No
Impedance: 38 Ω
Sound Output: Stereo
Sensitivity: 99 dB
Frequency range: 15, 28000 Hz
Style: Over-Ear
Acoustic design: Closed
The ATH series by Audio Technica is one of the most reputed series of headphones and this model only continues the legacy of the sonic excellence of this series. The detachable cable is an extra feature of this model.
With the large-aperture drivers, you get the best sound quality. Combine that with the amazing sound isolation feature by the over-ear cups that cover up your ear and ensure that nothing disturbs your music.
They are specifically developed to use while commuting. The sound is balanced, the bass is quite tight, and you can hear those parts more clearly, which are usually dulled out.
The construction is great, so it's very comfortable as well as durable. Whether you are a student or a commuter or a YouTuber, you'll find these headphones a lot to your liking.
The Bluetooth connectivity could have been better though, and the quality of some codecs vary depending upon whether the device is Android or iOS.
Pros
Great for gaming.
Long durability.
Feel comfortable while working.
Detachable cable.
Cons
There may be loose wires.
Not many headphones can provide this amazing sound at the price at which this Audio Technica model does! You have a balanced as well as immersive experience packed with detail, with less emphasis on lower frequencies.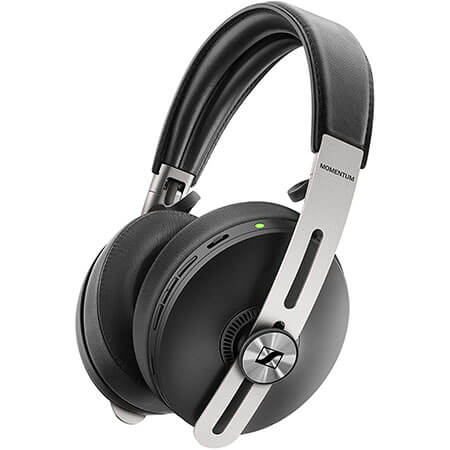 Specifications:
Frequency range: 6Hz – 22000Hz
Audio Jack: 3.5mm (for those who prefer wired connections)
USB-C connectivity: Yes
Bluetooth: Bluetooth 5 (and for Apple users: SBC and AAC)
Battery Life: Up to 17 hours
The noise cancellation feature in Sennheiser Momentum 3 Wireless is really amazing so that you listen to your music without any disturbances. The headband is adjustable, made of quality leather so that you feel comfortable at all times.
It also has a brilliant auto-pause and auto-play feature, which works according to you using it, meaning it starts playing when you put it on and pauses when you take it off.
If you are someone who forgets his/her things often, this is definitely for you. By integration with the Tile app, which you can download on your smartphone, you can track your headphones whenever and wherever you want.
The only downsides are that it is more expensive than its competitors, and lasts for 13 hours on a full charge, which is quite less than some of its competitors.
If you are a commuter, or someone who frequently flies, or someone who wants a combination of style and performance, these might be just the headphones you are looking for!
Pros
Reliable controls.
Multi-device sharing.
Good battery life.
Supports aptX low latency.
Cons
Lesser battery life.
Expensive.
Excellent build quality and style, typical of the Momentum series by Sennheiser. The connection quality is amazing, thanks to its Bluetooth 5.0 firmware and the high-quality Bluetooth codec support.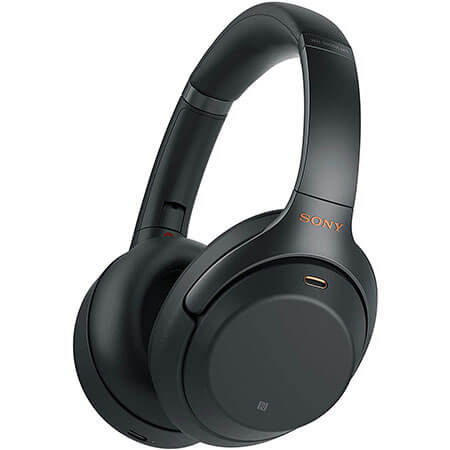 Specifications:
Impedance: 47 Ω
Magnet Material: Neodymium
Cable Length: 47.24 in
Acoustic design: Closed
Battery Life: 30 hr
Sensitivity: 104.5 dB
Frequency Range: 4, 40000 Hz
They have the best noise cancellation. Very effective. Period.
They have a great look and design, they are super comfortable to wear, they are quite portable, and ideal for listening for long periods of time! What more do you want?
It supports the virtual assistants, Google Assistant for Android models, and Siri for apple. It also supports five codecs for playing music, which means you have great sound quality, not only with the cables attached but also when you're listening on Bluetooth.
While the sound is already great, you can customize the way you want to listen to by connecting the headphones with the Connect app, which can be downloaded for free.
And to top everything, it has an outstanding battery life! Charge it fully, and you get almost 30 hours of playback!
So if you are someone who travels by air frequently, or someone who commutes quite often, or someone who is just a casual listener, these headphones would suit you perfectly!
Pros
Great build quality and customizable.
The well-built noise cancellation feature.
Deep, thumpy bass.
Comfortable to wear.
Quick charging.
Cons
Controls may not work properly in winters.
Poor call quality.
Hardly any pair of headphones can match the all-round appeal of this Sony product: quick charging, engaging sound, deep bass. And it's noise cancellation feature is easily the best!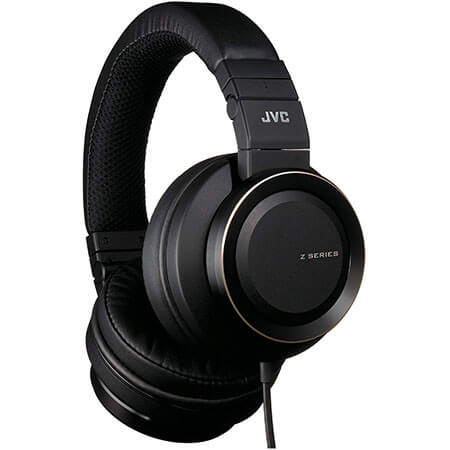 Specifications:
Sound Output: Stereo
Cable Length: 47.24 in
Impedance: 16 Ω
Magnet Material: Neodymium
Sensitivity: 108 dB
Style: Over-Ear
Acoustic design: Closed
These have great, handsome looks, and they are quite solidly built even though they are made of plastic. But along with that, they are quite bulky, the stock pads are not up to mark, and you might need amplifiers, and they definitely could have upped their game in the area of comfort.
These are almost perfect if you want to binge-watch your favorite show, or have a movie night! Also, if you are a bass lover [isn't that why you're here for??], they'll suit you perfectly! The bass here is of great quality and is super hard-hitting. And just so that the bass doesn't mess up at high volumes, you've got the "vibration-inhibiting cylinders".
The design is Japanese, and they have dual drivers, which ensure you get a seamless sound, and there's no harshness creeping in, especially at high volumes.
Pros
Huge, accurate and "thunderous" bass.
Comfortable.
Durable build.
Dual drivers.
Cons
Stock pads [replaceable] can be a little uncomfortable.
Slightly bulky.
With its teeth-rattling bass, and it's great durability, and it's noise cancellation, it's perfect for personal use.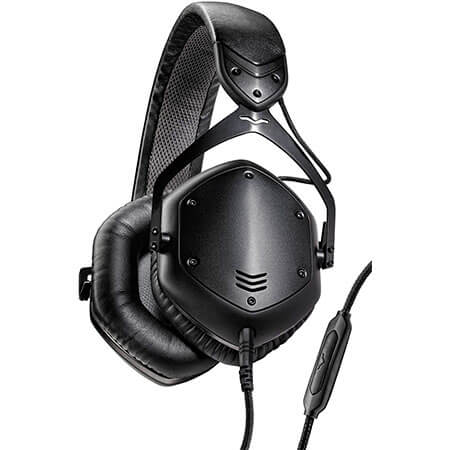 Specifications:
Drivers: 50mm dual-diaphragm High-Fidelity
Microphone Sensitivity: 42dB @ 1kHz
Impedance: 32Q
Plug: 24k stereo (gold-plated) 3.5mm (⅛"), 45-degree strain relief, ¼" gold-plated adapter
Weight: 260 g (headphones only)
Frequency Response: 5-30 kHz
Sensitivity: 105dB @ 1kHz 1mW
Type: over-ear/circum-aural
This set brings a warmth of its own to the music you hear. The sound quality here is simply magnificent!
It's performance alone is enough reason to buy it!!
It is very, very comfortable, thanks to its lightweight. The design is amazing, the build's quite great and it is quite durable.
The whole structure though, is a bit bulky, and the folding mechanism can be improved. Plus, the bass could have been more in the final output.
The ear cups are made of soft foam, the sound isolation is very good and the trebles are pretty well-balanced. This set is especially suited to you if you are a gamer or a fan of dubstep.
Pros
Less than 2dB variance to maintain consistency.
Easily portable.
Soft foam cushions which ensures comfort as well as great noise cancellation.
Humidity & UV resistant.
Cons
Pricing is higher than its competitors.
A very comfortable product to use, which is built to last for years, and which sounds great, chances are quite high that these will keep you happy for a long time!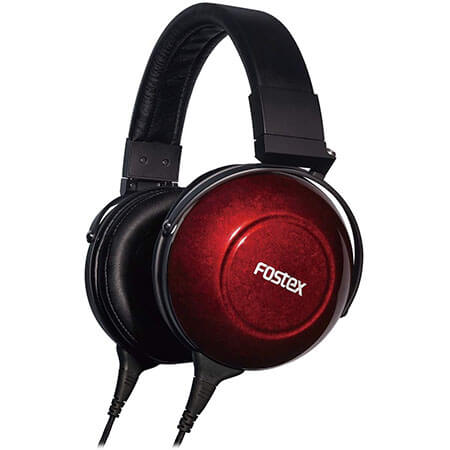 Specifications:
Style: Over-Ear
Sound Output: Stereo
Wireless: No
Impedance: 25 Ω
Acoustic design: Closed
Sensitivity: 100 dB
Frequency range: 5, 45000 Hz
These headphones are the best you can get. Period.
The looks are great and is sure to turn heads, the ear cups are Japanese Birch Cherry Wood designed, which accounts for the tonal accuracy of this set. The cables though, are non-detachable.
The bass is great, the sub-bass outstanding! The treble's quite in detail, and the overall sound has a very detailed feel to it. The lows are quite deep, and have an impactful quality, the mids are accurate and the vocals are well-defined.
The range is very dynamic here, thanks to the Neodymium magnetic circuit. The soundstage is great, you can hear the instruments separately!
The build quality is great. You don't require powerful amplification. The driver size is quite large, which results in the superior sound quality of this set.
Pros
Soft and comfortable ear pads.
Neodymium magnetic circuit .
Japanese cherry-birch made framework.
Superior sound quality.
Cons
Too expensive.
Non-detachable cable.
This is a magical product, seriously! Amazing drivers, perfect bass and sub-bass, great battery life, super comfortable! You simply have a glance at it and you know, this is not just another pair of headphones…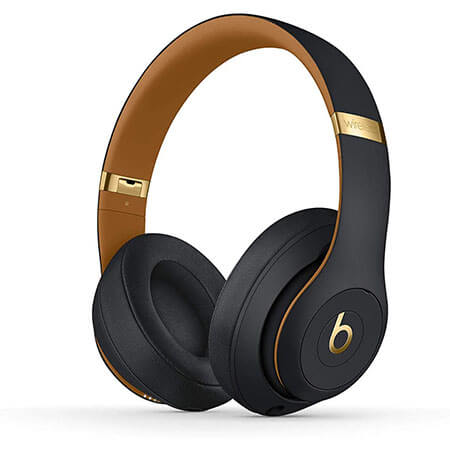 Specifications:
Driver Type: Dynamic
Design: Closed
Driver: 50mm
Water Resistance: No
Sensitivity: 100 dB/mW
Battery life: 22 hours with Active Noise Cancellation (ANC); 40 hours without ANC
Maximum input: 1800 mW
Wireless Connection: Bluetooth
Earpad material: Foam
Cable: 1.2m coiled cable
Weight: 260 g
If you are in possession of Apple products (iPhones, iPads, iMacs etc), these headphones might just be the one for you!
Most of the frame here is plastic, and the ear pads are of synthetic leather. They can easily be folded and are very portable. The active noise-cancellation feature is very impressive, though wind noise can disrupt your experience.
Coming to sound, the bass is great! But it doesn't quite deliver the sub-bass power, and the mid-frequency sounds get dragged down.
The best feature about this is Apple's W1 chip, which ensures smooth connections, ensuring better sound. But.. this is for Apple products only and the chip has no use for Android or Windows sets.
Pros
Great wireless performance.
Solid sound.
Top battery life.
Great active noise cancellation.
Cons
Wind noise creeps in.
Poor mids and sub-bass.
Works brilliantly only for Apple products.
This product is mainly for fans of Apple products. So, for someone who owns an iPhone, iPad, iMac and via these, listens to iTunes, this product will serve them very well. It has excellent connectivity, great battery life and a boost for Apple users because of the W1 chip.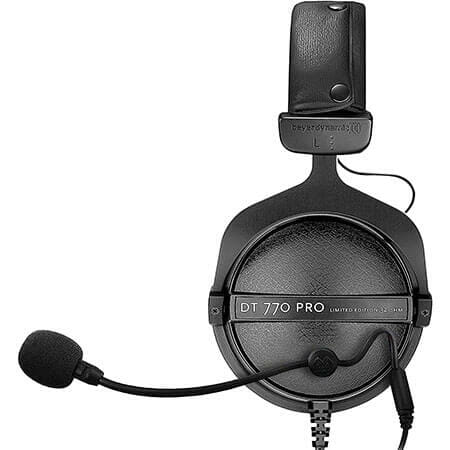 Specifications:
Transducer Type: Dynamic
Cable: 3 m coiled cable
Normal Frequency Response: 5 – 35,000 Hz
Sound Coupling To Ear: Circumaural
Operating Principle: Closed
Nominal SPL: 96 dB SPL
Power Handling Capacity: 100 mW
Nominal T.H.D: < 0.2%
Weight: 270 g
If you are looking for amazing sound quality, look no further. Because this is the last recommendation. You won't find any more below! And also, because it's audio reproduction is near-perfect, of course!
The mid-range is almost perfect, the bass is perfect, the treble's excellent, as I said, the sound quality is simply awesome! This is definitely for the music creators out there.
These are very comfortable to wear for long periods, thanks to the late ear-pads, the design is closed-back, which means no sound escapes.
But. It's very difficult to carry around, without a bag, and hence not suitable for use outdoors. Also, an amplifier might be required here.
Pros
Great isolation.
Super comfortable velour pads.
Hard bass without any mixing up.
Sturdy build quality.
Perfect device for music professionals.
Cons
Not for neutral mixing.
The cable is very inconvenient.
Can be a bit heavy.
This is a great closed-back headphone with fast speed, wide soundstage, good bass as well as treble performance. Plus, it is super comfortable to wear! Perfect especially for professional musicians.
Top Brands: Bass Headphones
While there are a plethora of companies selling mobile accessories like headphones, chargers, memory disks, here are some of the top brands, which have made a place for themselves amidst all the competition:
1. Sennheiser
A privately-owned German audio company, headquartered in Wedemark, Sennheiser has always had its focus on sound quality, constantly making high quality audio products from headphones to microphones to headsets to telephone accessories!
2. Sony
Founded initially as Tokyo Telecommunications Engineering Corporation, this Japanese multinational company headquartered in Tokyo, is one of the biggest companies in the field of media, entertainment, electronics right now.
They own the largest video have console business, the largest music entertainment business in the world, and they are also one of the biggest names in electronic product manufacturing currently, as well as leading in movies and television entertainment industry.
They provide gaming services, electronics, entertainment and financial services.
3. Skullcandy
This relatively new American company, based off in Utah, builds its products with the principle that the listeners not just listen to the music, but feel it.
They build very fashionable products, which have great sound quality, are durable and are affordable. They develop a wide array of products from earphones to headphones to MP3 players etc.
4. JVC
The Japan Victor Company aka JVC, is, as is very apparent, a Japanese company, based in Yokohama, and is well known for bringing in the first television sets in Japan, and developing the "video home system video recorders". They are a seller of audio, visual products as well as products related to computers, electronics and software.
5. V-Moda
This private international company, based in California, is recognized as the first company to make a completely new type of headphones ie the fashion headphones popular.
They build high-quality audio products: amplifiers, headphones, earphones, and other accessories.
6. Beats
This company, founded in 2006, and headquartered in California, primarily focuses on building headphones and speakers.
They were acquired in 2014 by Apple, the largest acquisition in the history of Apple. Their products are built keeping the Apple products in mind, mainly.
7. Fostex
A division of Foster Electric Co. Ltd. which supplies audio equipment for many big names like Sony, Sennheiser, Honda, Ford, Apple, Beats, Nokia etc., Fostex is a Japanese company which builds professional and premium products, keeping in mind the intricate needs of musicians, audio experts etc.
FAQs About Best Bass Headphones
Which type is better for listening to music, wired or wireless?
While wireless headphones are definitely more convenient: no tangling/knotting of wires, better portability, when it comes to sound quality, the wired headphones reign supreme.
While the quality loss while transmitting high-quality audio via wireless devices are being reduced, thanks to the Bluetooth codecs, wired headphones are still much better when it comes to sound quality.
How to choose the right headphone?
It depends. On a lot of things. From the type of work you require it for, to the kind of genre you prefer, there are several factors to be taken into consideration while choosing the perfect headphone for yourself.
For example, studio professionals prefer an over-ear headphone, with a flat frequency response because they need to listen to precise music for long amounts of time.
Similarly, for people who listen to music on the go, during their commute or while working out, in-ear headphones are preferred a lot more.
If you are a bass-head or someone who loves techno music, you would probably be looking for a bass-heavy set.
Are there any other accessories required after or during the purchase of headphones?
That's a very relative question. Because, it differs from brand to brand and model to model. And, of course, it also depends on your specific requirements.
But according to what you may require, these are some of the accessories available, to complement or enhance your experience:
1. Amplifiers
2. Headphone cables
3. Headphone stands
4. Foam tips
5. Microphones
6. Earpads
7. Headband pads
Does heavy bass mean great sound quality?
No! While the bass is a very important aspect of how you listen to something, too much of it will obviously disrupt your listening experience.
So, how should a headphone be??
A perfect pair of headphones should be able to "reproduce the music as it is". That is, the way it was originally created and intended to be listened to.
Too much bass destroys the overall output you hear, which means you compromise on detail and clarity.
How much does a bass headphone cost?
It depends on several factors. From the noise cancellation to the sound quality to the build of the headphones, the pricing is a cumulation of many specifications taken together.
Still, you can get some great bass headphones at prices starting from only 20 – 25 $, which can reach up to as high as 5000 $ depending upon the brand and product.
What are some good qualities of a good headphone?
There are many specifications, which you must look out for, but some essential features to look out for while purchasing new headphones are:
larger drivers (for better sound quality)
high impedance (to eliminate the low hum because of high current)
minimum total harmonic distortion (for clear sounds, even at high volume)
noise cancellation features (to listen to what you want to listen to, not the wailing of that nearby toddler!).
Price not considering, which would be the ideal bass headphone to buy?
Undoubtedly, Fostex TH900.
It's lacquered "Urushi" finish on Japanese cherry birch, is absolutely stunning and it has a beautiful exterior look.
It also has the amazing capacity to attain very high propagation velocity.
And it has almost 5 times more hardness than usual plastic films, which makes it quite durable!
The sound quality is perfect, and this model is a must-have if it can be afforded in the first place!
Conclusion
So, hopefully, by now, you have chosen the perfect type of life partner headphones for yourself!
Don't get too confused over the details. At the end of the day, it all depends on the type of music you hear, the type of work you do, your personal preferences, etc. Hope you can find a great pair of headphones!
May the sound be with you…