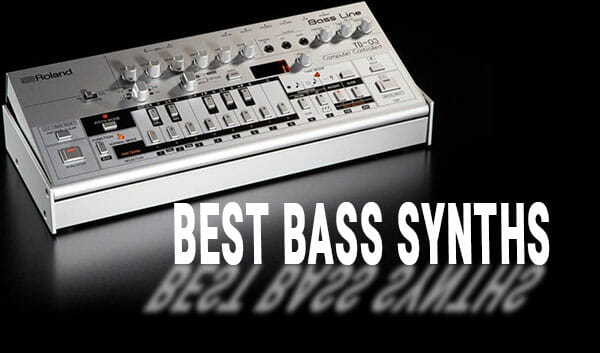 The world of music is echoing with newly launched Bass Synthesizers, and we are here to help you to choose the best one for your gigs this year. The synths with pre-loaded bass sounds are great for beginners, and for the pro-musicians there are a host of features for creating unique electronic music.
These Bass Synths are perfect for getting the storm to the stage or to a recording-studio with a fantastic sonic character. Read along our information guide on the Best Bass Synths of 2023 to get you started in the world of synth music creation.
Table of Contents
Top Bass Synth Reviews of 2023
Roland TB-03 is modeled on the classic bass-line synthesizer released in 1982, but the technology is revamped bringing along a whole range of enhancements in a small handy instrument. The TB-03 shines with its hypnotic acid sounds with some astounding waveforms. You are sure to get the most out of your synth programming with its LED display and sound effects.
Above all the master features on this synth, you also have an advantage of using the instrument as an audio interface through the USB port. With the Roland TB-03 with you, there is no holding back from creating some wild music for the audience.
Features
4-digit LED display for accurate programming.
Overdrive and delay effects.
Fine tempo control.
Pattern creation.
Write mode for programming.
Pros
Ultra-compact and portable music instrument.
Can be used as an audio interface.
Runs on battery as well as USB power.
The original model of Roland TB-303 is still fondly remembered by the music community as the classic synthesizer that laid down a gold-standard. With the Roland TB-03, we are sure that the legacy will be carried forward in years to come. We strongly recommend the Roland TB-03 for the modern features merged to the classic sound. This is a great Bass Synth for creating acid sounds and electronic music.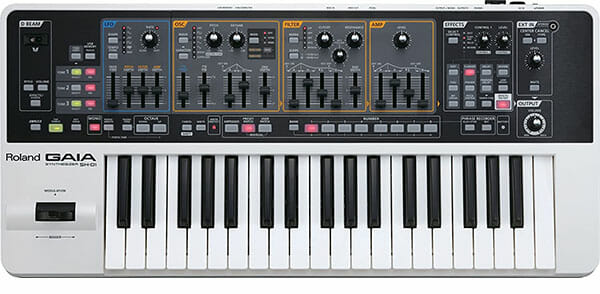 Roland GAIA SH-01 is a professional grade Bass Synth, complete with oscillator, filter, LFO, amplifier and envelope tools. With your hands on Roland GAIA SH-01 creating music is like creating magic. You can integrate a huge array of effects on the 37 full-size keys and create some exceptional sounds.
The list of features which can expand the horizon of your music includes phase recording, storage and MP3 playing options. The Roland GAIA SH-01 is a super-versatile, super-powerful Bass Synthesizer designed thoughtfully for beginners as well as professionals.
Features
3-virtual analog engines.
Oscillator, filter, amplifier, LFO and envelope tools.
Distortion, delay, reverb, low boost, flanger effects.
Arpeggiator and phase-recorder.
Pros
Suitable for learners and beginners.
Record and save music option.
Portable and easy-to-use.
Roland GAIA SH-01 is all that you would seek in a perfect Bass Synthesizer. Even if you are a beginner at creating bass music on synth, you will find that it is easy to become used to the system. Roland GAIA SH-01 is light on weight but heavy on features, and we are confident that you can create deep fat bass with this synth.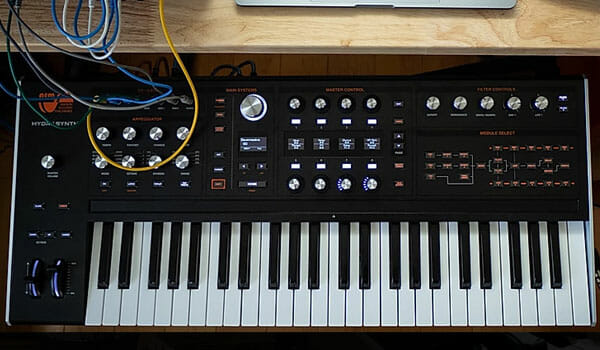 Hydrasynth from Ashun Sound Machine is one of the most sophisticated synthesizers in the market with many upscale features and tools under the keys. Musicians swear by the playability and control the Hydrasynth offers through its polyphonic aftertouch keys, built-in ribbon controls and modulation options. The layout of some of these ultra-sophisticated tools is unbelievably simple and easy to get started with. The synth allows easy programming and control, and sound sculpting through oscillators. It offers a range of effects that were probably not even imagined by other brands.
Features
Polyphonic analog synthesizer.
49 keys with aftertouch.
3 oscillators and more than 200 waveforms.
Two filters.
5 envelope generators.
Ribbon controller.
Pros
Intuitive and easy-to-use interface with display options for every selection.
Expressive Keyboard and Ribbon Controller.
Durable built and impressive style.
Cons
Very expensive.
May not be very useful for beginners.
If you ever dreamt of owning a monster synthesizer, but never could come close to your dream machine, we assure you that your search would end here. With revolutionary features and head-turning sound, every penny invested on this instrument is worth it.
Behringer Deepmind is a sophisticated Bass Synth, a massive true analog. This is a highly professional instrument built for vintage style pop and rock music. It is the most amazing blend of solid engineering and creative thinking. Every feature you can imagine in a progressive instrument is included in its design, ranging from oscillators and envelopes to LFO.
The keyboard is large with 49 full-size keys and can be exploited fully for chords with variable pitch and harmony. More you explore this device, the more you will admire this power-packed device.
Features
Analog polyphonic synthesizer.
12 voices with oscillator, LFO and envelope modes.
32-step sequencer.
49 full-size keys with sensitivity features.
Pitch, modulation and volume control.
Low-pass and high-pass filters.
Pedal input.
Pros
Amazing analog and digital effects.
Extensive features and versatility.
Velocity sensitivity and after-touch control.
Loaded with futuristic features and designed for pro-music, Behringer DeepMind 12 guarantees an out-of-this-world experience on the keys. If you are really serious about the way your Bass Synth sounds and feels, this is without doubt the best analog synthesizer you could ever get your hands on.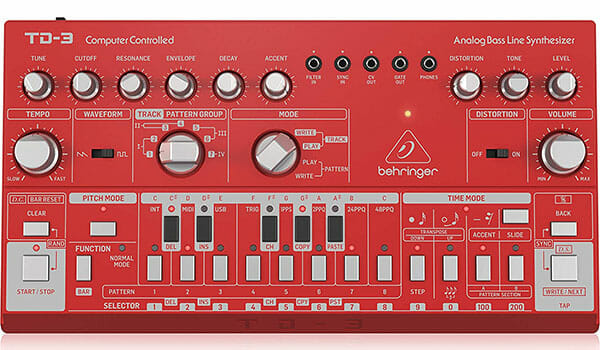 Behringer TD-3 is a budget instrument from Behringer with sufficient punch and analog sound that is inspired by the Roland TB-303 synthesizer. Behringer TD-3 generates rich tones and terrific effects. With its intuitive configuration, the synthesizer opens opportunities for creating not only the retro-style pop, rock and EDM music, but even some exciting super-fat bass sounds.
You can go ahead and experiment to your heart's content with the pattern sequencer, distortion and poly-chain tools on this wonder instrument.
Features
Analog bass synthesizer.
Monophonic synth with 16-voice Poly Chain.
Oscillator and Envelope features.
Distortion effect.
16-step pattern sequencer.
Pros
Superb value for money.
Advanced features and tools.
Geared with sophisticated controls.
It is surprising how much this small synthesizer can deliver in terms of versatility and finesse. If you had ever aspired to create the acid and funk music on a Roland TB-303, here is your golden opportunity to play something nearly similar. Best of all, this Bass Synth will guarantee fabulous sound without burning a hole in your pocket.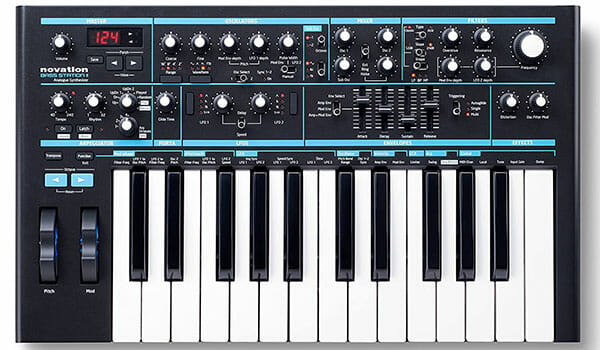 Novation Bass Station II is a power-loaded mono-synth with shattering sonics and deep bass. One of the top rated synthesizers in the market, the Bass Station II comes armed with two oscillators, a sub-oscillator as well as modulation tools with which you can create epic bass sound and acid music. The 25 full-size keys on the board are fuelled with after-touch technology and give you ample space to create expressive tones and distinct compositions. The instrument's layout is functionally so efficient that your fingers can just float across the board in the rhythm of the music.
Features
Monophonic analog keyboard synthesizer.
25 full-size after touch keys.
Dual Oscillators.
LFO and Envelope features.
Distortion Effect.
Pitch wheel control.
4 waveforms choices.
Acid and classic filters.
Pros
Expressive effects and super-sonic bass sound.
Compact desktop synth loaded with top-notch features.
Ease-of-control and playability.
Novation Bass Station II is powered with many functions which can seriously transform any musical composition, making it possible to create and experiment at so many levels. In our opinion, the instrument is extremely versatile and will empower beginners as well as professional performances alike.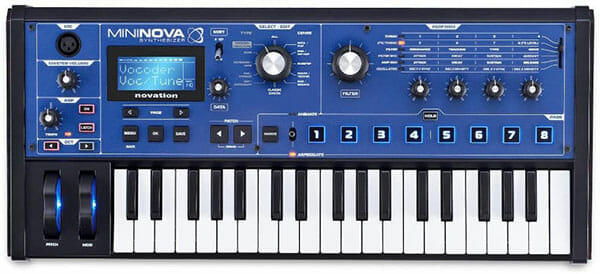 Novation Mini-Nova is a mini-key synth which offers many modulations and tweaking options for all kinds of sounds, especially fat bass. The built-in presets can be controlled and modified using the knobs on the board along with voice-tuning. The Mini-Nova sports a powerful synth engine, a host of waveforms options, oscillators, envelope generators, and sonic effects, all of which make this a jewel of an instrument. There are endless possibilities with this synth if you tap in the polyphony, the filters, the arpeggiator rhythms and editing options included in the mini-marvel.
Features
Modeling Synthesizer.
Powered by Novation's UltraNovasound Engine.
37 mini-keys with velocity sensitivity.
18-notes polyphony.
More than 200 presets.
Vocoder with voice-tuning.
Patching and editing software.
Pros
Voice recording and vocal tuning options, complete with filters and effects.
Suitable for sounding patches.
Allows programming and editing.
Novation Mini-Nova has remarkable programmability, creation tools, editing features and above all, a very powerful sound. The super cool Vocoder is easily the most attractive feature of this mini-synth which sets it apart from the crowd. Highly recommended for new learners!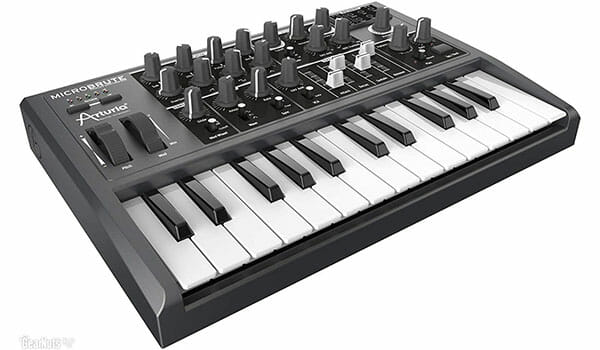 Arturia MicroBrute is an ultra-compact bass synth with a surprisingly elaborate range of functions and possibilities. The best thing about this minimalist synthesizer is its pure analog signal path that yields high-quality sound.
This instrument presents vast potential for experimental music and unique sound creation. The modulation tools, the iconic filters and the single oscillator can be exploited for generating massive sound and brutal bass.
Features
100% analog monophonic synthesizer.
25 mini-keys.
Velocity sensitive keys.
Single oscillator and 3 waveforms.
64-step sequencer.
Envelope and LFO features.
Metalizer and Pulse Width Modulation.
Arturia's signature Brute Factor effect.
Pros
Compact and portable.
Affordably priced.
Terrific filters and sound quality.
Suitable for beginners.
We strongly recommend the Arturia MicroBrute for beginners considering stepping into the world of bass synths. Easy to learn and quick to master, the instrument is an ideal mix of excellent sound range and functionality.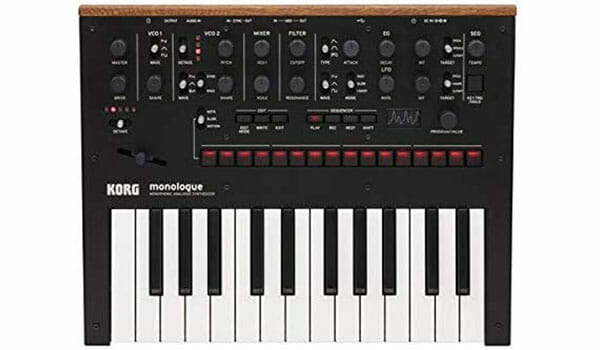 Korg Monologue is a highly adaptable synthesizer which has a distinctive sound and innovative voicing and sculpting features. Users can save up to a hundred programs and perform complex editing. You will be blown away with the magic that comes through the synth's oscillators, waveforms and waveshaping tools.
It is incredible fun creating impactful punchy notes on this synthesizer with micro tuning. The expanded step sequencer custom-savable scales allow you to bring in a vivid upbeat punch to your music.
Features
Monophonic analog synthesizer.
16-step sequencer.
25 Mini-keys with velocity sensitivity.
Distortion effects.
Micro-tuning and visualization tools.
Available in five colors.
Pros
Fully programmable.
Affordable pricing.
Allows you to create precise leads and powerful bass tones.
Suitable for beginners as well as professionals.
Stylish and durable built.
We love Korg Monologue for its real value for money package, thoughtful engineering and programmability. After all at a very affordable price point, this super-synth not only presents a host of attractive features, it even allows you to save 100 self-created presets. This one is an incredible killer Bass Synth that definitely wins over some of the premium synths in terms of performance.
Buying Guide: Bass Synths
Top Brands: Bass Synths
1. Roland
Roland is such an old name in the world of synthesizers that there was a time when the brand name was synonymous to best-in-class instruments. The legendary Roland TB-303 is an inspiration for many sound engineers and instrument- makers even today.
2. ASM
Ashun Sound Machines or ASM is a highly reputed brand of musical instruments known for its technological innovation and ground-breaking engineering. The company is especially regarded for its high-performance synthesizers and keyboards.
3. Behringer
Behringer is a European company which has made it far and big in the world of music instruments, accessories and gears. The company's founder had engineered a professional synthesizer at the age of only 16!
4. Novation Music
Novation Music is a British company coming from the family of brands which includes Focusrite, Adam Audio and Martin Audio. Needless to say, this brand is one of the top innovators in the music industry producing highly immersive instruments.
5. Arturia
Arturia is a French company which has been in the business of designing analog synthesizers since 2003. Over the past years, the brand has expanded its avenue to include many other instruments and music software.
6. Korg
Korg is a Japanese musical instruments company which has been into business since 1962. The company has been in close association with another renowned Japanese company, Yamaha. For a long time, the company was focused in the niche of synthesizer design and production, although now it has diversified to other instruments, tuners, and gears.
FAQs About Bass Synths
What is polyphony?
Polyphony denotes the number of voices a synthesizer can create simultaneously, i.e. means the number of notes on the keyboard.
What is a monophonic synth?
A monophonic synth can generate only one voice at a time.
What is an analog synth?
An analog synth relies on analog signals and has features like oscillators, envelope generators, filters and modulation.
What is an aftertouch keyboard? Do I really need aftertouch?
An aftertouch keyboard lets you control the sounding notes of individual keys. Aftertouch allows you to add vibratos to your notes and makes the music more expensive. If you are into music creation and experimentation, you will find aftertouch keys very useful.
Are filters important in a synthesizer?
Filters allow you to control the tone of the music. For example, a low pass filter can be used to make the bass notes very deep and low-end.
How expensive is a bass synth?
You can buy a high-quality bass synth for a few hundred dollars only.
Conclusion
Finally, the innovation in audio engineering has led us to the time when we can extract so much out of seemingly petite instruments. There are so many amazing synths in the markets these days, each adorned with attractive features and a star in its own right. When you lay your eyes on one of these sophisticated instruments, you probably would not be able to fathom its true potential.
Getting hands-on experience is definitely the best way to initiate your hunt for the ideal bass synthesizer. With our guidance and tips, we hope you would get an information-backed head-start for the hunt.