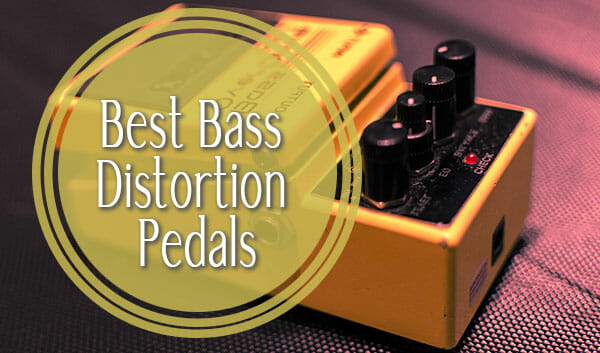 Bassists are arguably the most underrated musicians of all time. The range of skills they possess and the things they can do with a bass guitar are endless. Many bass guitarists use distortion pedals to give a distinct sound to their music. Since the dawn of heavy metal music in the 1970s and 1980s, the use of bass distortion pedals has become more and more prevalent.
In this article, we have compiled the best distortion pedals of 2021. Some might be better than others in a few aspects. Check out the list and decide which one suits your needs.

Best Bass Distortion Pedals: Reviews
---
---
---
---
---
---
---
---
---
Buying Guide: Bass Distortion Pedals
Bass pedals are of different types and are used for various purposes. They can be used as volume pedals, reverb pedals, compressor pedals and much more.
When it comes to distortion, it is pretty similar to overdrive. Sometimes the two terms are used synonymously with each other. Few of the entries in the list are overdrive pedals. Despite being astoundingly similar, there are subtle differences between the two. You should keep these differences in mind when you go out to purchase a bass pedal.
Majority of the distortion pedals are used to boost the signal or give a slight colour to the tone.
Difference Between Distortion & Overdrive Pedal
Distortion Pedal
Many bassists use distortion pedals to give a buzzy or distorted tone to their sound. In distortion pedals, you'll feel nearly the same amount of distortion as the volume changes. This is not the case in overdrive pedals. Distortion pedals are mostly used by musicians who play metal music.
Overdrive Pedal
Overdrive is a milder version of distortion. Here, the distortion level fluctuates with the change in volume levels. You won't notice much difference in your tone if you play softly, but as you'll play harder, you'll see that there is much harsher distortion. Many classic rock and blues are frequent users of overdrive pedals.
Best Brands: Distortion Pedals
1. Boss
Boss is one of the most notable names in the music electronics industry. They are a subsidiary of the Japanese multinational company Roland Corporation. Roland is the goliath of the music electronics industry and Boss is their division that takes care of pedals and similar devices.
2. MXR
Based out of New York, MXR is a company that specialises in making effect pedals. Their product line includes a broad range of high-quality effect pedals for guitars and bass guitars. From distortion pedals to compressor pedals, they make everything. MXR is also in the business of manufacturing musical electronic racks and drum machines. Jim Dunlop bought the MXR brand in 1987 and taken the brand to new heights.
3. Electro-Harmonix
EHX or Electro-Harmonix is an American firm that was founded by Mike Mathews in 1968. Since then, they have made a name for themselves in the music electronics industry. Mainly they are known for making high-end vacuum tubes and effect pedals. EHX was the first company to manufacture affordable stompbox and first tube-amp distortion simulator.
4. Pro Co
Pro Co is one of the well-known firms, especially due to their pedal The Rat. This pedal has its own fan following. Based out of the USA, Pro Co Sounds is an expert in making some of the most excellent musical equipment. Their list of offerings is endless, and among them, there are some truly exceptional products like the Rat pedal.
5. Behringer
Behringer is one of the largest audio machinery companies in the world. They are based in Germany and are a subsidiary of another firm called Music Tribe. Their presence is felt in every corner of the earth. Their products are not always of the highest quality, but they do the job they were designed to do.
FAQs About Distortion Pedals
1. Which is the best distortion pedal for metal music?
Metal music is all about distortion, whichever subgenre you pick, distortion is a critical element. So you should choose a pedal that offers maximum distortion but also maintains clarity. Green Rhino by Way Huge provides some of the heaviest distortions that you can get. Even on high gain, Green Rhino can keep bright and heavy distortion.
2. Which is the most budget-friendly bass distortion pedal?
Behringer Bass Overdrive BOD 400 is arguably the best cost-effective bass distortion pedal out there. The plastic build will drive some of the rich folks away, but it is an excellent option if you are on a low budget. Another cheap option is the Boss ODB-3, but you'll have to increase your budget for this slightly.
3. What is the difference between a compressor pedal and a distortion pedal?
There are a lot of types of pedal available, compressor and distortion are just two of them. The primary difference between the two is that a compression pedal reduces the dynamic range of the input signal. Distortion pedals, on the other hand, saturate the signal and give it a new outlook.
4. What is the average cost of a right bass distortion pedal?
There is a wide variety of distortion pedals in the market, with pricing ranging from modest to extreme. You can get a good bass pedal below 100 dollars if you go for some of the cheaper models. Or you can go for a used version of a high-end model, which will also come at a similar price.
5. Should I choose a pedal with maximum controls?
If you are a seasoned bass player who knows his way around musical instruments, then sure, yes, go for it. However, if you are still new at this, and not sure about getting the best out of some knobs, then it is best to choose a more simplistic option.
---
Conclusion
Distortion pedals have been in the territory of guitarists for the most part. It was not until recently; their use has become almost routine. Now there are numerous pedals in the market, each with a unique advantage that sets it apart from the rest. What suits you is something that only you can decide. We have listed all the facts; now the decision is yours.