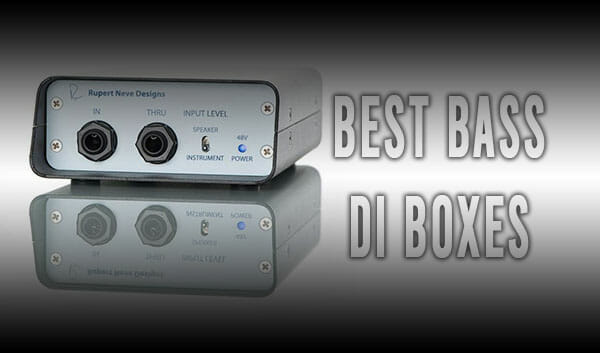 Whether you are a stage performer or a studio artist, the DI box or "Direct Injection Box" can turn out to be one of the most useful gadgets in your tool box. The DI box manages impedance of music instruments converting it to a balanced low-impedance signal for microphone level input jacks.
Most novice guitarists are stumped when they are advised to bring on a direct box to the gig. Although the technology and its function are quite simple (conversion of unbalanced input to balanced XLR output), the choice of selecting the best bass DI box for your instrument in 2021 may be clouded due to confusing reviews and guides.
Here we tackle the task of helping you understand the nitty-gritty of a DI box, so that you can confidently head to the stage or studio with your instrument.
Top Bass DI Box Reviews of 2021
---
---
---
---
---
---
---
---
---
Buying Guide: Best DI Boxes
The DI box appears to be a very humble device, with simple looks but ample performance. It is easy to get confused over the many options to buy from. But well, we have dug in deeper into these humble devices to help you make the right decision. Read along to know the key factors to consider before making picking up a DI box.
1. Active v/s Passive
DI boxes are designed for music instruments, and your choice of the type of DI box should be determined by the type of music instrument you use. For instruments with active pickup, active DI box is suitable and for those with passive pickup, passive DI boxes.
2. Premium Features
Sometimes it seems unreasonable to pay extra bucks for a device that performs the standard function like any other fairly priced product. But when it comes to DI boxes, that is not always the case. Premium brands like the Radial J48 or Rupert Neve Designs, do deliver a distinctive sonic character, for which it may be worth to shell out more.
3. Sounds like perfect
The sound from a DI box weighs heavily on its application, on the combination of your music instruments and your style of music. After all, all these should be together and sound perfect. Choose a DI box which blends with your music style and choice of instrument.
4. Value for your money
Fortunately, DI boxes are not the most expensive tool for music production, though it is one of the most indispensable ones. There are top-quality DI boxes starting at $25 only, which means you don't need to spend a fortune necessarily. Let your budget guide your choice.
5. Durability
This factor is often overlooked while selecting a direct box. Overtime, not only does a study DI box become a reliable aspect of your performance, it becomes your companion too. We cannot stress enough on the importance of investing in a DI box which is constructed to last for years.
Top Brands: DI Boxes
1. Fishman
Fishman is a US-based music technology and equipment company known especially for pickups and other guitar equipment. The company is highly regarded for innovative and futuristic products.
2. LR Baggs
LR Baggs is a leading global producer of music gears hailing from California, USA. The company deals in a wide range of sound equipment like guitar pickups, microphones, pre-amps and direct boxes. With their expertise in all integrated music systems and equipment, LR Baggs has launched some award-winning products and technology in the music industry.
3. Behringer
Behringer is a German sound-engineering company led by the renowned Swiss sound-engineer Uli Behringer. It is one of the largest music equipment manufacturers successfully marketing and selling music gears and equipment all over the world.
4. Radial Engineering
Radial Engineering is a Canadian audio equipment company which has made its distinct mark in the music industry with the world's best professional gears. The company is especially known for the exceptional direct boxes and claims the honor of supporting stage acts of top musicians like Paul McCartney and Bruce Springsteen.
5. Rupert Neve Designs
The brand led by celebrated engineer Rupert Neve, has launched some of the classic audio equipment and is regarded as the pioneer of recording consoles. The company's product line includes masterfully designed microphones, pre-amplifiers, compressors and other sound gears.
6. Whirlwind
Whirlwind is one of the world's oldest music equipment and digital audio gear companies. Their products are designed and made in America and guarantee unbeatable quality and innovation.
Frequently Asked Questions About DI Boxes
1. What is an active DI box?
An active DI box works on power supply from battery, adapter or phantom-power. It includes a preamplifier and is suitable for low signal levels.
2. What is a passive DI box?
A passive DI box is essentially a transformer function device which does not require active circuit or power. It is suitable for basic matching of source impedance. A passive DI box is not suitable for low-signal instruments.
3. Can a DI box be used for home recording?
Yes, DI boxes can generally be used for all types of applications including home recording, although there is no DI box exclusively marketed for this purpose.
4. What does the ground-lift switch on the DI box do?
The ground-lift switch on the DI box isolates ground noise and signals, yield a clear noiseless sound.
5. Which is a better DI box power supply option, battery-powered or phantom-powered?
Battery-powered DI boxes are less preferred, not only due to repeated replacement costs but also because of lesser headroom margin. 48-Volt phantom-powered DI boxes have greater headroom margin and resists distortion.
6. Can I connect a mobile device to the direct box?
Every DI box is not suitable for accommodating inputs, and you should carefully check specifications before attempting to connect smartphones or tablets to a DI box. A mismatch of signals and power may possibly damage the mobile phone's circuit. The same caution is applicable for use of laptops with Di boxes.
---
Conclusion
This information guide was our honest attempt to bring you up and close to the miracles of a DI box. While spending a fortune may not always be the right choice, spending wisely is. Especially, when you are choosing a DI box, you must consider how it fits in with your instrument and your gig.
Be sure to take a demo of a few DI boxes first and get a first-hand experience of the difference it makes to your music. You will soon find out for yourself that this humble gear has the potential to magically transform your performance, forever!