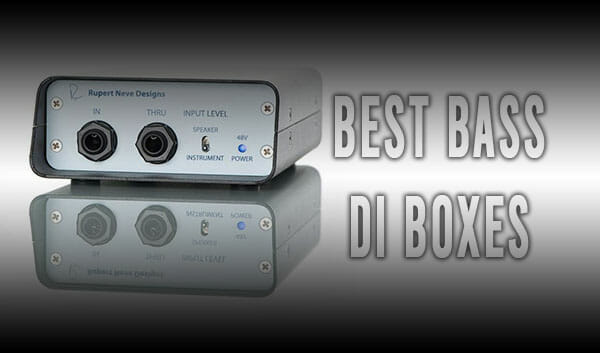 Whether you are a stage performer or a studio artist, the DI box or "Direct Injection Box" can turn out to be one of the most useful gadgets in your tool box. The DI box manages impedance of music instruments converting it to a balanced low-impedance signal for microphone level input jacks.
Most novice guitarists are stumped when they are advised to bring on a direct box to the gig. Although the technology and its function are quite simple (conversion of unbalanced input to balanced XLR output), the choice of selecting the best bass DI box for your instrument in 2023 may be clouded due to confusing reviews and guides.
Here we tackle the task of helping you understand the nitty-gritty of a DI box, so that you can confidently head to the stage or studio with your instrument.
Table of Contents
Top Bass DI Box Reviews of 2023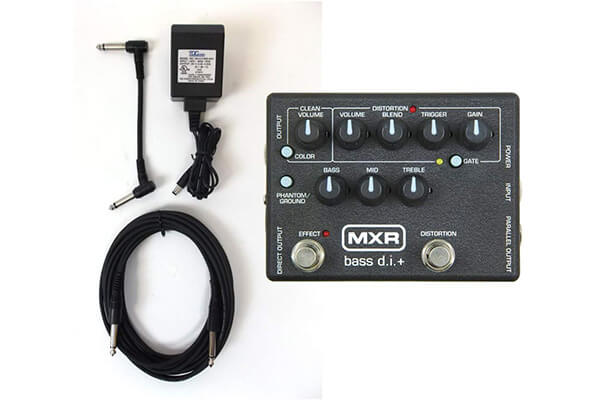 The MXR M80 is a terrific DI box that yields classic sounds and great tonal flexibility. This DI box comes with a preamp pedal and is powered with spectacular distortion channels and a multi-output design.
You can manage the bass sounds with the 3-band Equalizer and create extreme bass distortion with this nearly magical device. The noise gate also facilitates noise cancellation and delivers a clear mix of the signals for an ideal bass sound. Once you use this DI box and get comfortable with its incredible features, it will soon become the life of your gigs and recordings.
Features
Bass preamp pedal DI box.
Distortion channel.
Gain, volume and mix controls.
3-band Equalizer.
1/4″ and XLR output channels.
Runs on battery and adapter.
Pros
Dual function of DI box and preamp.
Multiple output channels make this DI suitable for multi-amp setups.
Runs on battery as well as 48-v phantom power from a mixer.
Affordably priced.
MXR M80 DI+ is one of the best DI boxes in the market, as effective as more expensive ones with a true-bypass mode. The small individual boots on this pedal-board yield such fine and absolutely clear signal that you wouldn't miss the true-bypass.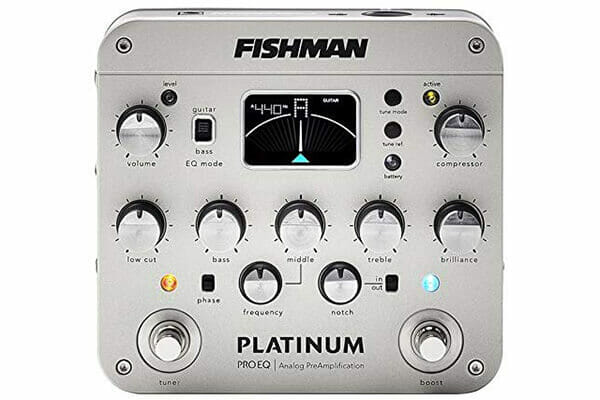 Platinum Pro from Fishman is the superhero of all DI boxes with the best built-in preamplifier and EQ. Not only is this DI box easy to operate and control, its intuitive features make your music sound perfectly natural in any environment.
The superpowers of this DI box include a 5-band EQ, one-knob compressor, on-board tuner, effects loop and switchable boost. All these cool features are further propped with the classic tone centers and a balanced XLR output. The results from the Fishman Platinum Pro are astounding and guarantee the best bass performance.
Features
Bass preamp DI box.
5-band EQ.
17-Volt Class A preamp.
Single-knob compressor.
Phase control and notch filter for feedback control.
Digital tuner.
Balanced XLR output with ground lift.
1/4″ input channel.
1/4″ output channel.
Footswitch with volume boost.
Runs on battery as well as adapter.
Pros
High-quality preamp.
Dual footswitches for volume boost and tuning.
Versatile equalizer
The Fishman Platinum Pro delivers strongly on its promise of unmatched sound and bass range. It is a reliable and highly rated DI box, the safest bet in the market despite its cost.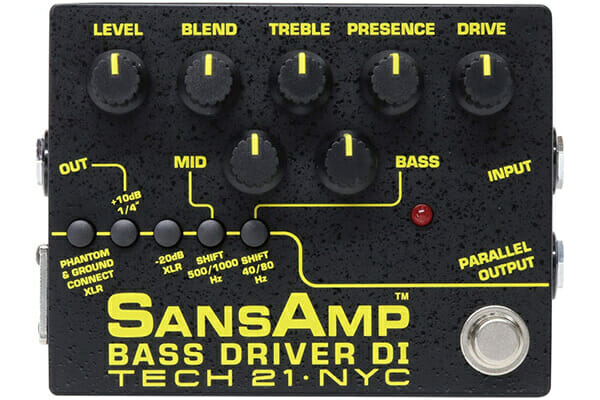 Tech 21 SansAmp Bass Driver DI V2 continues the legacy of the classic SansAmp pedal which is trusted by so many musicians. With a host of advanced features, this is a truly professional DI box made for the stage as well as the studio.
It offers tonal control over an expanded range; perfect for bass at the low-ends, or pickups at mid-range, and slap bass tones with melodious loudness. The DI box also allows bypassing the preamp and directly sending signals through the XLR output, or send signal simultaneously through XLR and amp.
Features
Bass Driver Preamp DI box pedal.
Tonal control feature.
Bass control and mid-range control features.
Blend control tool.
1/4″ and XLR output channels.
Parallel output.
Runs on battery as well as adapter.
Pros
Affordably priced.
Preamp bypass feature.
Also allows simultaneous signal feed to XLR output and preamp.
Tech 21 SansAmp Bass Driver DI is a powerful gadget, which is straightforward in design yet superior in performance. We vote for this DI box for creating amazing contours in the bass tone and seamless blending.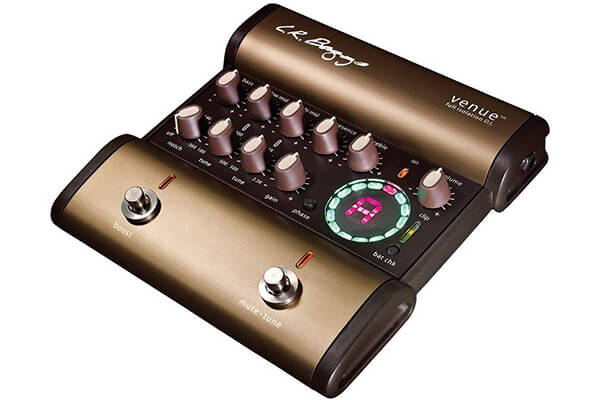 Venue DI from LR Baggs is a stylish compact DI box with the perfect sound for guitarists. The 5-band equalizer offers incredible control over the blending of music with other instruments and vocals. The built-in tuner and gain control ensure that performances run smoothly with prompt tune ups and pickups. The notch filter and phase inversion switch keep all feedback in control.
This is a very convenient DI box pedal accommodating all needs of acoustics and some proactive tools like the pre-adjustable boost footswitch. We highly recommend this DI box for a natural sound and satisfactory performance.
Features
DI box with EQ and Tuner.
Active and passive pickups through gain control.
Footswitch with mute and tune function.
4-band equalizer.
Low-mid and high-band tuning controls.
Phase inversion and notch filter tools.
Visual gain setting.
FX loops.
1/4″ and XLR output channels.
Runs on battery and adapter.
Pros
Triple function with DI, EQ and Tuner.
Superior feedback control features.
Premium looks.
Carrying case included.
Without a doubt, LR Baggs Venue DI is one of the finest DI boxes designed for portability and performance. We up-vote this DI box, especially for the highly functional and effective tuner, which allows control over the richness of the sound output.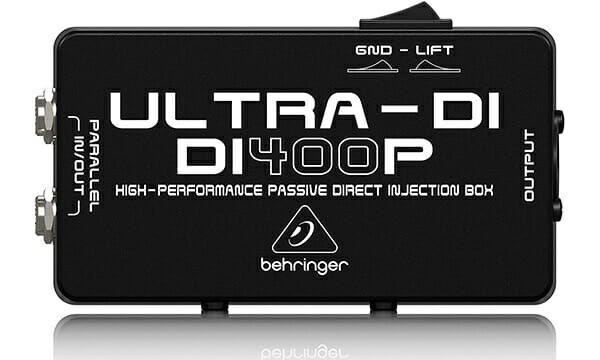 Behringer Ultra-DI DI400P is a compact yet sturdy DI box with lots of character and remarkable features. It is surprising that at such a low price, the DI box competes with any premium range DI box and actually outshines in terms of performance. Users have confidently claimed that this direct box can stand up against the rough handling that comes on-stage or on-the-road.
Features
Passive DI box.
1/4″ input channel.
1/4″ and XLR output channels.
Intuitive impedance and signal matching.
Ground lift-switch.
Direct speaker connection.
Carrying case included.
Battery not required.
3 year warranty.
Pros
Very low cost.
Ease of use.
Versatility and durability.
Runs on low power.
Behringer Ultra-DI DI400P is one of the most popular direct boxes highly recommended by musicians and performance artists. This light but rugged instrument delivers on every promise of superior performance.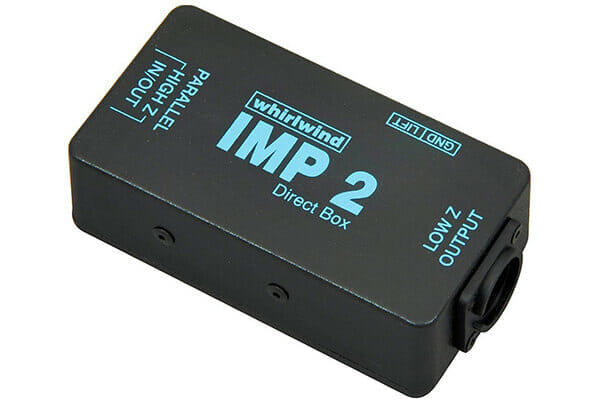 The Whirlwind IMP2 is another basic DI box, which does the job of balancing signals from your instrument perfectly. Its no-frills design is concentrated on functionality and performance. This is a passive direct box with a rugged body and simple operations. At its extremely affordable price-point and transparent functioning, this DI box is a popular choice among top musicians.
Features
Passive DI box.
1/4″ input channel.
1/4″ and XLR output channels.
Ground lift switch.
Riveted THRL transformer.
Impedance ratio 133:1.
Pros
Affordably priced.
Reliable performance.
Durable gadget.
Easy to use and carry.
Cons
Lacks additional controls and features.
No footswitch.
Whirlwind IMP2 is a very attractively priced professional quality device for converting line and instrument level impedance to microphone level balanced signal. This DI box is extremely reliable, durable and affordable.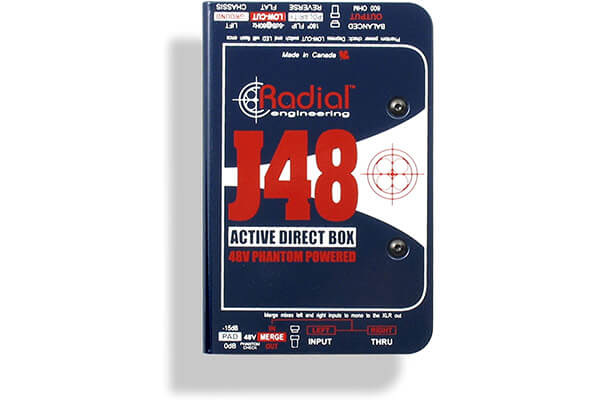 Radial J8 MK2 is a mid-ranged active DI box with a solid built and effective results. The most noticeable aspect of this DI box is higher headroom for smooth guitar pickups and least distortion.
Instead of the usual 1/4″ input and loop feature, Radial J8 MK2 comes with a Merge button for mixing the two channels resistively. This feature yields amazing stereo effects. The DI box is also equipped with ground lift, low-cut filter and polarity reversal tools.
Features
Active DI box.
15 dB pad.
Merge button.
Unique book-end design for higher protection of buttons.
Ground lift switch.
Low-cult filter.
Polarity reverse switch.
Powered with 48-V phantom power.
Pros
Fair price for the abundant features.
Great design and utility tools.
Durable PC board.
Radial J48 MK2 is a solid DI box with incredible performance and resistance. We recommend this DI box for electric, acoustic and bass instruments for on-stage performances as well as recordings.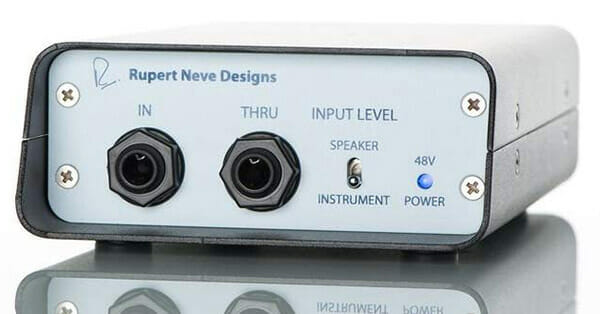 Rupert Neve Designs Active DI box is an impressively discreet DI box with a Class-A FET amp for handling up to +21 dB input without distortion. It comes with all the standard active DI box features like 1/4″ input, balanced XLR output, and ground lift switch.
Ruper Neve Designs RNDI has a transformer which is phase-coherent and delivers exceptional sonic character when combined with the FET amplifier. Overall, this device delivers the classic and powerful of Ruper Neve designs electronics packed in a compact DI box.
Features
Active DI box with FET amp and transformer.
Very low output impedance.
1/4″ input channel.
1/4″ and XLR output channels.
Speaker and ground lift switches.
Runs on 48-V phantom power.
Pros
Unique sonic character and harmonic distortion.
Premium quality.
Cons
Expensive.
Lacks external power supply option.
Rupert Neve Designs DI box is the ultimate DI box which accepts input from any instrument and comfortably handles high-watt output. It is one of the premium-quality DI boxes in the market which is highly trusted for impeccable sound.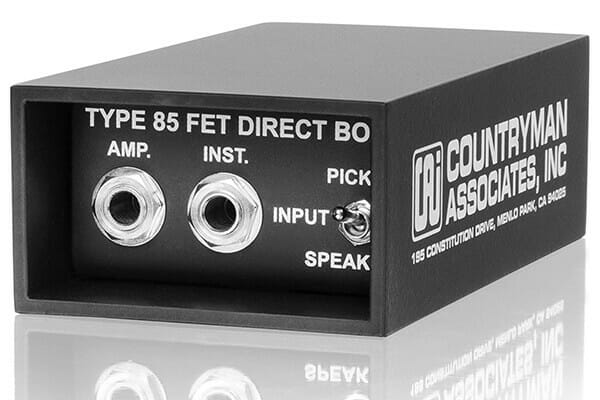 When it comes to connecting high-impedance instruments to a balanced microphone output while resisting noise or distortion, the Countryman DT85 does the job right on the mark. And while at its job, this DI box neither alters the tone nor the volume.
The design of this DI box is influenced by the tube microphone preamps with Class A circuitry. The DI box delivers smooth sweet bass and acoustics while eliminating ground buzz and hum. The company claims that the instrument is so rugged that you may run a truck over it and not cause any damage at all!
Features
Type 85 active DI box.
Low-pass filter feature.
Voltage gain feature.
Ground noise cancellation.
Class-A circuitry.
Runs on 48-volt phantom power and 9-volt battery.
Pros
Fairly priced.
Strongly-built durable body.
Simple design and ease-of-use.
Countryman DT85 DI box is a direct box built for high-performance and exceptional sound. This one time investment is an excellent bargain and can last you through eternity.
Top Brands: DI Boxes
1. Fishman
Fishman is a US-based music technology and equipment company known especially for pickups and other guitar equipment. The company is highly regarded for innovative and futuristic products.
2. LR Baggs
LR Baggs is a leading global producer of music gears hailing from California, USA. The company deals in a wide range of sound equipment like guitar pickups, microphones, pre-amps and direct boxes. With their expertise in all integrated music systems and equipment, LR Baggs has launched some award-winning products and technology in the music industry.
3. Behringer
Behringer is a German sound-engineering company led by the renowned Swiss sound-engineer Uli Behringer. It is one of the largest music equipment manufacturers successfully marketing and selling music gears and equipment all over the world.
4. Radial Engineering
Radial Engineering is a Canadian audio equipment company which has made its distinct mark in the music industry with the world's best professional gears. The company is especially known for the exceptional direct boxes and claims the honor of supporting stage acts of top musicians like Paul McCartney and Bruce Springsteen.
5. Rupert Neve Designs
The brand led by celebrated engineer Rupert Neve, has launched some of the classic audio equipment and is regarded as the pioneer of recording consoles. The company's product line includes masterfully designed microphones, pre-amplifiers, compressors and other sound gears.
6. Whirlwind
Whirlwind is one of the world's oldest music equipment and digital audio gear companies. Their products are designed and made in America and guarantee unbeatable quality and innovation.
Frequently Asked Questions About DI Boxes
What is an active DI box?
An active DI box works on power supply from battery, adapter or phantom-power. It includes a preamplifier and is suitable for low signal levels.
What is a passive DI box?
A passive DI box is essentially a transformer function device which does not require active circuit or power. It is suitable for basic matching of source impedance. A passive DI box is not suitable for low-signal instruments.
Can a DI box be used for home recording?
Yes, DI boxes can generally be used for all types of applications including home recording, although there is no DI box exclusively marketed for this purpose.
What does the ground-lift switch on the DI box do?
The ground-lift switch on the DI box isolates ground noise and signals, yield a clear noiseless sound.
Which is a better DI box power supply option, battery-powered or phantom-powered?
Battery-powered DI boxes are less preferred, not only due to repeated replacement costs but also because of lesser headroom margin. 48-Volt phantom-powered DI boxes have greater headroom margin and resists distortion.
Can I connect a mobile device to the direct box?
Every DI box is not suitable for accommodating inputs, and you should carefully check specifications before attempting to connect smartphones or tablets to a DI box. A mismatch of signals and power may possibly damage the mobile phone's circuit. The same caution is applicable for use of laptops with Di boxes.
Conclusion
This information guide was our honest attempt to bring you up and close to the miracles of a DI box. While spending a fortune may not always be the right choice, spending wisely is. Especially, when you are choosing a DI box, you must consider how it fits in with your instrument and your gig.
Be sure to take a demo of a few DI boxes first and get a first-hand experience of the difference it makes to your music. You will soon find out for yourself that this humble gear has the potential to magically transform your performance, forever!