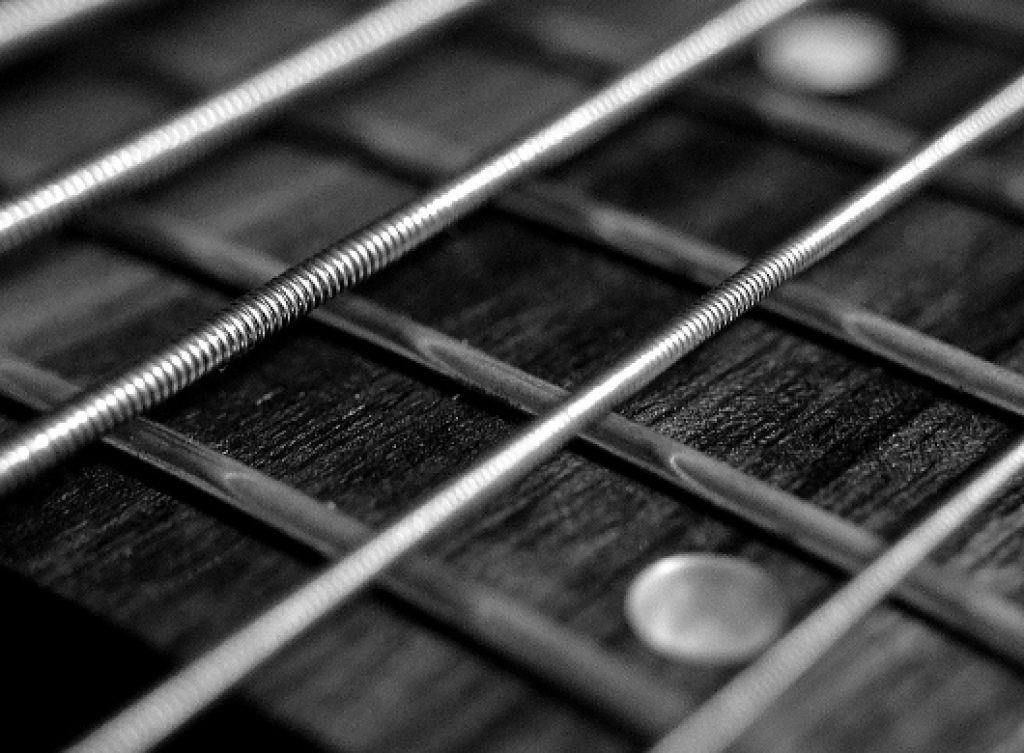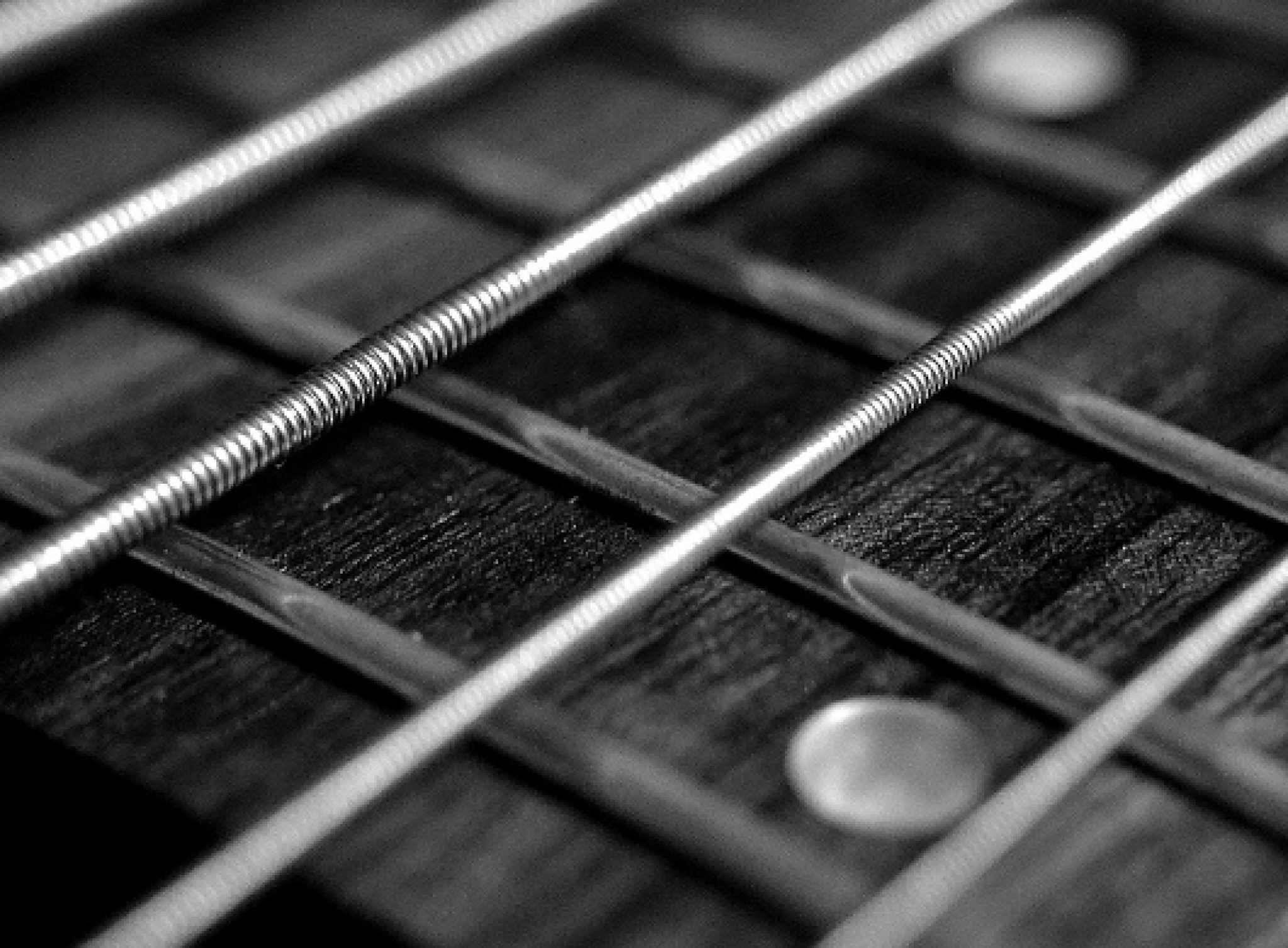 Bass strings are different from common guitar strings as they are tuned in a significantly low pitch. Broadly, there are four types of bass strings – Nickel, Pure Nickel, Stainless Steel, and Flat-wound. Of course, different musicians have different preferences.
Another distinction is made between flat-wound and round-wound. While flat-wound emerged earlier, as the first kind of electric bass string, round-wound are now the standard, giving a brighter tone.
Beginners and experts, both tend to lean towards different types of bass strings. So, if you are a beginner wondering which is the perfect bass string for you, we have got you covered with the list of best bass strings of 2023. Without much ado, let's dive right in.
Table of Contents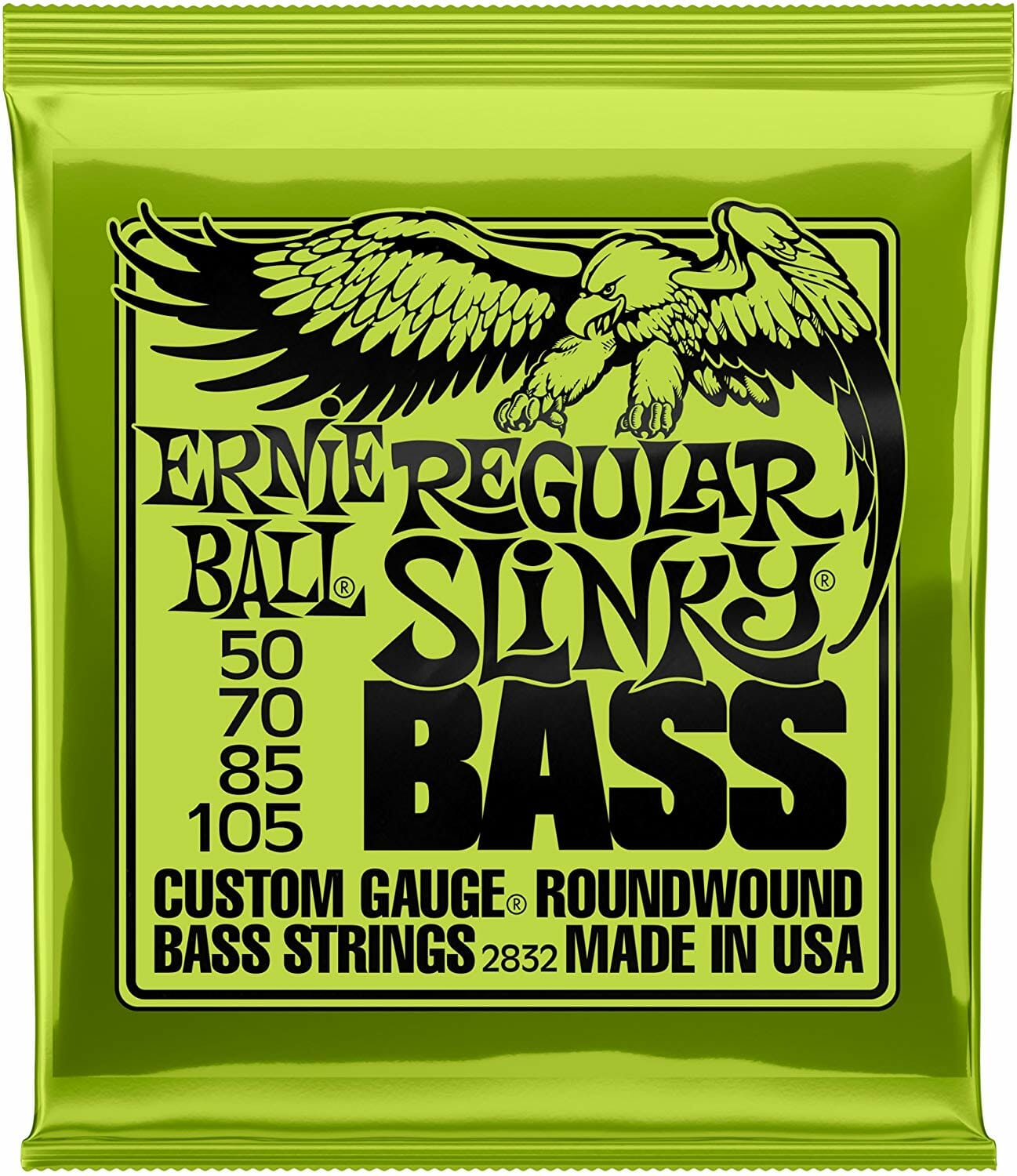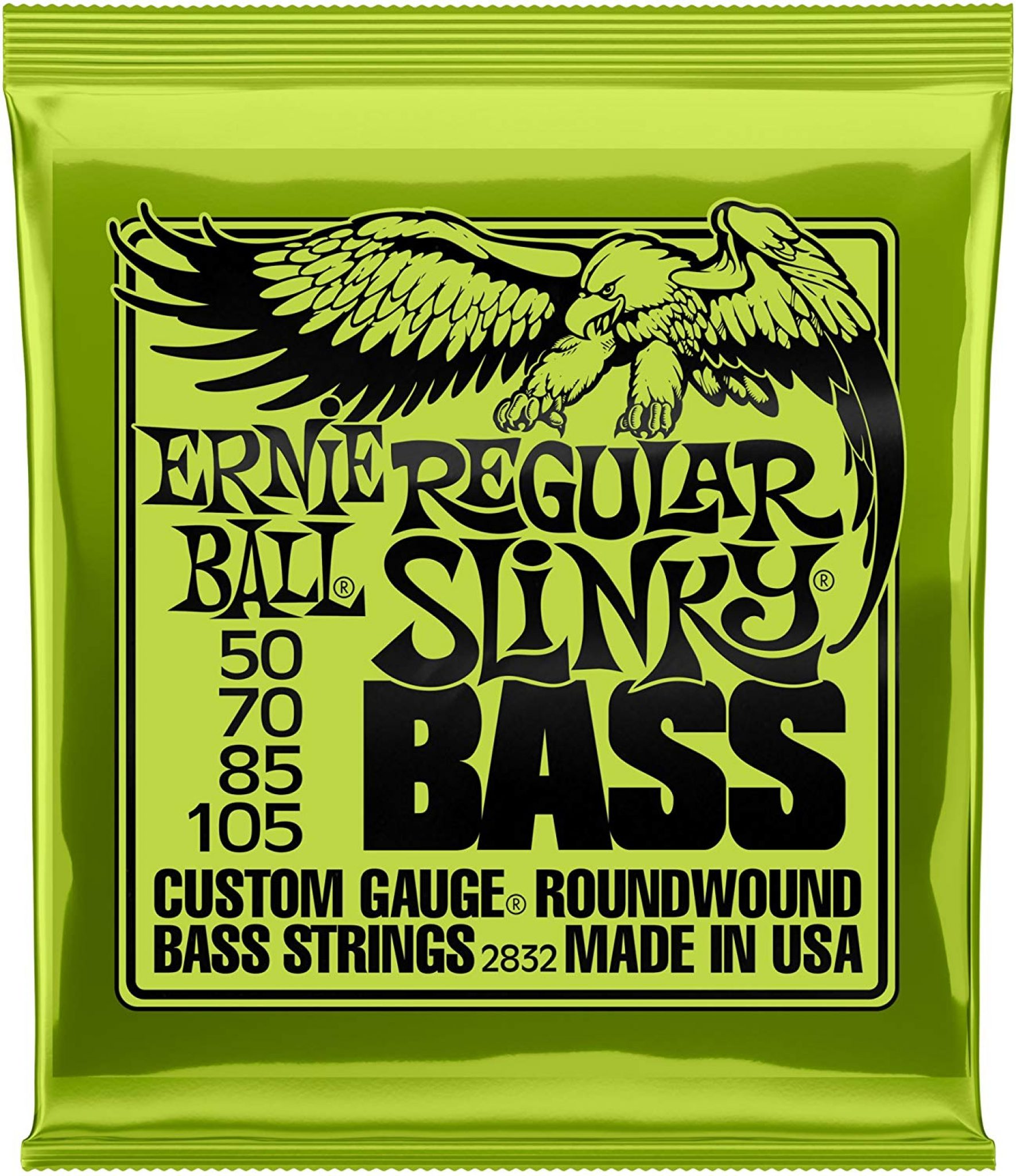 Ernie Ball is the name of an American entrepreneur who started out as a local television musician and went on to produce guitar accessories and other related products. Founded in 1962, today they are one of the most successful brands producing strings for musical instruments.
Ernie Ball produce various types of strings ranging from gauge .40 – .55. Gauges are important as they also determine the type of string it is going to be.
A heavy gauge, like .50, will require much more finger strength than a lighter gauge like .40. As one can notice, the Ernie Ball has both the gauges available under different models.
They mainly produce nickel plated round-wound bass strings. As mentioned earlier, round-wound is now the industrial standard, that is, the type of string commonly produced. This type of string is perfect for modern rock and pop as it produces a brighter tone. Ernie Ball, in particular, is considered as one of the best standard bass strings in the market.
The strings are sought after for they are affordable and versatile. While generally, round-wound strings tend to last only for a week or so, they manage to last a bit longer. They produce a bright tone and are recommended for both beginners and experts. It is worth noting that popular musicians like Adam Levine have also used Ernie Ball strings. They are one of the ideal bass strings available, as they don't produce too extreme tones.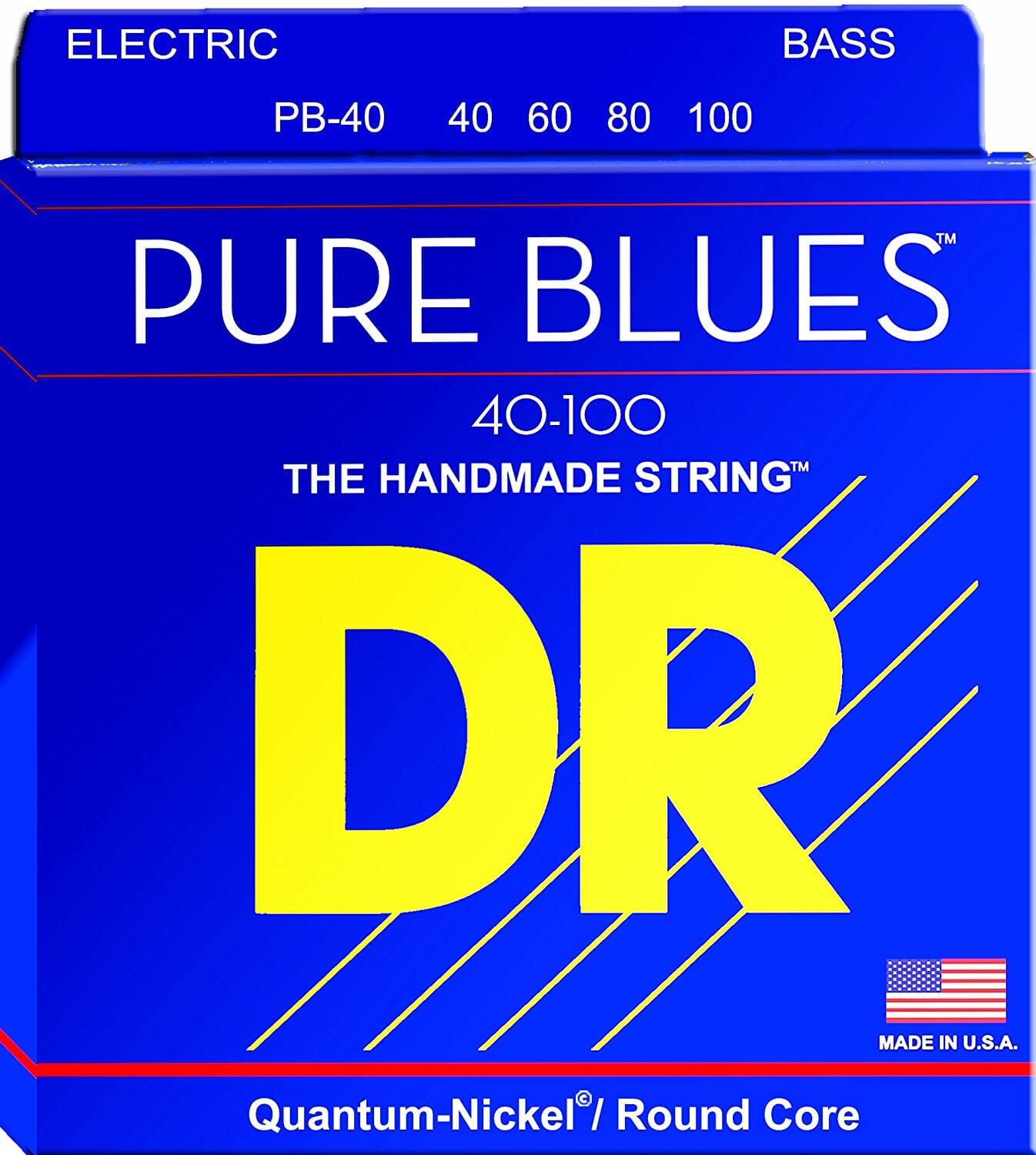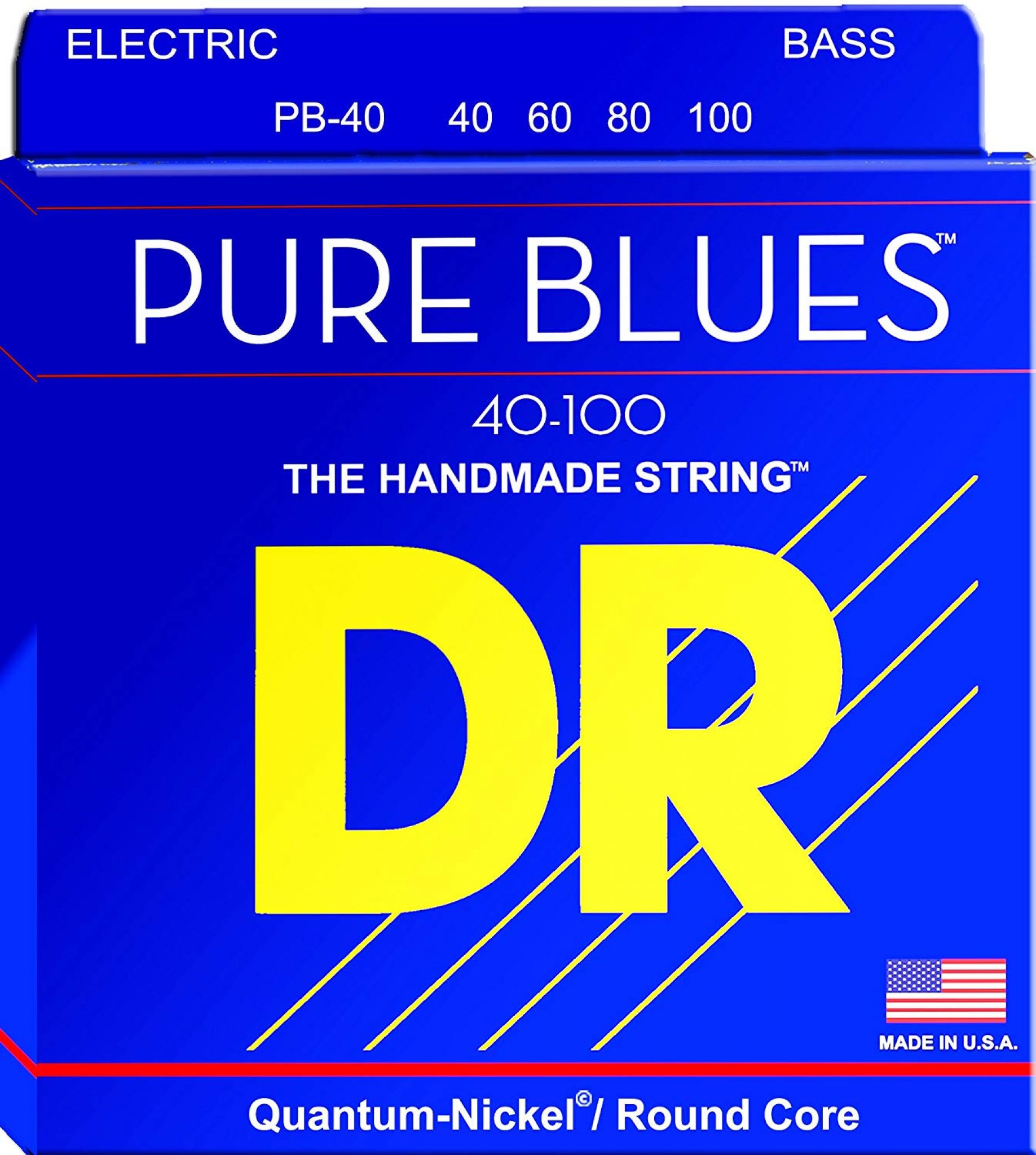 As an American family-owned business, the DR Strings are known for their handmade craftsmanship. It was founded by Mark Dronge in 1989 and is a manufacturer of guitar and bass strings. They are well established in the market and are among the popular strings manufacturers.
Similar to Ernie Ball, they also produce industrial standard round-wound strings. Typically, their strings are of gauge .45. So, it is a medium gauge string which produces a piano like bass tone, which has a very high-end clarity. As a round-wound string, they are good for rock and pop as well.
They are made with stainless steel. As a result, the tones stay for a far longer time than in other cases. They are among the brightest strings and are resistant to corrosion, which makes them affordable and durable for a considerable time.
As a round-wound string producing high clarity tones, they are perfect for both beginners and experts alike. They are well sought after in the market as one of the most popular producers of strings. They compete with Ernie Ball, though lose out on the variety of gauges available.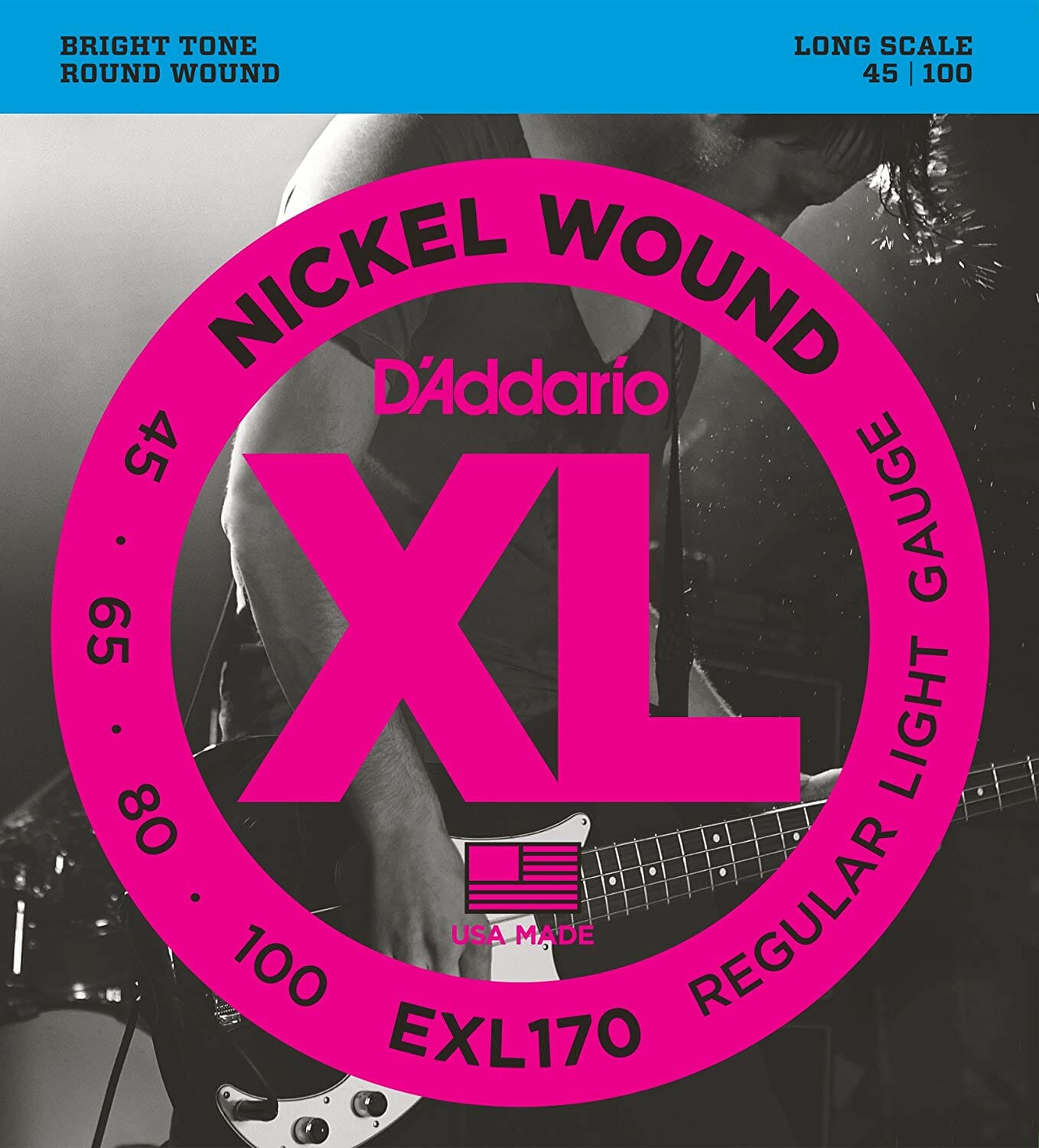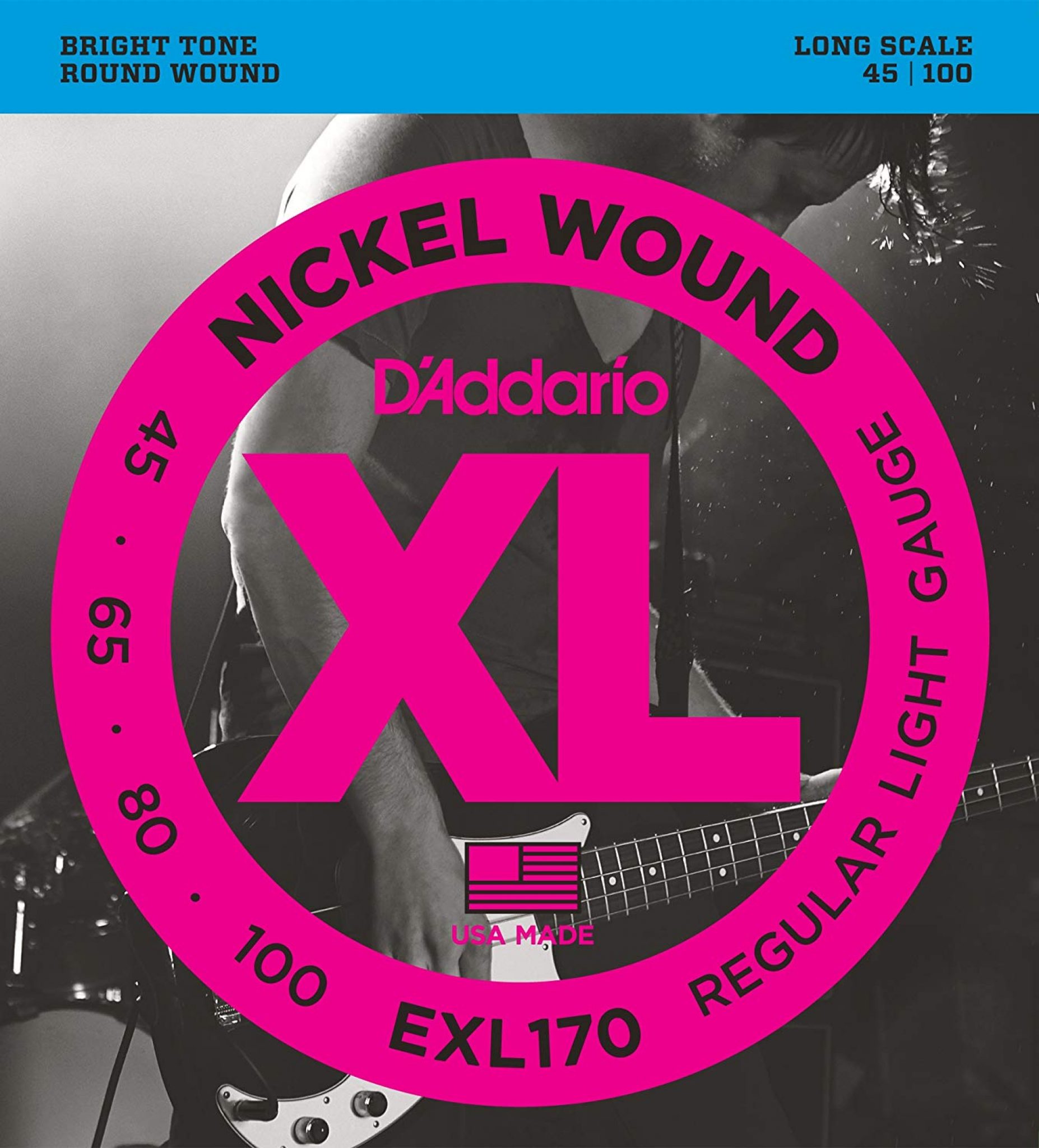 Founded in 1974, D'Addario belongs to a family originating from Italy. They are well known for their strings and are well established in the market as producers of accessories for musical instruments which includes, but not limited to, guitars. They are one of the largest manufacturers of musical strings in the world.
D'Addario has a wide variety of strings available. Among its popular ones are the nickel plated round-wound string and the stainless steel flat-wound string. In terms of quality, they aren't all too different as compared to the other brands.
The nickel plated round-wound string is called EXL 170. It is often preferred as it is both warm and articulate. The tones it produces are bright and clear. However, it easily traps dirt and grime which in turn requires constant maintenance or replacement.
The stainless steel flat-wound string is called Chrome. It is ideal for producing deeper and mellower tones. This is often used for vintage and jazz tones. Chrome, in particular, is preferred as it is one of the more affordable type of flat-wound strings. These strings are used by professionals to perform bass songs for their audience.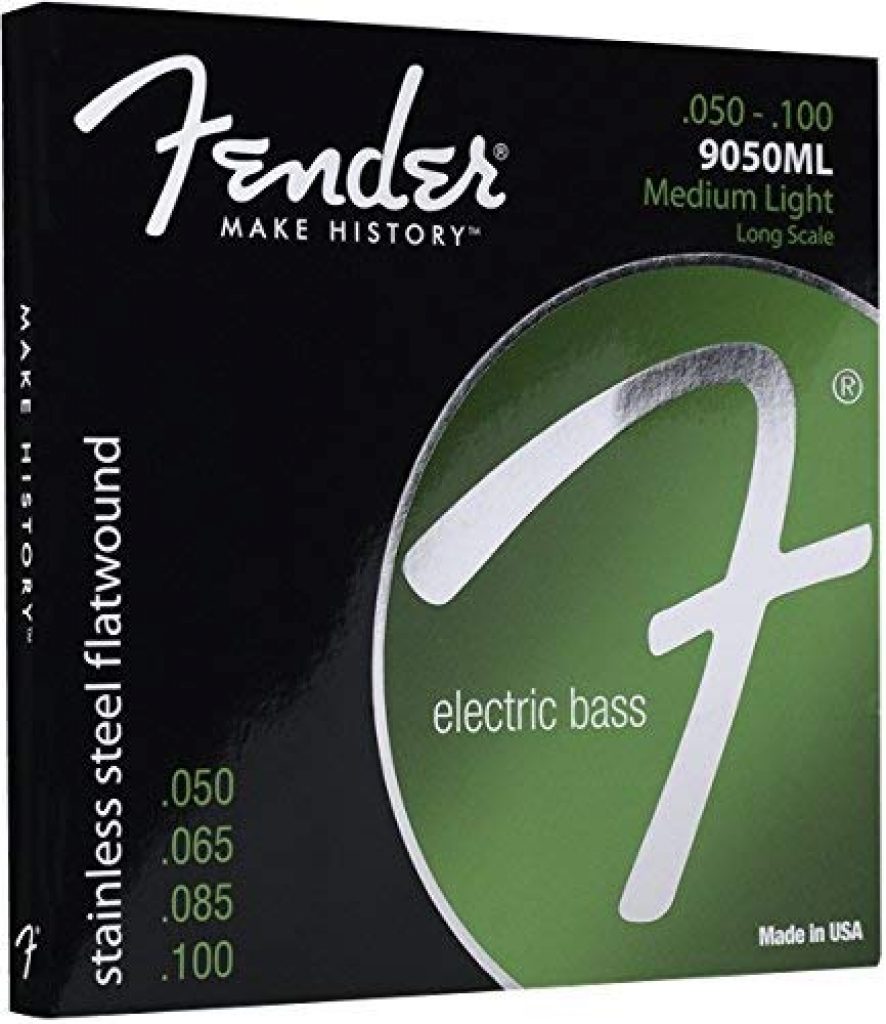 As a privately owned USA firm, Fender is a well-known manufacturer of strings and amplifiers. They were founded in 1946 and are among the most well established and reputed manufacturers of strings and other musical products.
Fender is well known for their cheap flat-wound strings, which is among the cheapest in the market – made of stainless steel. As a flat-wound string, Fender is ideal for vintage tones which are perfect for jazz, country or R&B.
Stainless steel is ideal as it is among the brightest sounding strings and is much more resistant than nickel strings. They have a good high-end response, while slightly brittle. As one of the cheaper flat-wound strings, which is extremely durable and long lasting, these bass strings are ideal for beginners.
In terms of gauges, Fender offers a range from .45-.55. So, it offers a range of heavy and medium gauges. While the absence of lighter gauges may be a concern but its price is modest and makes up for it. Despite being a heavy gauge, as a flat-wound string, they are much lighter on the fingers than round-wound strings. So, Fender bass strings is perfect for a beginner.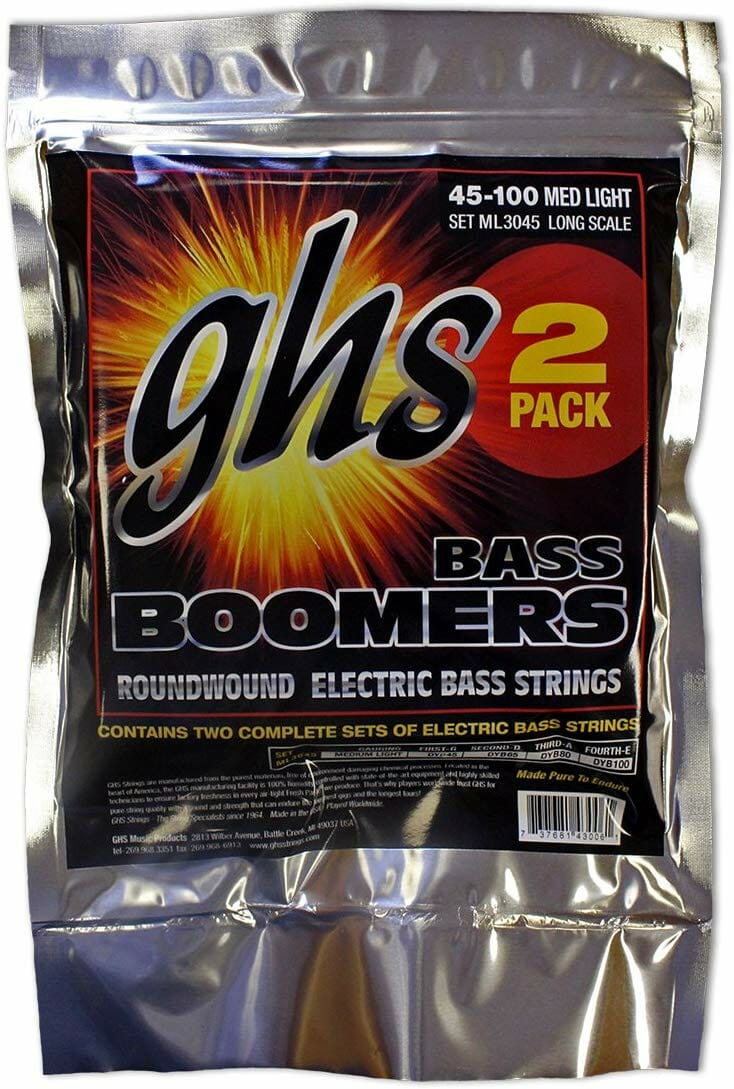 GHS Strings is a strings manufacturer that was founded in 1964. They are reputed with several well-known musicians like Stevie Ray Vaughan being among its users.
GHS is also one of the most popular bass string brands as they produce a nickel plated round-wound bass string which is commonly preferred by experts (or those who are well versed with their instrument). Their strings are known for their power and durability.
Nickel plated strings are seen as the middle road. Pure nickel is warm and articulate, while stainless steel is resistant to corrosion and so, are durable. Nickel plated strikes a balance between the two and provides warm and articulate sound with considerable durability. It emphasizes on higher end frequencies.
GHS offer mostly light to medium gauges. It is said that heavier gauges demand more finger strength and produce a richer tone. Nonetheless, it depends on your skills. As a light gauge round-wound string, they are perfect for rock and pop.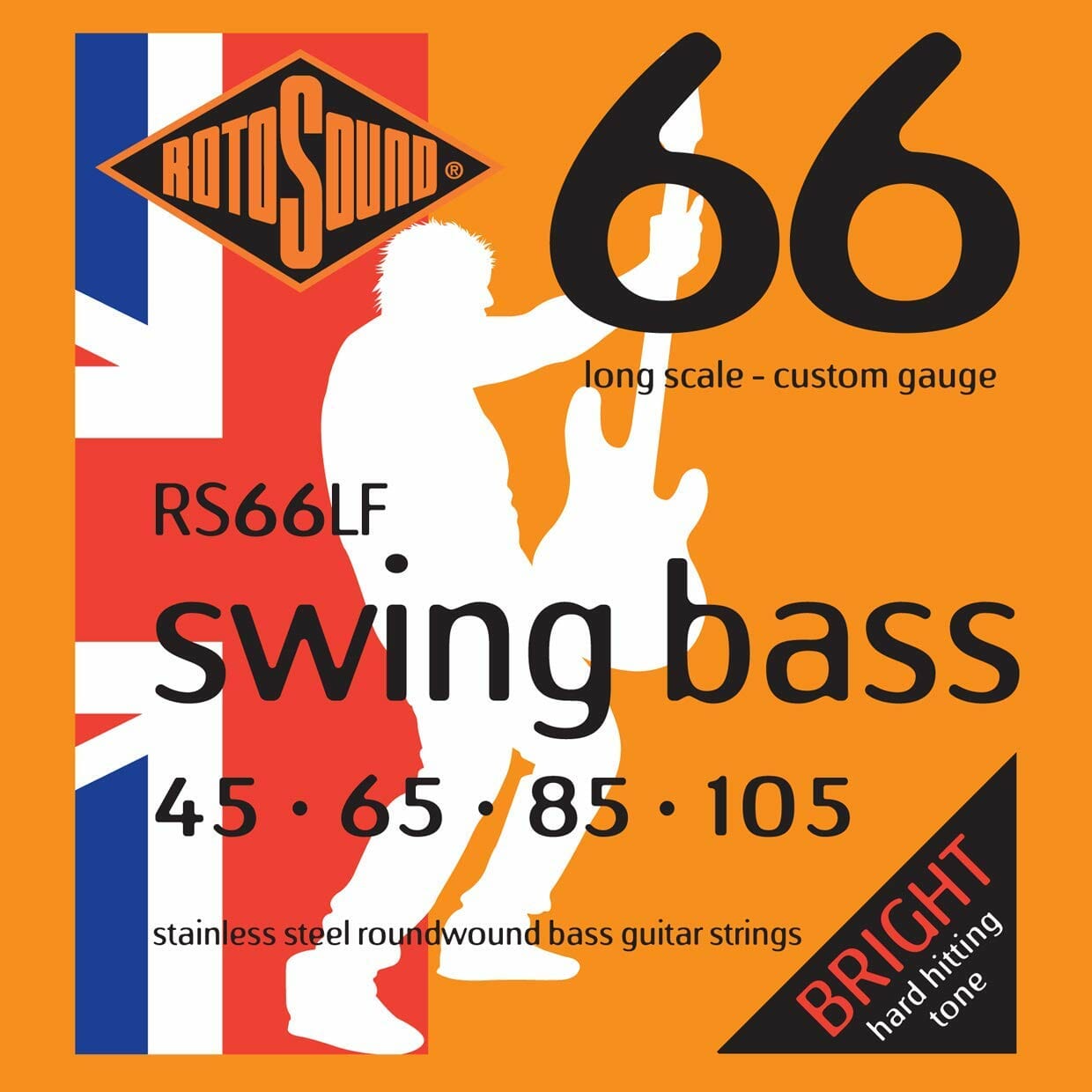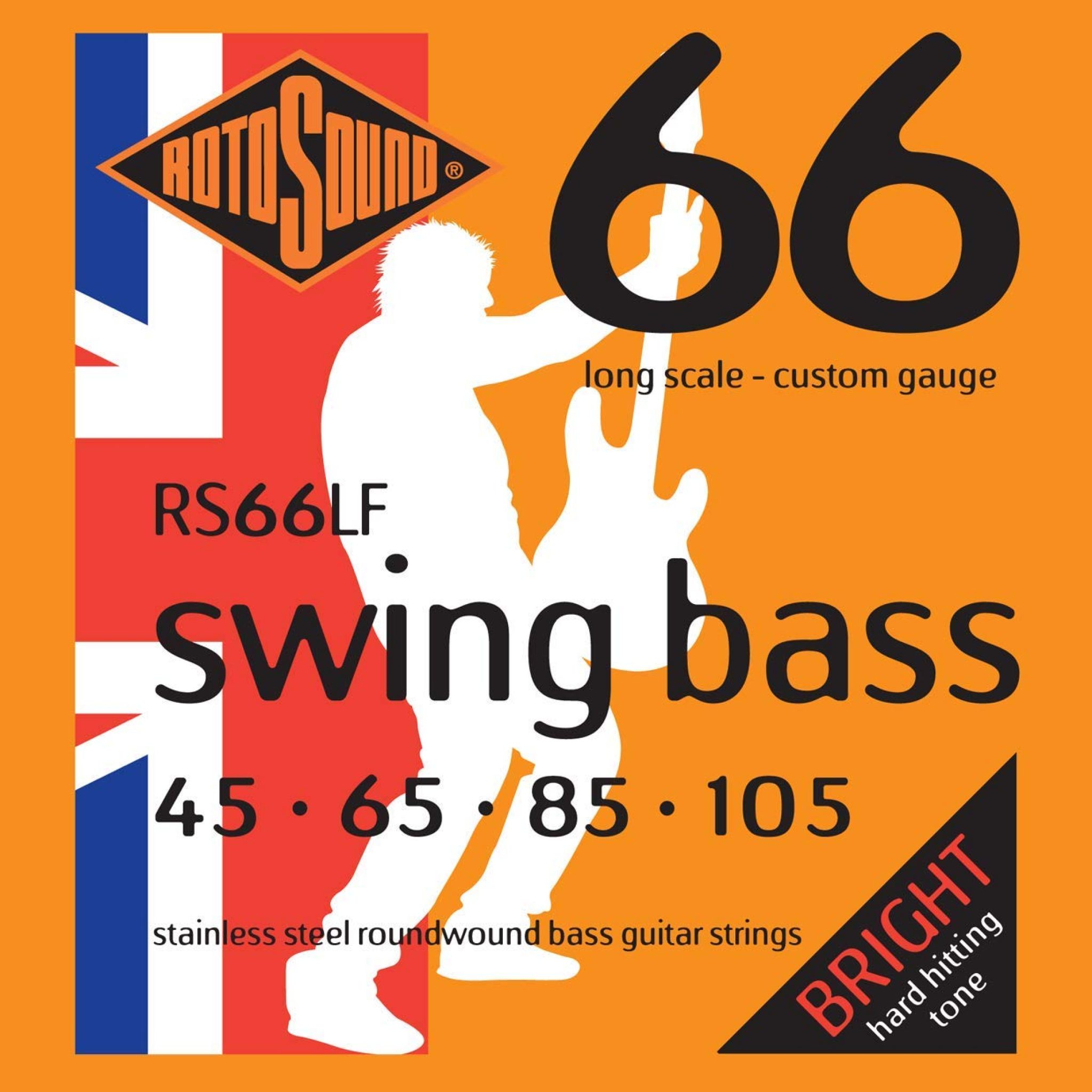 Another extremely popular brand, Rotosound is a British string manufacturer. Founded by James How in 1958, they are among the most popular brands in Europe with many famous artists like Queen and Metallica being among their users.
They offer stainless steel strings with a wide range of gauges, including both light and heavy. Rotosound are more popular for their medium gauges. They are known for their ideal output and are great for more harder forms of music like metal. They are popular for many notable musicians like Cliff Burton who also use these strings.
The strings produce a warm and fat tone, which is often used for jazz and similar forms of music. Their bright tone also makes them ideal for pop. These strings offer a wide range of variety, and are ideal for both beginners and experts.
A custom version of strings produced by them is the BS66 which has custom gauges. This makes it difficult for beginners to master, while experts can create a bright and punchy tone using this. It is ideal for the modern aggressive kinds of music.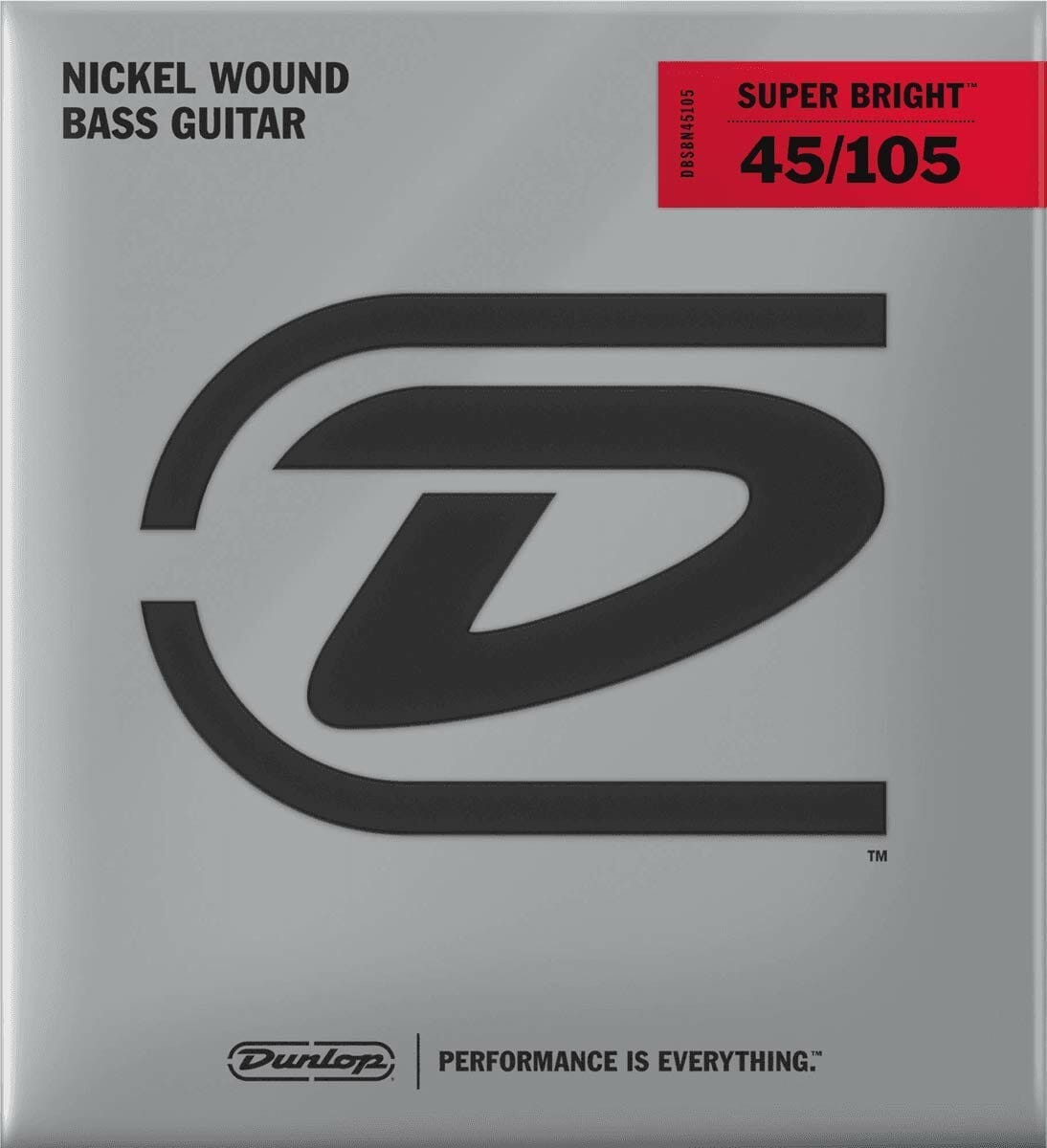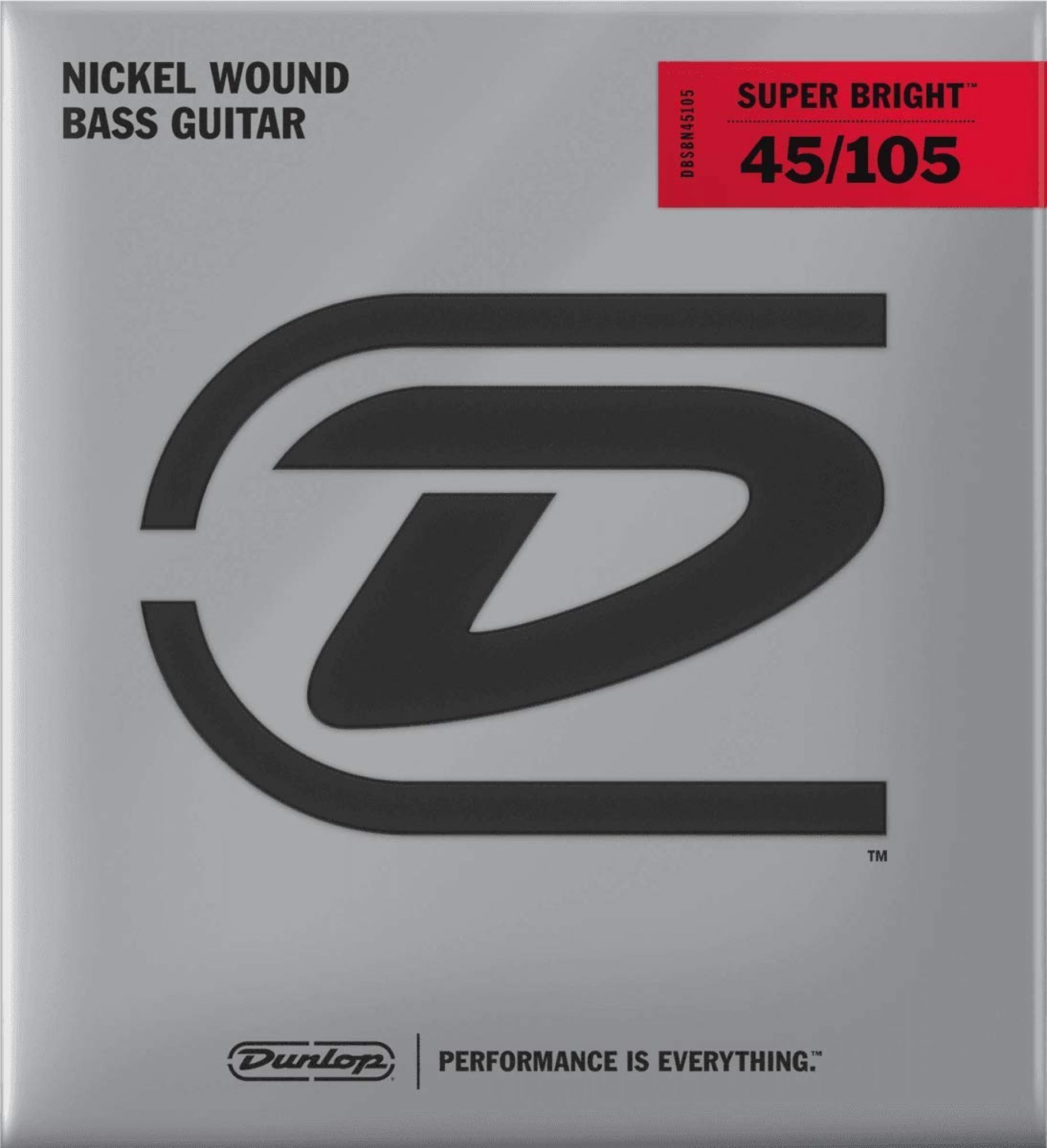 Founded in 1965, Dunlop started from being a small home operation and grew into a large manufacturer of musical accessories.
Dunlop is a well-established brand known for their nickel plated round-wound strings which produce a brighter tone. They offer light and medium gauges, but not heavy gauges. A lighter gauge is ideal for faster response and action. So, they are ideal for modern musical genres like rock and pop.
As a nickel plated string, they produce warm tones and are quite durable compared to pure nickel strings. The brighter tone of these strings allows the finger noises of the musician to shine through. So, it is ideal for musicians looking for such a response.
As a relatively unique string that brings out the finger-noises, Dunlop is ideal for experts looking for a particular type of response, or just experimenting with different strings. They are highly affordable and produce the standard type of strings. However, they are not among the more popular brands producing this type of strings.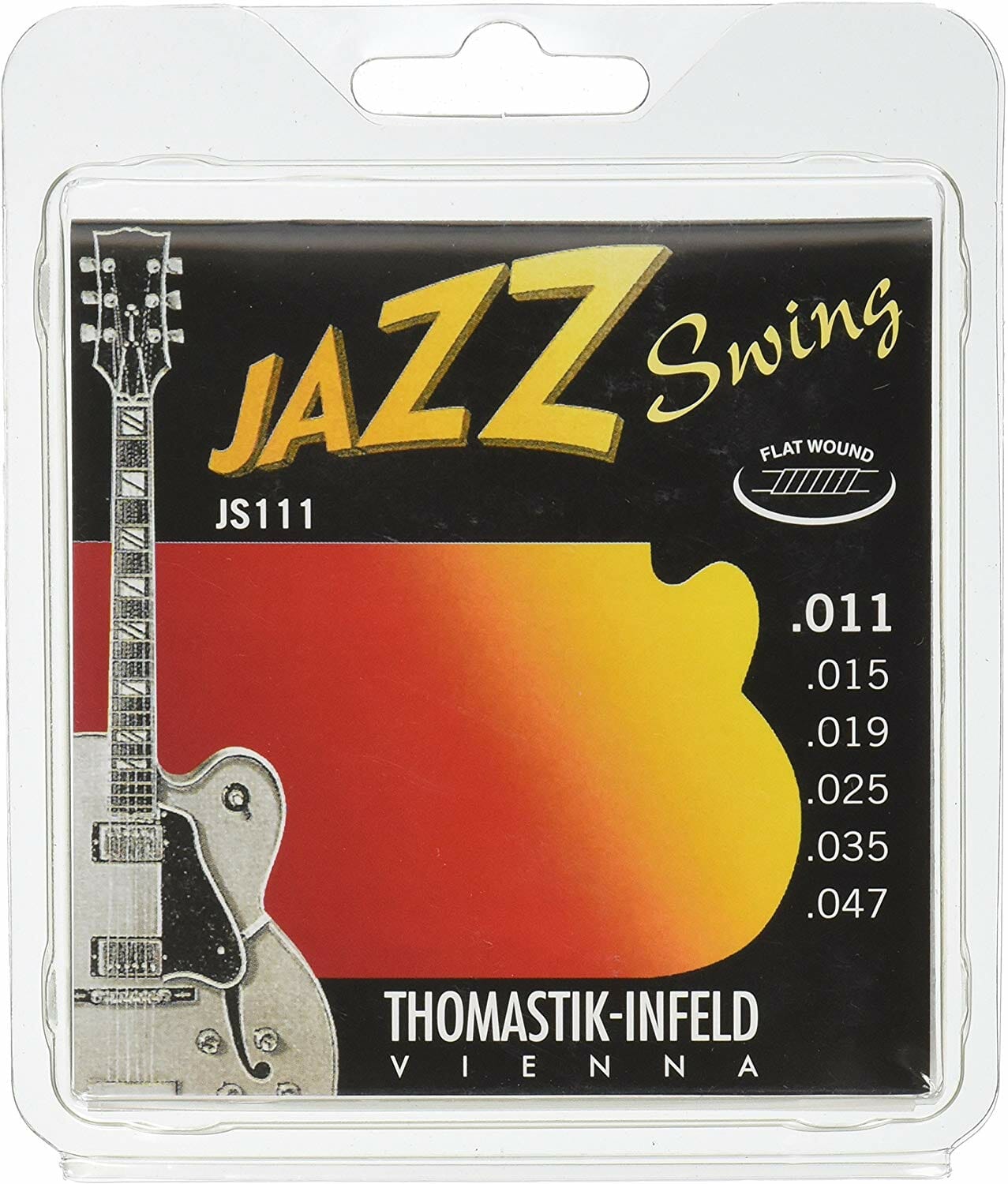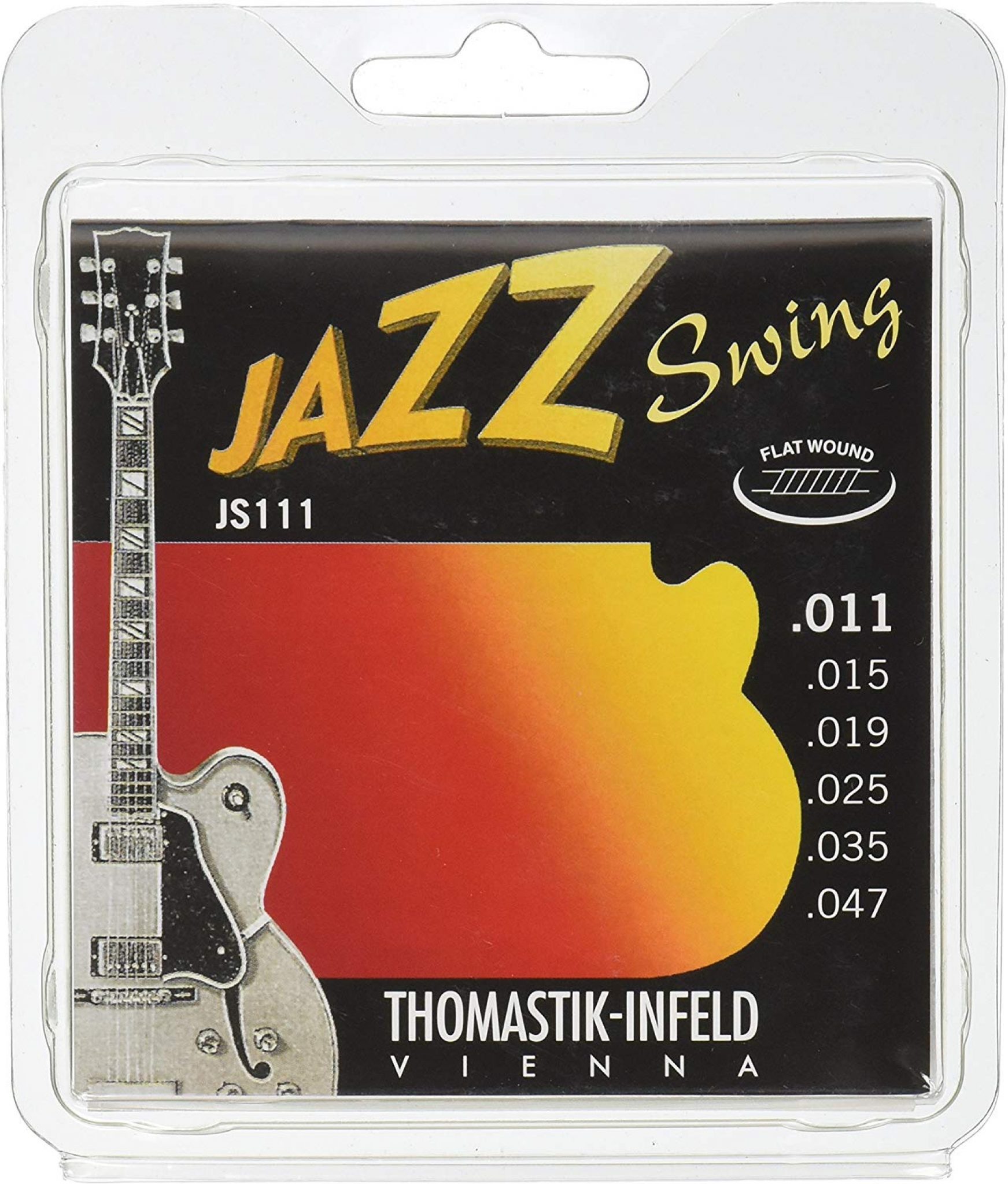 Thomastik, or Thomastik-Infeld, is an Austrian manufacturer of strings for various musical instruments. They were founded in 1919 and are among the only companies to produce the earliest brands of Perlon strings.
As a brand, they are known to produce good quality strings that are perfect for jazz. They produce pure nickel flat-wound strings which are known for their lack of tonal extremes, making them ideal for recording. Their gauges are light and extra light ranging from .43 to .100.
The strings from Thomastik are quite expensive. As the strings are made of pure nickel, it easily traps dirt and must be replaced after a certain period of time. However, they are quite easy on the fingers. Nonetheless, the durability added to its price does not make them a very popular option. Instead, they cater to a very particular section who are looking for a particular tone.
So, due to their price and type, they are not ideal for beginners. They are more suitable for experts who may be looking for a specific type of tone. The strings are very high end, with warm and clear tones, and are preferred for jazz.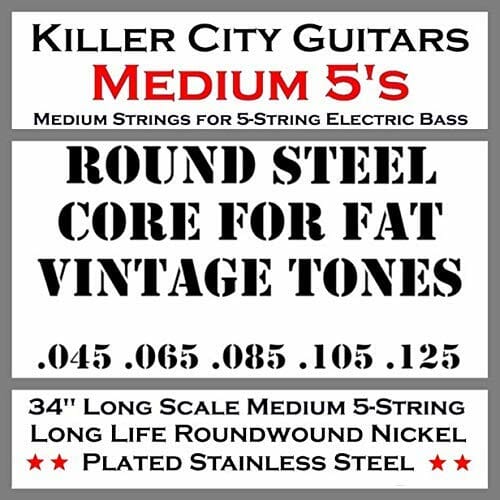 While they are not as popular as Thomastiks, KCG strings also produce warm and bright tones. They also produce vintage tones which is perfect for jazz. Their most popular product is the nickel plated round-wound strings. Their gauges range from .45 to .105.
Despite being round-wound, they are relatively quite long lasting. As a producer of the standard strings with vintage tones, these strings are ideal for musicians looking to produce such tones. They serve as an affordable alternative to other jazz strings which are highly priced.
These nickel plated bass strings produce warm and clear tones. They are quite resistant to corrosion as well. However, as round-wound strings do not last for long, they tend to last for only two to three weeks. However, considering their price, it is not unexpected. They are ideal for those who experiment with different tones and are looking to try out more vintage ones at an affordable price.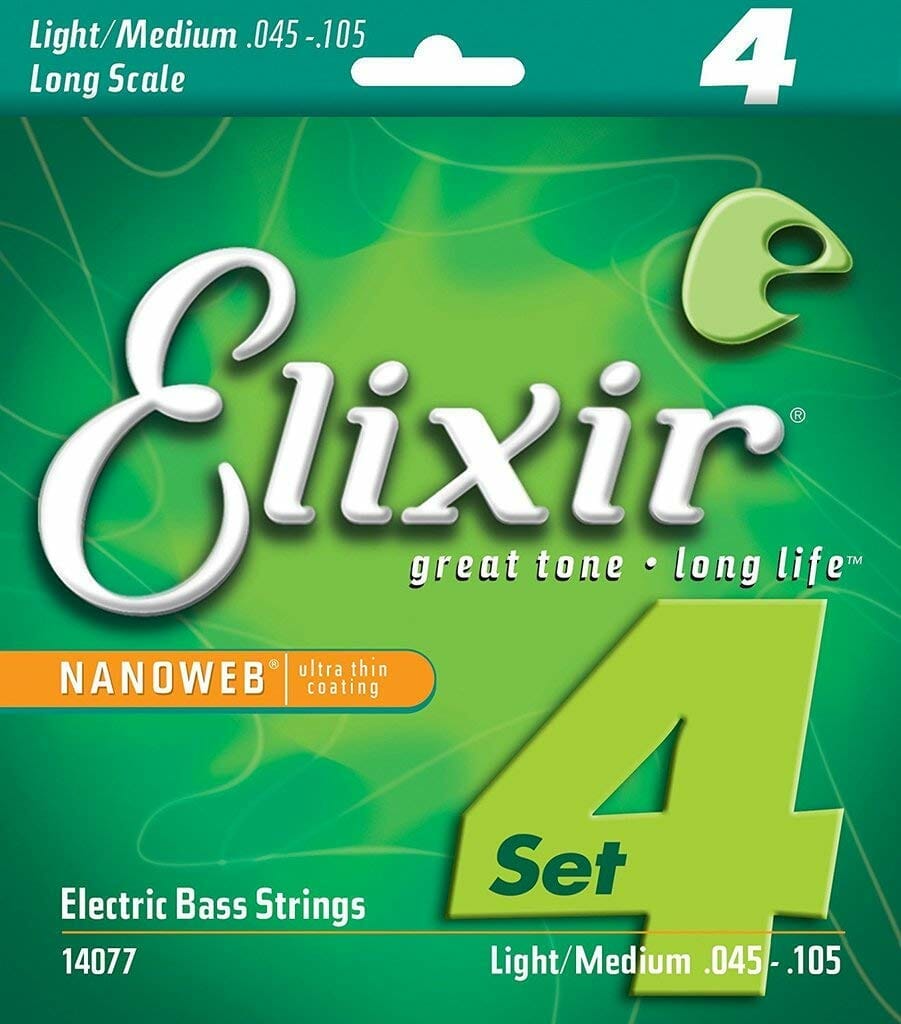 Among one of the more recent manufacturers, founded in 1995 – Elixir Strings are known for their innovative ideas. They are known for their usage of Polyweb and Nanoweb coatings and are among the leading producers of acoustic strings. They are quickly becoming well reputed in the market.
Elixir strings are usually recommended for experts. They produce nickel plated round-wound strings, which are known for their warm, rich and rounded tone with incredible clarity. They commonly produce light gauges ranging from .45 to .100. A striking feature of Elixir strings is the usage of the Nanoweb.
As a brand, they have always been at the forefront of innovations. This patent coating has made them stand out from the rest. Despite being a round-wound string, with the nanoweb coating, they manage to extend the durability significantly. With an increased lifespan, it is not needed to constantly change the strings.
At the same time, however, often, musicians complain of coated strings not producing the same tone. So, they are not ideal for beginners but for experts who are experimenting with different strings. It is a viable option due to its durability and warm tones.