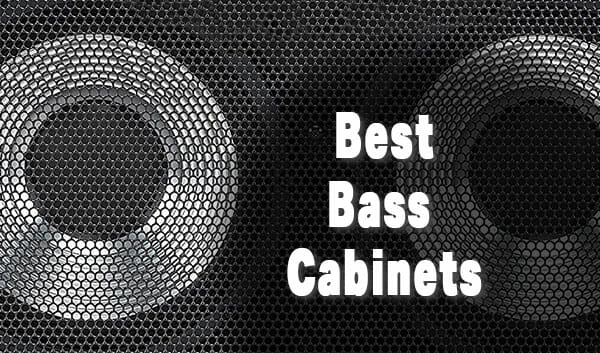 If you believe you are ready to take your music to the next level and are already seeing yourself high up on the center stage, there is probably just one thing missing in the scene. A really good bass cabinet to connect your beats to the audience at the right frequency level.
If you're in need of a good quality bass cabinet in 2023 and a comprehensive guide on how to buy one, you're in the right place. Let's get started!
Table of Contents
Our Top Picks
The best bass cabinets are categorized and listed below for your preferences.
Top Bass Cabinet Reviews In 2023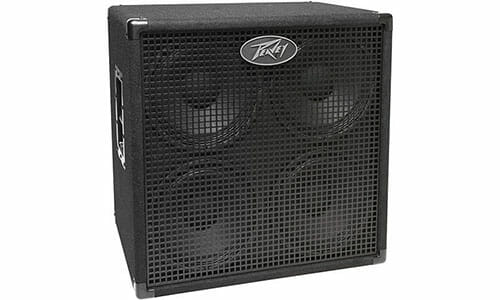 The Peavey Headliner 410 is the best friend of musicians who practice for long hours at a time or are on tour for 6 months straight in a year.It has been rated the most reliable bass cabinet in the market by renowned guitarists.The ply cabinet has a rugged hardware design with powder coated black carpet covering with steel covered edges for a road-worthy performance. It has internal bracing and 16-gauge perforated metal grille.
With an 8 ohm impedance and four 10" ceramic woofers sealed in the cabinet, every beat feels punchy and full of bass. The two inputs of ¼" jacks and a 4-pin twist-lock connector give sufficient flexibility.
Pros
Can be used with any fine bass amp head.
Durable hardware design.
Value for money.
Can be stacked with Headliner 210 to create a 4 ohms impedance.
800 Watts program power handling.
Cons
Weighs a bit too heavy to carry around comfortably.
No wheels despite being heavy.
No adjustable horn.
This is hands down the best cabinet for a player with a tight budget and the uncompromised quality of performance with crisp sound says all about its versatility.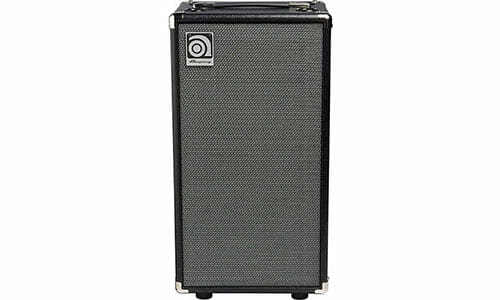 The Ampeg SVT-AV series runs on the Super Valve Technology since the 1960s and has delivered improving performances with each new release.
The Ampeg SVT-210AV is a bass cabinet totally substitutable with a full sized SVT cab. It can be used most effectively in recordings that are sensitive to spill.
The Ampeg's legendary Infinite Baffle System is used to design the SVT210-AV which helps deliver the pure Ampeg tone. It has two ¼" TS parallel input and output jacks where you can tune in your speakers.
It has a 200 Watts RMS power handling and a frequency response of 58Hz to 5kHz which is pretty similar to that of the SVT-810AV. It has two 10" LF Drivers and an impedance of 1×8 ohms (mono) that makes for spectacular configuration to have in a bass cabinet.
Pros
Light-weight, no trouble in carrying it around.
Easily replaceable with the SVT-810AV which is very heavy and big in display.
Delivers pure bass and crisp sounds during live performances.
Cons
Delivers a bit less bass when compared to SVT's other models.
It renders almost about the same quality of bass as compared to the higher models of this series at a portable pint size design.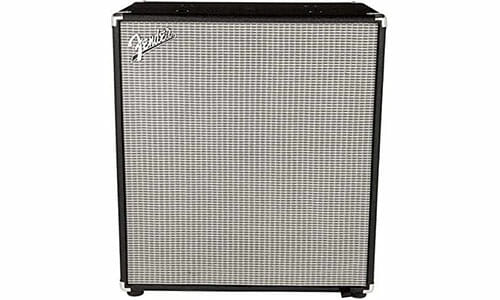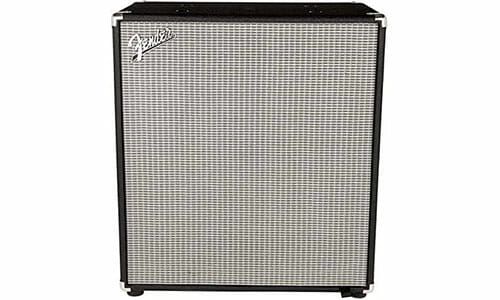 Fender's Rumble series has something in store for every kind of bassist. Its bass cabinets deliver a solid amp with sonic detailed sound even at a low frequency.
The Fender Rumble 4×10 is a closed bass cabinet which is ported in the front. A set of four 10" speakers are packed with enough punch in addition to its new features of eminence drivers and HF compression adjustable tweeters. The bass cab has a nominal impedance of 8 ohms.
Besides its patent design, the Rumble 410 has Magnetic Rumble Head-Attachment System installed in the cabinet which keeps the user's eyes right on the top. The cab is equipped with handles and casters which makes it easier to carry around for gigs.
Pros
Magnetic Rumble Head-Attachment System to keep head sturdy.
Equipped with handles and casters.
Easy to move around, comparatively light in weight.
1000W program power handling.
Cons
Some users have reported reliability issues after continuous use of more than 3 years.
Build quality could have been better.
It being a 4×10" and still being this lightweight in build is a major reason apart from its detailed sound projection with heavy power at this price.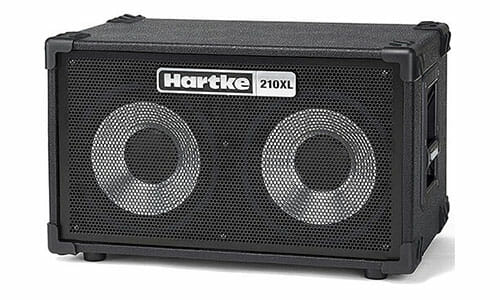 Famous for its all aluminium design, Hartke's latest release is a transformation from the old black carpet covered speaker cabinets to textured vinyl blanketed cabinets, which is a more sustainable design than the previous ones.
The HCX210V2 has two cone drivers with an aluminium built, each of 10". With a RMS power handling of 200W and impedance of 8 ohms, it gives a frequency response of 50Hz to 5kHz.
Weighing around 44lb, it isn't much heavy to take along in rehearsals and gigs. This single chambered cabinet promises to deliver the classic "Hartke sound" in the loud punchy beats and a clear low end frequency sound.
Pros
Vinyl covered durable design.
Lighter in weight than the previous models.
Two aluminium speakers.
Cons
Not suitable for bigger venues.
Sound quality is compromised when attached to a stand.
It makes up for a perfect speaker cabinet to have in a rig given its size and weight. Also proves to be a really good product for its price.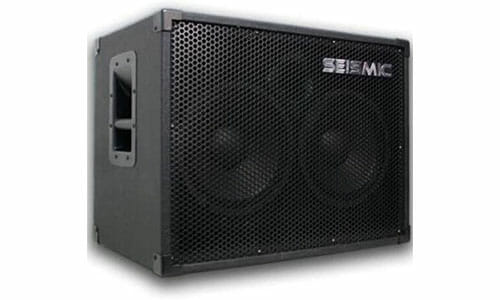 Seismic Audio 210 is a bass cabinet fulfilling Seismic Audio's motto of providing tight punchy bass even at a low budget to every musician on the ground.
The SA 210 comes with two 10" woofers that have 2" Kaptan voice coil each. With 400W RMS power handling and 800W peak, this cabinet can play with literally anything that the bassist wants.
The hardware design contains a black carpet finish texture and black metal corners with a full metal grille. Two recessed handles and a weight of 55lbs makes it easier to carry and move around at the concerts.
The nominal impedance is of 8 ohms and its frequency response ranges between 40Hz to 5kHz which is pretty similar to its earlier models.
Pros
Horn and volume control.
400W RMS power handling.
Can be effectively daisy chained with other models.
Very handy for big venues.
Cons
Not much noticeable difference while adjusting the horns.
High registered solos sound a bit off at times.
This speaker cabinet comes second to none when compared for the upgraded features and high end sound clarity that it delivers at such a low price.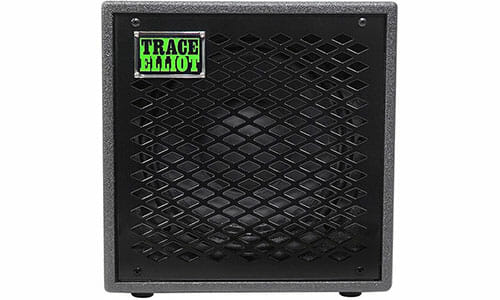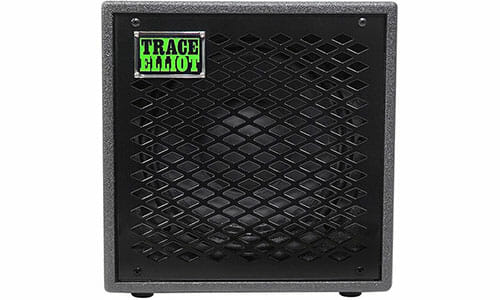 A modern day musician's pint sized cabinet requirement is fulfilled by the Trace Elliot 1×10 Speaker Cabinet.
Apart from being light-weight, its construction makes it easy to carry around. The durable painted look gives it a rugged feel on the set.
The 10" Eminence Neodymium full range speaker renders a lot of low end frequency. The 8 ohms impedance and a RMS power handling of 300 Watts makes it an ideal speaker cab to include in the rig at performances.
The input jacks in this bass cabinet are dual paralleled speakon/phono jacks, that makes it convenient to attach two cabinets at once. The purpose of recessed cradle on the top of the cabinet for keeping the amplifier in place works successfully.
Pros
Perfect for rehearsals and small gigs.
Value for money.
Pint sized yet power packed.
Cons
Not an ideal option for bigger venues.
Cabinet might not match upto the level of performance of the heads.
It is designed for musicians who practice in a routine and have to carry speaker cabs. It's all because of its compact size which doesn't fail to deliver that clarity and punch.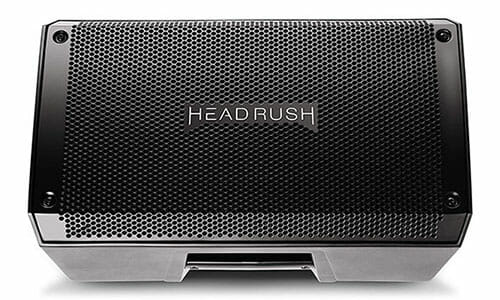 Musicians now no longer need to depend on the PA and rented rigs thanks to the HeadRush FRFR-108, Full Range Flat Response frequency bass cabinet.
Its uniquely voiced two way speaker system made up of 8" woofer and high frequency drivers can really blow your roof up.
The 2000 Watts peak power efficiently provides plenty of headroom with loud beats at any kind of venue. Combining two speaker cabs was never easier before FRFR 108's two XLR/TRS ¼" combo inputs feature.
In its other special features, this model renders the XLR output for FOH or additional cabinets to be attached. Additionally, the bass cabinet also has independent volume controls and contour EQ switch to experiment your combinations for controlling mud and distortion in your performances.
Pros
2000W peak power handling.
Great power and sonic clarity.
No coloration in sounds.
Outperforms its size.
Cons
Some clarity issues at high volume.
Doesn't work for all genres of guitarists.
This speaker cab renders the highest power even at big venues and is still small in size making it easy to transport. Suits perfectly for metal guitarists.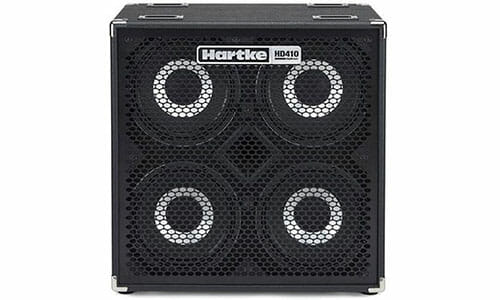 The Hartke HyDrive HD410 comes with the patented aluminum cone construction with the HyDrive Speaker Technology for delivering ample of depth and clarity.
The plywood build body with a 1000Watts power handling produces a smooth, clean sound and a low end zing. The black perforated steel grille and steel handles and corners with detachable casters make up for a roadworthy speaker cab to transport.
With an impedance of 8 ohms and double roll curvilinear surrounds, there is little to no spill or distortion in the sound giving out natural overtones.
Pros
Improved and added features as compared the older models.
Rugged construction of the cabinet.
HyDrive Speaker Technology.
Cons
A bit on the heavier side.
Doesn't perform best in Low end frequencies.
The performance it delivers in the mid highs and smooth low makes it an ideal competitor in the list of the best bass cabinets for a modern day bassist.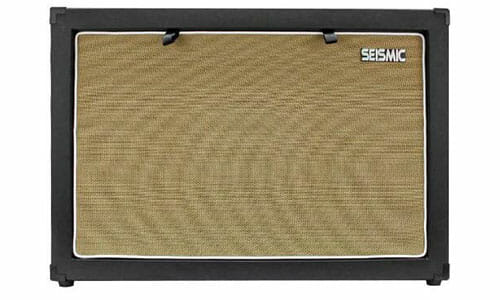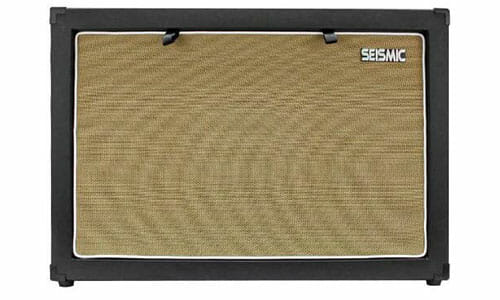 This Tolex covered empty guitar cabinet is made up of ½" birch plywood on all six sides and a removable wheat colored cloth grille for the purpose of front speaker loading. The panels at the back are removable for back speaker loading.
There are dual ¼" connectors on the rear. It comes with two ¼" metal jack plates and a wire so long to hook up your guitar to the cabinet. The speaker cab weighs no more than 37lbs and has black metal handles as well as black flush corners which makes it easier to carry around for gigs and rehearsals.
The cabinet comes fully parallel wired where you can attach two 16 ohms woofers to create an 8 ohms impedance load resulting in loud and punchy bass beats.
Pros
Comes in three classy looks; Vintage, Modern, and Original.
Not too heavy in weight.
No low end saturation.
Cons
A bit bigger in size.
It doesn't include the speaker with the purchase.
If you are a bassist and have a good pair of speakers and want a bass cabinet for your guitar then this cabinet is precisely your fit since it sounds exactly as loud as a 2×12 should!
Top Brands: Bass Cabinets
Now that you are familiar with the best bass cabinets of the year and the basis on how to judge them, here is a list of brands that you can trust no matter what when it comes to buying a bass cabinet.
1. Fender
Fender is a brand that was founded in Southern California and has been serving all things Rock'NRoll for more than seven decades now. From the instruments to their accessories, Fender has diversified products for every artist be it renowned or a beginner.
The founder, Leo Fender started out as playing around with his friend's faulty amps which led him to create Fender's original "woodie" amps which is still an antique in collectors' list. It was one of the first products of the company to get a Fender's seal. Since then, the company hasn't stopped setting gold standards in the game of guitars and bass amps.
2. Ampeg
It all began in 1969 when the Ampeg founders launched the giant 300Watt tube named the Super Vacuum Tube or SVT for short that ruled over the rock world. To support those fourteen tubes in the gigantic amp head, two massive 8" speaker cabinets were brought into action
Owing to the genius of Rich Mandella and the desperate times of Rolling Stones during their tour of 1969, the SVTs got an identity that is still as alive as it was back on that stage. Ampeg has remained the choice of very famous artists since then till date.
3. Hartke
Known for its uniquely designed aluminium cone driver since 1985, Hartke was already ahead of everyone else with its build and sound quality. The year 1985 brought with it the fame of Jaco's 810 cabinet that produced massive bass while getting instantly famous amongst the top musicians at that time.
Some of the 1989's XL series of cabinets which have been played by many famous artists are still in production. The depth and sound clarity that comes from the aluminium build is impeccable.
4. Peavey
Started in 1965 by Hartley Peavey, Peavey Electronics Corporation has grown to be one of the largest suppliers of musical instruments and professional audio systems in the market. Peavey has evolved to be the most reliable and dedicated brand when it comes to their products.
With more than 2000 products and 180 patents worldwide, Peavey has been complimented for its modernisation with a touch of its classic style. They have hardly ever failed to deliver improved performance with every new release.
5. Trace Elliot
Trace Elliot's one of the major achievements was when they made the world's first ever bass guitar amplifier. Their designs mainly focused on including the MOSFET output on the stage and working on the low end clarity while adding more wattage.
Their addition of graphic EQs which allowed the player to manipulate the tones brought further fame to the brand. Trace Elliot set the standards pretty high for packing a punchy bass on stage and remained first in their game for decades.
Frequently Asked Questions About Bass Cabinets
We have made an attempt to clear the doubts preemptively that you still might have about bass cabinets. The most frequent questions that arise from a buyer are :
Can any bass cabinet be used for playing at small as well as big venues?
It isn't necessarily so but for bigger venues, you need to have big sized bass cabs for optimum performance. Those cabs would not be useful at small venues like the place you do your rehearsals. In those spaces, a small compact sized speaker cab would be ideal to carry around.
How to create a daisy chain in a cab with a dual jack plate?
The two jack plates in the cabinets when wired parallel can be used either way. One could be used as an input for the bass amp and the remaining could be used as the output for creating daisy chained speaker cabinets.
What to buy : Combo, Head, or Cabinet?
The major difference between these three is that a Combo is a unit that comes with everything and it goes straight to your rig. It includes a head as well as a cabinet in it.
Does the frequency response matter much?
Yes, the frequency response matters significantly as it decides how high or low does your speaker cabinet can go without distortion. Generally, to get assured quality of well-defined low notes, you should select a cab that comes with a low frequency response of 30Hz to 40Hz.
Is it really worth investing in a bass cabinet?
If you are a full time musician and are looking to play for big venues soon then you definitely should invest in a good quality bass cabinet. It is the box that amplifies the bass and links your music to the audiences' ears. Since every note and every beat matters it is important for it to be heard clearly, that's where the bass cabinet comes into the picture.
Now that you know the list of top bass cabinets, best brands to buy it from and how to judge them, you just have to go for it! Here's wishing you luck with the shopping!