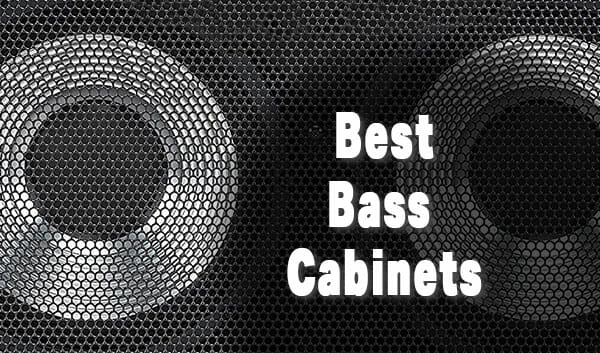 If you believe you are ready to take your music to the next level and are already seeing yourself high up on the center stage, there is probably just one thing missing in the scene. A really good bass cabinet to connect your beats to the audience at the right frequency level.
If you're in need of a good quality bass cabinet in 2021 and a comprehensive guide on how to buy one, you're in the right place. Let's get started!
Our Top Picks
The best bass cabinets are categorized and listed below for your preferences.
Top Bass Cabinet Reviews In 2021
---
---
---
---
---
---
---
---
---
Buying Guide: Bass Cabinets
The all-inclusive guide below will explain exactly how to choose a bass cabinet for your needs. Let's get into the terminologies!
1. Size of Bass Cabinet
The size of the bass cabinet that you choose depends on the venue you will be playing at. If you want it just for daily rehearsals, then you might want to consider a compact sized cabinet with recessed handles as it makes it a lot easier to carry.
For bigger venues where the loud thumping is what matters, selecting a medium or big size bass cabinet would be best. As it will render the kind of punchy beats and clear sonic sounds at low end frequencies.
2. Bass Amp Speakers
The speaker sizes are measured in inches and to bust the myth, bigger speakers don't always produce higher volumes. A good 10" speaker can be louder than a 20" low-quality-speaker.
Big speaker sizes help in delivering more thumps whereas small speakers are known to deliver clarity in sound performances. Therefore, bassists use a combination of various sizes in their rigs after experimenting.
3. Ohms and Impedance
Knowing impedance and how it affects your bass heads and cabinet can change your game entirely. Impedance is measured in ohms and is used to describe the circuit's resistance towards electrical flow.
Impedance has a direct relationship with resistance. A 16 ohms cabinet pulls less power from your amplifier than a cabinet with 4 ohms. The total impedance can be calculated by dividing the impedance of one cabinet with the number of cabinets attached (if you are using multiple).
4. Connectors
Connectors or Jacks are the points where you plug your output of the heads for which you need special speaker cables. These jacks generally come in the size of ¼" but are specific to the amp head and cabinets. It is very important to know which is the right cable for your cabinet.
5. Power Handling
The power handling of a bass cabinet is its capacity to take power to the maximum point without damaging the speakers. The specifications listed for any bass cabinet includes RMS (Root Mean Square) and peak power handling.
We are only ever concerned about the RMS Wattage noted for the cabinet. That shows how many watts the device can take up consistently. The peak power handling is generally listed higher than the RMS which only shows a temporary power burst at highest level.
6. Vented or Sealed Cabinets
Vented or Ported cabinets are those popular cabinets that have an opening for the movement of air. Sound traverses through air and hence cabinets with vents require much less power to render qualitative sound.
Sealed cabinets have no opening for the passage of air. Therefore they require more power from the amp to give out a punchier bass. It's all about preference at the end, what a bassist prefers in his rig.
Top Brands: Bass Cabinets
Now that you are familiar with the best bass cabinets of the year and the basis on how to judge them, here is a list of brands that you can trust no matter what when it comes to buying a bass cabinet.
1. Fender
Fender is a brand that was founded in Southern California and has been serving all things Rock'NRoll for more than seven decades now. From the instruments to their accessories, Fender has diversified products for every artist be it renowned or a beginner.
The founder, Leo Fender started out as playing around with his friend's faulty amps which led him to create Fender's original "woodie" amps which is still an antique in collectors' list. It was one of the first products of the company to get a Fender's seal. Since then, the company hasn't stopped setting gold standards in the game of guitars and bass amps.
2. Ampeg
It all began in 1969 when the Ampeg founders launched the giant 300Watt tube named the Super Vacuum Tube or SVT for short that ruled over the rock world. To support those fourteen tubes in the gigantic amp head, two massive 8" speaker cabinets were brought into action
Owing to the genius of Rich Mandella and the desperate times of Rolling Stones during their tour of 1969, the SVTs got an identity that is still as alive as it was back on that stage. Ampeg has remained the choice of very famous artists since then till date.
3. Hartke
Known for its uniquely designed aluminium cone driver since 1985, Hartke was already ahead of everyone else with its build and sound quality. The year 1985 brought with it the fame of Jaco's 810 cabinet that produced massive bass while getting instantly famous amongst the top musicians at that time.
Some of the 1989's XL series of cabinets which have been played by many famous artists are still in production. The depth and sound clarity that comes from the aluminium build is impeccable.
4. Peavey
Started in 1965 by Hartley Peavey, Peavey Electronics Corporation has grown to be one of the largest suppliers of musical instruments and professional audio systems in the market. Peavey has evolved to be the most reliable and dedicated brand when it comes to their products.
With more than 2000 products and 180 patents worldwide, Peavey has been complimented for its modernisation with a touch of its classic style. They have hardly ever failed to deliver improved performance with every new release.
5. Trace Elliot
Trace Elliot's one of the major achievements was when they made the world's first ever bass guitar amplifier. Their designs mainly focused on including the MOSFET output on the stage and working on the low end clarity while adding more wattage.
Their addition of graphic EQs which allowed the player to manipulate the tones brought further fame to the brand. Trace Elliot set the standards pretty high for packing a punchy bass on stage and remained first in their game for decades.
Frequently Asked Questions About Bass Cabinets
We have made an attempt to clear the doubts preemptively that you still might have about bass cabinets. The most frequent questions that arise from a buyer are :
1. Can any bass cabinet be used for playing at small as well as big venues?
It isn't necessarily so but for bigger venues, you need to have big sized bass cabs for optimum performance. Those cabs would not be useful at small venues like the place you do your rehearsals. In those spaces, a small compact sized speaker cab would be ideal to carry around.
2. How to create a daisy chain in a cab with a dual jack plate?
The two jack plates in the cabinets when wired parallel can be used either way. One could be used as an input for the bass amp and the remaining could be used as the output for creating daisy chained speaker cabinets.
3. What to buy : Combo, Head, or Cabinet?
The major difference between these three is that a Combo is a unit that comes with everything and it goes straight to your rig. It includes a head as well as a cabinet in it.
4. Does the frequency response matter much?
Yes, the frequency response matters significantly as it decides how high or low does your speaker cabinet can go without distortion. Generally, to get assured quality of well-defined low notes, you should select a cab that comes with a low frequency response of 30Hz to 40Hz.
5. Is it really worth investing in a bass cabinet?
If you are a full time musician and are looking to play for big venues soon then you definitely should invest in a good quality bass cabinet. It is the box that amplifies the bass and links your music to the audiences' ears. Since every note and every beat matters it is important for it to be heard clearly, that's where the bass cabinet comes into the picture.
---
Now that you know the list of top bass cabinets, best brands to buy it from and how to judge them, you just have to go for it! Here's wishing you luck with the shopping!