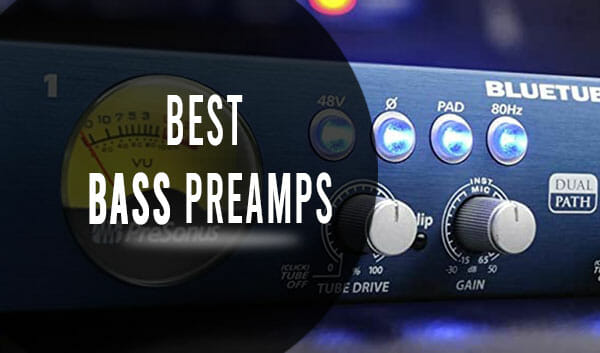 Preamps or pre-amplifiers are accessories which improve your experience in hearing and recording in a studio.
Another accessory!! I hear you scream. I don't need one. I'm happy with my microphones and mics and everything, thank you very much! But what if I tell you that preamplifiers are possibly the most important device in a studio recording?
You see, when you record using the simple microphones, you get the audio at a certain volume, which, more often not, is not sufficient. As you try to raise it up now, or cause "gain", you'll see a noisy sound creeping up from behind.
So, to amplify your sound "without" destroying the audio quality, you need to have preamplifiers. Convinced enough? Here's looking at 9 best preamplifiers of 2023 you can find in the market right now:
Table of Contents
Our Top Picks
Here's looking at the best bass preamps in each category:
Top Bass Preamp Reviews of 2023

Specifications:
Color Depth: 24
Input Type: XLR (Female Balanced)
Frequency Response: 20 Hz to 150 kHz (± 3.0 dB)
Frequency Response: 20 Hz to 50 kHz (± 0.5 dB)
ADC Dynamic Range: 107 dB (A-wtd, 48 kHz sample rate)
Input Impedance (Balanced): 1600 Ω
Power Requirements (Continuous): 20 W
Connector Type (Input): IEC
Input Voltage of Factory Can: 90 to 230 VAC
This comes with 8 preamps, and can work on any device, provided it has an ADAT input port. And considering the price per mic here, you get great value for money!
All the preamps are "Presonus Class-A XMax" mic preamps and the device is 1U high. Each of the preamps has LED metering, a pad button of 20 dB, a 48V phantom power, and gain-trim control.
The only sample rate options which are present here, are 44.1 kHz and 48 kHz, because of the absence of SMUX protocol, and these options can be selected via a button on the front panel.
The digital output which is generated here is in ADAT format, because of the 24 bit A-D converters which hardly restrict any quality of the preamps, which means it can be used with any ADAT input-accepting interface.
The sound is generally smoother, musical and full, though it could have been more transparent and detailed. The preamps are not very character-ful, rather they have a tendency towards a more flat response.
The operation is very easy and without any complications, the sample rate changes quite quickly, smoothly, noiselessly, the response is quite transient, and there aren't any over-stressed parts over the whole frequency range.
But, there aren't any options for flipping phase nor are there any high-pass filters. The power switch and the phantom power buttons are somewhat inconveniently positioned. Also, the LED metering used doesn't serve any main purpose.
Pros
Noiseless, quick sample rate change.
Smooth, full, musical sound.
Can be used with any ADAT input accepting interface.
Has 8 Class-A XMax preamps.
No restriction in quality.
Cons
High pass filters or phase flip options are absent.
Power switch inconveniently positioned.
The sound quality is great here, and you can use it with literally any device having an ADAT input port. The value for money is great, and the sample rate changes are very quick, and noiseless. The A/D conversion doesn't seem to restrict the preamps' quality, and the overall operation is quite "fuss-free"!

Specifications:
Preamplifier Type: Tube
Frequency Response: 12 Hz to 20 kHz
Number of Channels: Eight Channels
Rack Spaces: 1U
Phantom Power: Yes
Analog Outputs: 8 * ¼"
Analog Inputs: 8 * Combo (Mic/Line + XLR/TRS), 2 * ¼" Hi-Z
Digital Outputs: 1 * ADAT (Optical)
Digital Inputs: 1 * ADAT (Optical)
Clock I/O: 2 * Word Clocks
Weight: 13.2 lbs
Depth: 14.4″
Height: 1.75″
Width: 19″
You have a great and smooth bass experience here, with the sound having enough punch. The overall build is great, with the design having a quite substantial feel to it.
The I/O is quite versatile, and the output is good, clean, having a transient quality, and the overall imaging is good.
You get a well finished and sturdy "1U rack mount case". The front panel is very easy to understand and operate, and the printed design on the screen is simple black and white.
You get eight distinct "Class A" valve mic amp channels. Every amp comes with upto 64 dB of gain with brilliant sonic transparency, XLR and Jack inputs of ¼ inch.
The A/D converters are fed by these amps, and via "ADAT eight channel optical-output", gets connected to the outside world.
These ADAT input now feeds D/A converters, eight in number, which are accessed by ¼ inch balanced jacks.
The eight channeled I/O expander is ideal for any ADAT lightpipe, and it is equipped with a direct-to-disc recorder and audio interface.
You get full control of the signal path, thanks to the roll-off switches for phase, pad and frequency. Though because of its Chinese manufacturing, some of the controls might feel slightly cheap in build.
Pros
Solidly built, great design.
Easy to read front panel.
Eight channels of Class A mic amps, each with a valve.
Signal path can be fully controlled.
Cons
Some controls may feel cheaply built.
The design is exquisite, the response is clean and transient, the I/O is versatile, and the imaging is good! You get to fully control the signal path, and you get eight amp channels, with an incredible overall sonic transparency.

Specifications:
Preamplifier Type: Solid State
Source of Power: Standard cable (IEC, AC)
Number of Channels: Eight Channels
Clock I/O: In/Out
Phantom Power: Yes
Rack Spaces: 1U
Rate of Sample: Up to 192 kHz
Analog Outputs: 8 * ¼"
Analog Inputs: 8 * XLR- ¼" combo
Digital Outputs: 2 * Optical Toslink (ADAT)
Color Depth: 24 bit
Weight: 7.1 lbs
Depth: 11.26″
Focusrite has always served professionals, because of their great quality to cost ratio, and the company has always been known for building high-end preamps and consoles.
Here, there is an option to output both digital and analogue feeds, which is great news for sound engineers, because they can offer bands for both multi-channel as well as live recording simultaneously.
You get to have a dynamic and complete control over tracking, with its eight "one-knob" compressor limiters, but then again, this also limits it's audience, because there's hardly a demand, compared to the 16-bit days, for a bunch of eight identical compressors.
It has ADAT included as a standard option which means easy digital connectivity. Apart from that, it can be used for other applications too, like using as a D/A converter so as to stretch and extend the amount of analogue outputs, arriving from the audio interface.
The sound is quite impressive actually, while it's not completely transparent and clear, the little amount of sheen it adds to the sound is actually pleasing to hear. Not only that, you use it with acoustic instruments, and you'll get great results there too.
It's digital connectivity means that there would be no "port loss" and the unused ADAT ports present on the interfaces can be used in turn to express eight audio channels in form of mic preamplifiers of great quality.
It might be a bit inconvenient though to reach back to play and unplug the instruments, as almost all I/O is on the rear end.
Pros
Digital connectivity.
Slight pleasing sheen in the output.
Tracking can be dynamically controlled.
Cons
Ergonomically, could be better, as all the I/O is on the rear end.
Not a very high demand for eight identical compressors.
Not only as a preamplifier, but it can be also used as a D/A converter. The sound quality is great, even with acoustic instruments. They can be connected via ADAT ports, which means there would be no port loss. And also, eight compressor limiters mean great control over tracking.

Specifications:
Preamplifier Type: Solid State
Phantom Power: Yes
Channel Number: Four Channels
Analog Outputs: 4 * XLR
Analog Inputs: 4 * XLR (Mic), 4 * ¼" (Hi-Z)
Rack Spaces: 1U
Depth: 9″
Width: 19″
Height: 1.75″
Weight: 6 lbs
Solid State has a wide range of listeners, with wide tastes and preferences, and while many of them prefer the sounds of their modern consoles, many prefer the results of its older models. Logic Alpha VD is for every type of listener, offering both the sounds of their older sets as well as the modern models.
In addition to their basic preamps already present, VHD circuit comes as a new addition. Now, this circuit creates distortions, bringing a subtle, delicate character to the sound. The more input gain, the more warmth the sound will have. The range of output gain is quite wide.
It has the standard features with the instrument level switching (so that you are able to get any kind of signal into your recording system), line which is channel independent, and four mic preamplifiers, highly distinct and specified, in 1U space.
There is a lack of metering (don't worry, the pad button glows red, if you overdo the input levels) which lends the set a lean cut, sleek appearance. All the inputs and outputs are in XLRs, and the power comes in via a 5-pin DIN socket on the rear panel. There's a major omission in the loss of low cut filters.
The tones are versatile, clean. If the input gain is kept below halfway, and the output levels controlled, the pre-amplifiers come across as quite neutral. It is when you take the input gain levels to high, that some thickening and brightening of sound is audible.
Pros
Sleek, lean design.
Subtle character of the preamps.
Offers the sound of modern as well as older consoles.
Cons
Low cut filter is omitted.
Because of its instrument level switching,you can get any form of signal into the recording system. It provides the sound options of both Solid State's older and modern consoles. It has a distinct, beautiful appearance.

Specifications:
Preamplifier Type: Solid State
Phantom Power: Yes
Channel Number: 1 channel
Analog Outputs: 1 * XLR, 1 * ¼" (Unbalanced), 1 * ¼" (Balanced)
Analog Inputs: 1 * XLR, 1 * ¼" (Hi-Z)
Rack Spaces: Half (1U)
Response of Frequency: 4.5 Hz – 390 kHz (-3dB)
Height: 1.7″
Width: 8.5″
Depth: 9″
Weight: 2.4 lbs
The design here has a "mirror finish", curved, chromed front panel giving it an exquisite look, and the chromed knobs are of matching design. This unit has been beautifully styled and has great looks.
For people who have the tendency to track one part at a time, these preamps would be suitable. You get to listen to the true sound of mics, without any distortions, with high end performance.
The power has to come from an external adaptor of 6V, but this drawback also ensures that there's no transformer in the rack box which in turn means that there is minimum humming noise.
These preamps have very superior sound reproducibility, the output sound is clean and neutral, and the character of your sources, be it a performance or a microphone is preserved.
So if you notice any character in the sound, it most probably is because of the mic being used, and not the preamps. There's no perceptible colouration of sound. A very little hiss might be audible at the maximum gain setting, but it is nothing more than what is expected.
Another one of the great things about this model is its use of "transimpedance amplifier circuitry". This means that the preamps can adapt easily to microphones which have varying impedance.
The preamps use no electrolytic capacitors in the signal path, which might then cause production of non-linear audio. The overall frequency response of the design is excellent.
The phantom powering is very clean, and can be switched from the panel panel. The front panel also has a multi-colored LED surrounded by metres, plus a switch for high pass filter of 75 Hz.
Pros
Beautifully designed unit.
Can be used with acoustic instruments.
Translates sound with utmost purity.
The sound quality is amazing, very transparent and clear. Even at settings with maximum gain, the noise is very little. Transimpedance amplifier circuitry is used which enables microphones with different impedance to be used with this set.The overall design is beautifully styled too.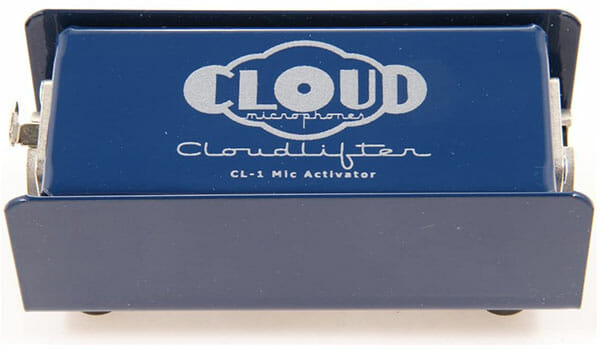 Specifications:
Preamplifier Type: Mic Level Booster
Outputs: 1 x XLR
Inputs: 1 x XLR
Number of Channels: 1
Height: 2″
Width: 2″
Depth: 4.5″
Weight: 0.85 lbs
In this recording business, it's very easy to mess up and buy the wrong equipment, and then further waste your money upgrading and modifying those instruments.
But with Cloud Microphones CL-1, you just can't go wrong. For someone who is entering the recording business, or someone who only needs one microphone, this set ensures great quality recording at an affordable price.
It can convert with up to 25 dB gain, hardly adding any noise, thanks to its 48 V of phantom power. It blocks out any of the phantom power which might be potentially damaging.
It has a very basic and simple design, with no controls, no frills, no potentiometer, no lights and no buttons. They only have XLR connectors for input and output, and that's it. Nothing else.
It is designed to be used with any type of dynamic mic, as well as with passive ribbon mics. The set is easy to use, and quite affordable.
Any kind of noise is hardly there, one of the reasons is that there are no resistors or capacitors used in the path of audio, plus you get significant amounts of gain, because of which you get "ultra-clean gain".
It can also be used when directly recording into a DAW or digital audio workstation, which doesn't have a pre-built mic. Even if you use long cables or noisy preamps, you'll even then get a very noise-free output on using this Cloud model.
Pros
Ultra-clean gain.
Can be used alongwith noisy preamps and long cables.
Easy to use.
Affordable.
Perfect for starters and professionals alike.
Cons
Sound can't be regulated from outside because of absence of controls.
You get a substantial amount of gain with hardly any addition of noise, which creates "ultra-clean gain". Even when you use long cables or preamps that are noisy alongside this, the final output is still very clean. On top of that, it is very affordable and easy to use.

Specifications:
Preamplifier Type: Tube
Phantom Power: Yes
Channel Number: 2
Analog Outputs: 2 * XLR, 2 x ¼"
Analog Inputs: 2 * XLR, 2 x ¼"
EQ: Yes
Rack Spaces: 1U
Response of Frequency: 10 Hz – 200 kHz
Height: 1.75″
Width: 19″
Depth: 8.5″
Weight: 6.6 lbs
It is a great set for voice over artists, podcasters, and musicians alike. It is a low noise preamp, which means it raises the overall level of signal without adding any additional noise.
Almost every podcasting microphones have the output levels quite low, and you eventually have to increase the gain on audio interface, which then in turn increases noise flow, decreasing the overall sound quality. Using this preamp means you get an audio signal which is not only cleaner, but with far less noise.
This microphone and line preamplifier, has a pretty solid built and design, with two channels. The controls are sophisticated but pretty easy to use with dedicated controls for lever, bandwidth and centre frequency.
It features parametric EQ, LED metering, phase reverse and a 12 dB high pass filter. With the help of 12AX7 tube, you get the perfect sound that you're looking for.
The sound you obtain is very open, thanks to an "ultra" wide bandwidth, and because of which, you get a dynamic range.
Pros
Solid design and build.
Great sound because of the 12AX7 tube.
With a solid and durable build, these preamps are great for use by musicians, podcasters and voiceover artists. They are low noise preamps, which means good gain without addition of noise. Because of 12AX7 tubes, you get the perfect sound.

Specifications:
Preamplifier Type: Solid State Channel Strip
Phantom Power: Yes
Number of Channels: 1
Compressor: Yes
EQ: 80Hz High Pass
Other Processing: De-esser, Enhancer, Expander/Gate
Analog Outputs: 1 x ¼"
Analog Inputs: 1 * XLR (mic), 1 * ¼" (line)
Rack Spaces: 1U
Other I/O: 1 x ¼" (insert)
Source of Power: Standard cable (IEC, AC)
Widely used by podcasters and radio producers, this is a great instrument and microphone preamplifier, in the form of a channel strip. It doesn't take up much space, even though it is a rack mounted unit.
The overall design might be a bit dull, but it more than makes up for that by its affordability, functionalities and features. It gives an impressive sound which is a combined result of its several controls.
The back panel features two inputs, a standard XLR for microphones, and a direct input for instruments. The back also has a regular output jack and another jack for you to add any kind of effects device you want.
The front panel has six sections, a classic mic preamp having basic controls, a compressor with its controls and an indicator for gain reduction, a de-esser, an enhancer, some noise gate effects, and the main output knob which has the clipping indicator.
The de-esser smoothens the additional high-end noises. The enhancer can be used to enhance the lower or higher end frequencies. The expander or gate, allows the removal of any excessive noise.
Pros
Several controls which results in an impressive sound.
Doesn't take up much space.
Any external effects device can be added.
Cons
Compressor could have more controls.
There are many controls in this set like de-esser, expander, enhancer etc., which allows for a very superior sound. These preamps because of this reason are used widely by podcast makers, and music producers.

Specifications:
Preamp Type: Tube/ Solid State
Phantom Power: Yes (can be switched for every channel)
Number of Channels: Two channels
Analog Outputs: 2 * XLR, 2 * ¼ TS
Analog Inputs: 2 * XLR combo (combination of XLR and DI)
Frequency Response: 20 Hz – 20 kHz
Width: 9.5″
Height: 1.75″
Rack Spaces: Half
Presonus' popular "Class A XMAX" preamps are known for their amazing clarity and transparency. On the other hand, the tube preamps by Presonus, are acclaimed for their smooth and warm sounds.
Now for the first time, with the BlueTube DP V2, you get both types of high quality sounds in one device! There are two paths, a solid state path and a tube path. To switch between the two, all you have to do is click the "Tube Drive Control" on or off.
When the tube drive control is clicked off, the THD (Total Harmonic Distortion) + noise is better than 0.005%. The solid state path provides a clean, quiet sound output, with great transparency.
When the tube drive control is clicked on, and the tube clicks in, the distortion can go upto 30%, and we want the distortions as they are musically pleasing. Here, while the overall output level remains pretty much constant, a more solid and thicker sound is audible.
It has other uses too, for eg, it can serve as a DI box, for guitars, basses, vocals. It can also be used as a front end for DAW.
It looks quite modern and sleek, and has rounded edges. It also has a switchable phantom power of 48V, a 20 dB pad, a 80 Hz high-pass filter and a polarity invert switch.
Pros
Great audio quality.
Variable tube flavouring.
Can accommodate instruments with high impedance.
Modern, sleek looks.
Cons
Rack tray is needed for rack mounting.
You get to have the sounds of both Class A XMAX preamps, and that of tube preamps, meaning as per your choice, you can have clear, transparent sounds or sounds having a warm nature because of the pleasing distortions.
Top Brands: Bass Preamps
There are many brands out there in the market, but not everyone gains reputation and acclaim for itself. So here's looking at seven of the top brands which manufacture pre-amplifiers:
1. Focusrite plc
Focusrite plc, former Focusrite Audio Engineering Ltd., is an English manufacturer of audio equipment. Founded in 1985, most of its products are currently manufactured in China.
It markets and designs mic preamps, analogue EQs, hardwares and softwares for digital audio processing, audio interfaces, consoles, channel strips etc.
2. Cloud Electronics
Founded in 1980, this UK-based company is a product of several high-quality "commercial audio" systems.
Having a benchmark of "performance over time", they specialise in zone-routing, amplification, paging and manufacturing speakers, zonal mixer amplifiers, mics and volume controls for commercial as well as domestic installations.
3. Grace Design
A family owned and operated company founded in 1994, Grace Design started with model 801 mic preamp production, which became a new milestone in the production of professional audio. They are the manufacturers of instrument preamps, mic preamps, spacebars and monitoring tools etc.
4. Art Pro
Founded in 1984, this is a company consisting of engineers, musicians and music enthusiasts, and hence their audio products are designed and built keeping the needs of a musician in mind. Professional Audio (Pro Audio) is their parent company.
They design and market studio amps and monitors, digital interfaces and mixtures, preamps and dynamic processors, racks and micromixers etc.
5. Presonus Audio Electronics
Founded in 1995, this privately held American manufacturing company with its headquarters in Louisiana, has a staff filled with real life musicians. They manufacture professional audio softwares and equipment which are used to create, mix, record and master music.
They have their own line of digital audio workstation (DAW) software, named Studio One. They manufacture audio products from microphone preamps, softwares to digital audio interfaces, signal processors, control surfaces, mixers, etc.
6. Behringer
This company has diversity ingrained inside. Found by a Swiss engineer, this is a German audio equipment company, which now makes its products in China. It was founded in 1989, and is headquartered in Willich, and has Music Tribe as it's parent company.
It manufactures DJ mixers, analog mixers and consoles, I/O stage and AD/DA converters, powered mixers and consoles, signal distribution splitters, etc.
7. dbx
Founded in 1971, dbx Inc., is an American company, which produces professional equipment for audio recording. They are owned by a subsidiary of the South Korean company Samsung Electronics, Harman International Industries.
With the company goal of getting over to the "realism of a live performance", they are the producers of compressors, noise reduction systems, loudspeaker management systems, EQs, active crossovers, etc.
FAQs About Bass Pre-Amps
What are the features of a preamp?
As indicated in the name, a preamp is an amplifier that prepares the signal picked up from a microphone or any other audio source for further processing. Some of the other uses associated with a preamp are:
1. Boost a low input signal
2. Clear up any noise from the signal so that it sounds better
3. Adjust input signal
4. Combine multiple signals into one
5. Preamp therefore is extremely critical for improving the quality of sound.
Do I need a preamp?
The answer to this question depends on the quality of output from the microphone.
In simple words, when the output from the mic is directly plugged into the amplifier, it should sound good in terms of loudness, the input must be smooth and well-balanced.
If the signal meets the criteria, then there is no need to get a preamp. Otherwise, a preamp is a definite requirement for better sound quality.
Do I need a preamp if I have a mixer?
If you already have a great recording software, the need for preamp may come into question. Regardless of the quality of the mixer you are using and the software used for mixing, quality of sound always matters. It is possible that your audio mixer already has certain functions of a preamp programmed into it.
However, this software does not produce high quality audio outputs unless the input audio quality is high. Therefore, a preamp can serve as a perfect solution to improve the input audio quality to get better audio output.
Depending on your affordability, there are many preamps and preamp interfaces that can help in getting good quality input for your mixing sessions.
Which preamp is the best to buy?
The type of preamp depends mostly on the type of input and the number of inputs you need and the kind of sound you process.
You can also consider what other additional features you are looking for in a preamp and choose accordingly. Apart from all this also keep in mind your affordability and choose a preamp that fits into your budget.
What is the role of preamps in a home theatre system?
A preamplifier helps in connecting all the audio sources such as CD, DVD and Blu-ray. It can also help in navigating between various input sources, process the audio or video signal and provide an audio output to be used with a power amplifier. From a home theatre perspective, preamps perform an important role in decoding the audio input and processing it.
Are preamplifiers and amplifiers the same?
While both may sound alike, they both have completely different purposes in an audio system. A preamp boosts a weak signal input into a different level while the amplifier simply boosts a signal to a line level signal so that it can act as an input to the loudspeakers.
To put in simple words, an output from the microphone is a very weak signal that has to be stepped up to the level of the other signals so that further processing can be done. Once the signal reaches that particular level, it is then fed as an input through the power amplifier for playing the signal with the help of a speaker.
What features must be looked out for, in a good preamp?
While there are several features you should check and compare, and then buy the suitable preamps, these two features are the two main requirements your preamps must have:
1. It should cause a significant amount of gain (or loudness) in the recordings.
2. There shouldn't be any additional noise audible in the recordings.
Conclusion
So, by now, you would have probably made up your mind regarding which preamplifiers would be the best for your recording setup. All you need to keep in mind is that the preamps should be providing a significant gain, without any audible noise. Remember that, and you'll be fine. Here's to more music, more passion, here's to life!